Review: Makuyeika Colectivo Teatral produces Andares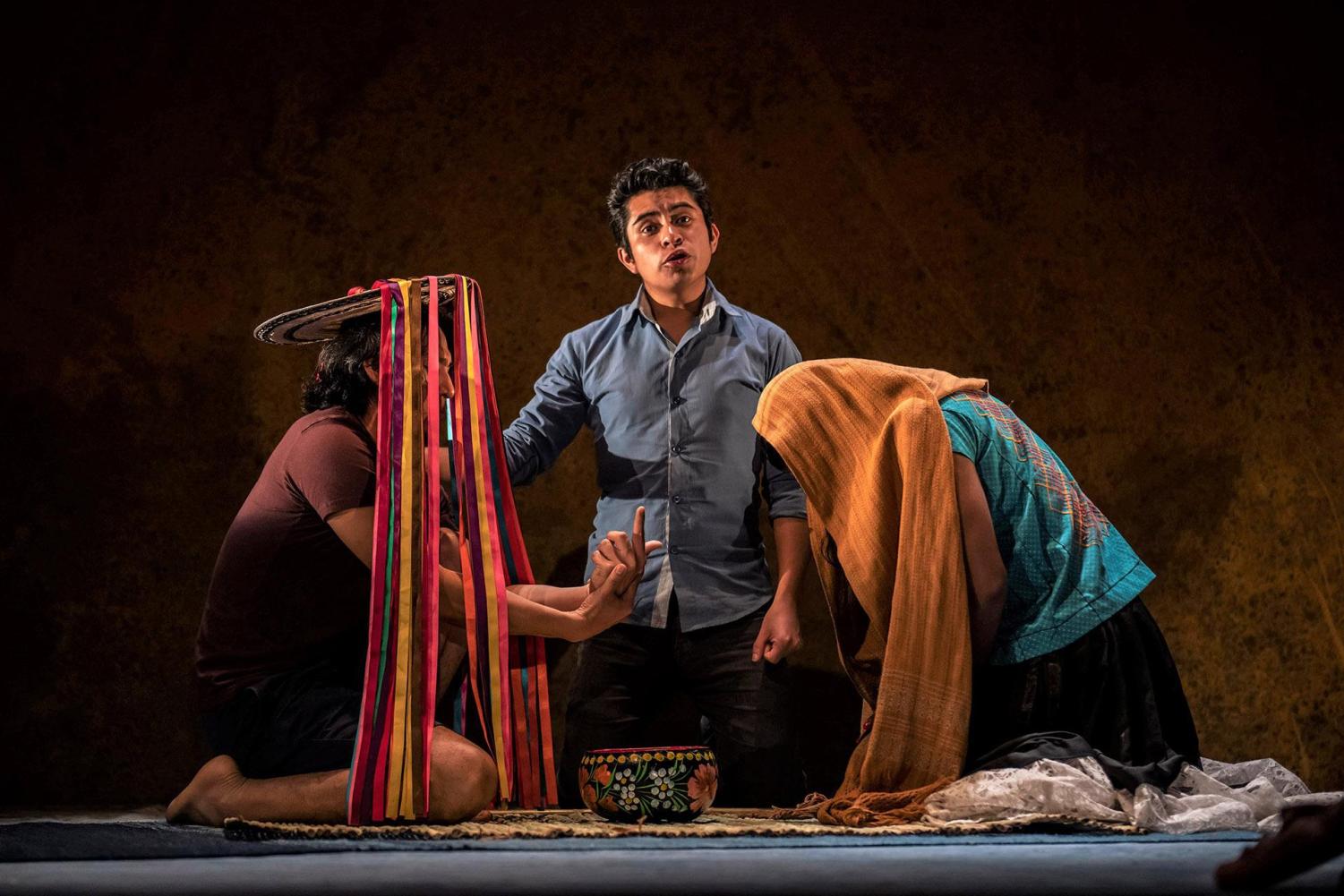 On the nights of Sept. 30 and Oct. 1, the '62 Center for Theatre and Dance hosted the Makuyeika Colectivo Teatral's production of Andares. Directed and written by Héctor Flores Komatsu with the collaboration of the original cast, Andares combines oral storytelling, ancestral myths, dance, and traditional Mexican music into a single performance that told the stories of Indigenous Mexicans. 
Andares reflects the theatre company's mission. Created to uplift Indigenous voices and stories, Makuyeika Colectivo Teatral showcases underappreciated histories that are often missing from the stage. Founded by Héctor Flores Komatsu in 2017 after spending a year visiting and learning about different Mexican Indigenous communities, Flores Komatsu was able to take his experiences and create the foundation for the Makuyeika Colectivo Teatral. Andares and other shows by Makuyeika Colectivo Teatral have been performed all over the world, allowing Indigenous stories to be celebrated and heard, while also acknowledging and respecting communities that are underrepresented or forgotten. 
The production opened with a guitar ballad on a simple yet captivating set, illuminated by warm light. Three actors emerged from the background. Slowly walking to the front of the stage, each one picked up one of three  clay masks, continuously accompanied by the guitar and cájon (percussion instrument). The first actor began to tell a story about his homeland and was quickly followed by another actor retelling an ancestral creation story of the sun. Each story was unique in message and plot but still added to the central themes of community and indigenous ancestry. 
The majority of Andares was in Spanish, with a few interjections in a variety of  Indigenous languages, and all of the non-English dialogue was translated on a screen behind the actors. Swapping focus between the screen and the actors was a seamless action that had no effect on the impact of the performance. Instead it allowed for an intimate conversation between the audience and actors and an authentic telling of Mexican Indigenous experiences. 
Each character told stories of childhood memories and past relationships, all of which touched on family and romance while providing insight into the characters' Mexican indigenous cultures and languages. One character discussed his connection to the land itself, telling stories of working the fields with his father. Another told legends of a blue stag symbolizing colonization followed by another character's stories and experiences with sexuality and gender fluidity. 
All of the narratives and tales were interwoven and touched upon mutual themes of community, love, and land. Concurrently, Andares featured the violence that Indigenous Mexican communities encounter from colonization to now and assimilation while also referencing the destruction of sacred lands due to climate change. Andares also highlighted and raised awareness about the increasing disappearances of women connecting with the feminicide in Mexico and brutality towards gender non-conforming people. The production weaved moments of laughter into these discussions through interactions with the  audience that created a tighlink between the groups. 
The actor's moving performances, traditional style of music, minimal set design, and deliberate lighting created an incredible depiction of everyday life and storytelling of Mexico's Indigenous communities. As a Mexican-American myself, I valued getting to experience the cultures of my family's home country, allowing me to have a piece of home that I didn't think I needed. Most of my own ancestry is lost, and this performance was an emotional connection back to my family's history that was never passed down. 
Andares was a beautiful combination of love and loss, and of sacred rituals and festivities that are still present and alive in Indigenous Mexican communities. Andares is an oral story that reflects on society's destruction of land and community in the name of "progress."  It's an intimate performance that allows the audience to appreciate and gain insight into the lives and traditions of Indigenous people in Mexico.