'Rise Together' walk on Spring St. raises funds for Elizabeth Freeman Center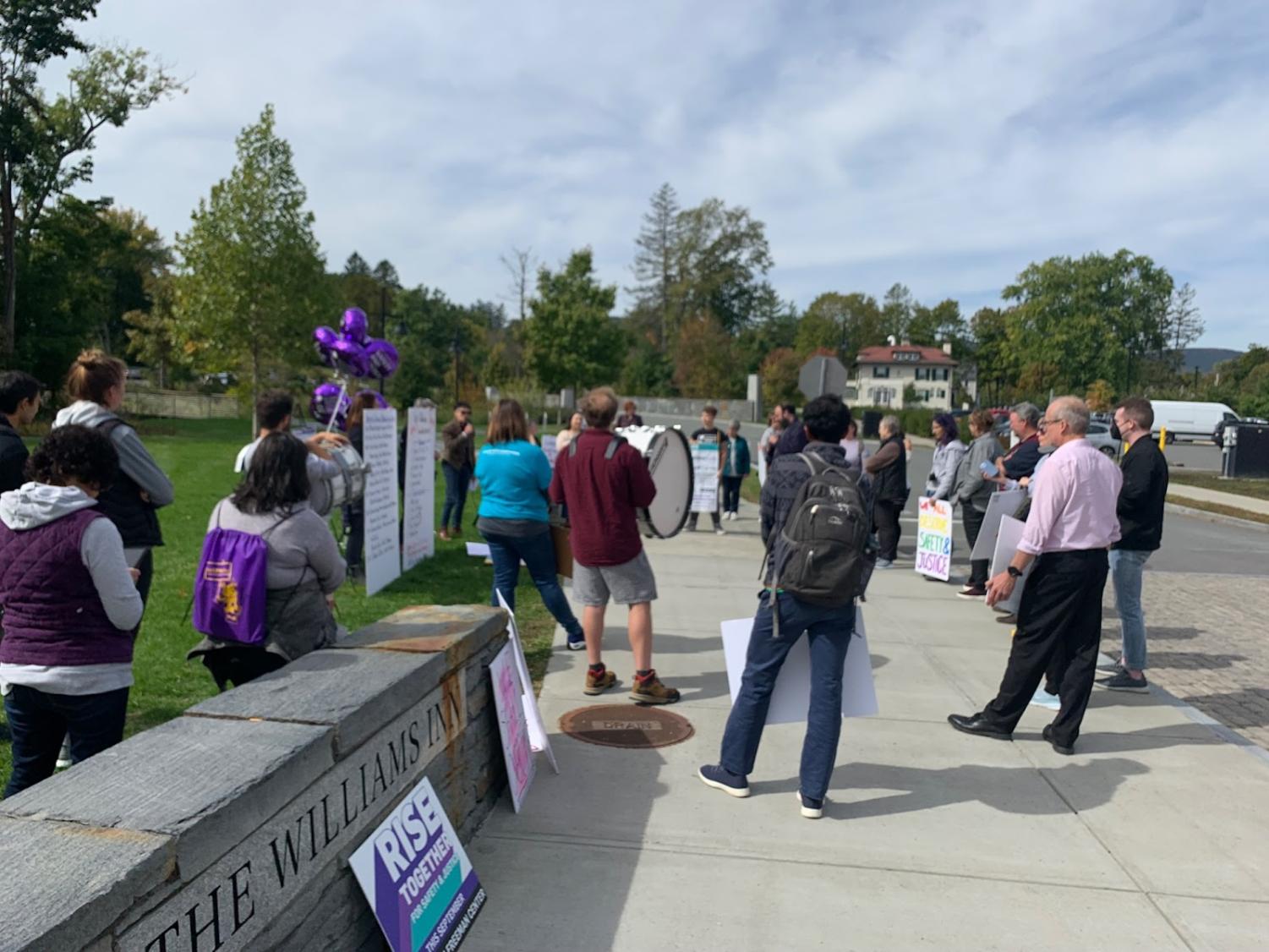 The Spring Street midday rush was busier than usual last Friday as the Elizabeth Freeman Center (EFC) held its annual Rise Together for Safety and Justice walk from 12 p.m. to 1 p.m. to raise awareness and funds. The event was co-hosted by the College's Rape and Sexual Assault Network (RASAN) and Office of Sexual Assault Prevention and Response (SAPR), as well as Greylock Together, a local chapter of pro-democracy group Indivisible.
Over the last month, EFC has organized six walks in different towns throughout Berkshire County that serve as fundraisers and awareness-building events for the nonprofit. EFC Executive Director Janis Broderick emphasized the importance of community in working toward the EFC's mission of offering "hope, help, and healing to all experiencing or affected by domestic violence and sexual assault."
At the start of the walk, there was a moment of silence for local domestic violence victims who died at the hands of their abusers, including Jillian Tatro of North Adams, who was killed in May.
While walking through the center of the Williams campus, Broderick spoke about the importance of Williams students being familiar with the services offered by the EFC, noting that 20 percent of individuals on college campuses experience sexual violence. "We would like Williams College students to know that we are here … and that we work with [professionals] at Williams to address issues of sexual violence," she said in an interview with the Record, emphasizing that the EFC offers free and confidential services to all.
Director of Intimate Violence Prevention & Response and Health Education at the College Meg Bossong '05 echoed the importance of the EFC for the community, as well as for Williams students. "Even though we have on-campus services, the EFC does a lot of court-based systems advocacy on the behalf of our students," Bossong said. "When students go to the hospital for evidence collection, EFC always shows up with a medical advocate."
But the EFC does not just serve adults — Bossong also noted the impact of EFC's violence prevention programs in local grade schools. "The work that EFC does throughout the community is crucial in creating systemic solutions to a pressing problem," Bossong said.
The walk drew about 30 community members, including representatives from Greylock Together. Jessica Dils, a resident of Williamstown and a leader of Greylock Together, said she attended to pay tribute to those who lost their lives to domestic violence and promote conversation around the issues of sexual and domestic violence.
Dils also pointed out the high percentage of those at risk and abused in Berkshire County. "Violence affects all of us, no matter who we are, where we are, [or] what we look like, and it's important to be together as a community to support this incredible work that the [EFC] does," she said.
Broderick conveyed a similar message about encouraging discussion when it comes to the often-hushed topics of sexual violence. "These are issues that are not generally talked about around the dinner table or over coffee, but we need to start talking, because when we start talking, we break that silence," she said. "We break the stigma of shame and blame that survivors feel and the lack of support."