Men's cross country sweeps at Purple Valley Classic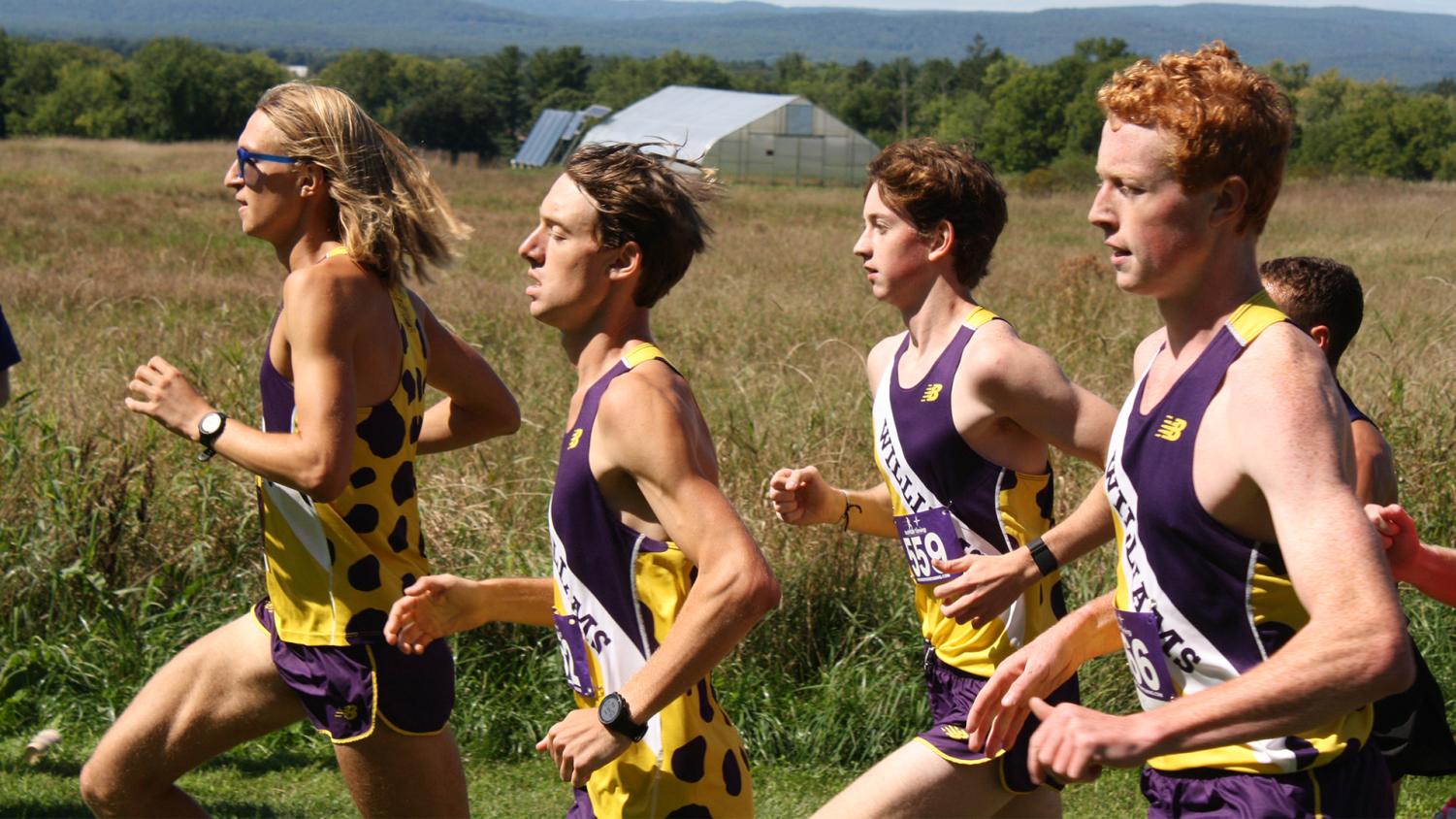 Against a scenic backdrop of fall foliage and panoramic mountain views, the men's cross country team raced to victory at the Purple Valley Classic Meet this weekend. The Ephs swept the top ten places in the 8k race, earning a perfect score of 15 points and first place. Amherst took second place with a score of 65, and WPI came in third with a score of 76.
For the third time this season, co-Captain Elias Lindgren '23 was the first finisher for the Ephs and the top finisher of the meet. After running with Grahm Tuohy-Gaydos '25 for the first half of the race, Lindgren pulled away to finish with a time of 24:43. Tuohy-Gaydos was close behind, clinching second place with a time of 25:20. John Lucey '24 claimed third, and Nikhil DeNatale '26 took fourth, with times of 25:26 and 25:30, respectively. Forming a strong group, the next six Ephs finished within just nine seconds of each other. Nate Lentz '24 (25:40) and Simon Kissam '23 (25:41) were next to cross the line, followed by co-Captain Will Spollen '23 (25:43), Chuckie Namiot '25 (25:45), Chris Ratcliffe '24 (25:46), and Pat Theveny '24 (25:49), solidifying the Ephs' sweep of the top ten individual places.
"I thought, going in, that we could get 10 finishers in the top 15, but I didn't imagine taking all 10 of the top spots," Head Coach Pete Farwell '73 said of the Ephs' win. "The men worked hard to earn this, and I'm very pleased with their performance."
First years Ryan Hardiman '26 (26:33) and Bradley St. Laurent '26 (26:57), each racing for the first time on the Mount Greylock course, worked with Oliver Hall '23 (27:02) to place in the top 25. The next duo of Ephs to cross the line were also first-years, with Zach Liu-Walter '26 (27:23) and Luke Zanuck '26 (27:25) taking 34th and 35th, respectively. All five first-years that raced in this meet finished in the top 50 places of the field, which contained almost 150 runners. Jacob Lehmann Duke '24 (27:26), Jinwoo Kang '24 (27:41), Jackson Hartigan '23 (27:42), and Victor Cazabal '25 (27:54) were also top-50 finishers. Another memorable finish for the Ephs came from Keith Grossman '22.5, who raced to a time of 30:03 in what was his first college cross-country meet due to injury.
[Editor's note: Hartigan is an executive editor on the Record and was not involved in the writing or editing of this piece.] 
The meet took place at the Ephs' home course of Mount Greylock Regional School. Its rolling hills and winding trails are, according to Farwell, the essence of "real cross-country," something that he says the Ephs were well-prepared for.
Kissam credited the weather conditions for part of the day's success. "We had a little sprinkle of rain this morning, but nothing was wet or muddy by the time we ran," Kissam said. "Overall, very good conditions for racing."
Aside from their hard work and their knowledge of the course, the team's camaraderie and morale were great contributions to their success this weekend. "We've had a very bumpy first month of the season, so it was great to finally have a race where it felt like we had the whole gang back together," Lindgren said. "We have greater depth than we ever have before… This bodes well for the rest of the season, and I'm beyond excited to see what we're going to do over the next couple months."
The next race for men's cross country will be at the Connecticut College Inter-Regional Meet on Oct. 15.