We're laughing too hard to worry, darling: Drama drives Images crowd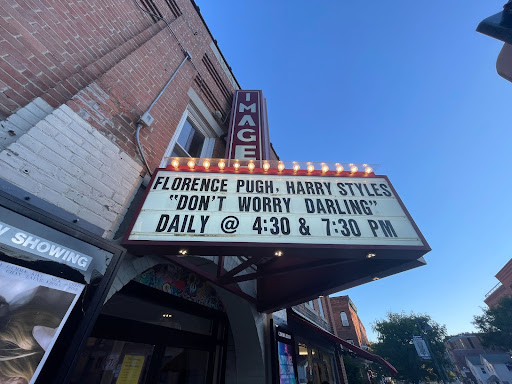 Campus was already abuzz with discussion and anticipation before the lights dimmed for the 7:30 p.m. showing of Don't Worry Darling at Images Cinema on Friday night. 
"On my WOOLF trip, I was with this girl, and one of the first things she said about herself was that she had been following [the Don't Worry Darling drama] avidly," remembered Cathy McPartland '26, who was in attendance at the opening night showing.
 "In the Goodrich line yesterday, this girl was catching me up," said Lauren Izanec '26, another Friday night moviegoer.
"I'm kind of entrenched in the entire saga," Jasmine Moore '24 said, before recounting the seemingly endless stories that have plagued the promotion cycle of director Olivia Wilde's sophomore film: rumors of an explosive, on-set feud between Wilde and lead Florence Pugh; Harry Styles' disputed replacement of Shia LaBeouf in the cast after the emergence of abuse allegations; Wilde and Style's ongoing love affair; and, perhaps most ludicrous, a viral clip of what may or may not be Styles openly spitting on Chris Pine at the Venice premiere screening.
Given the sheer amount of controversy drawing the attention of College students, it is no surprise that Images had to turn roughly 25 people away from the sold-out Friday night opener, according to Managing Director Janet Curran. "We haven't had that happen in a while," she said. "All the drama surrounding the film's production is definitely contributing to it."
Don't Worry Darling is set in an eerily idealistic 1950s town and follows Pugh and a handful of dolled-up housewives willingly ignorant to the mystery work that Styles and the town's other husbands depart for every morning. As Pugh starts to realize that this picture-perfect society isn't quite what it seems, she uncovers the more sinister secrets behind the men, their mysterious day jobs, and the stately town, leaving her to wonder if she's imagining these fissures or if there's really something darker at play.
Even without the scandals and gossip, Don't Worry Darling's star-studded cast and production team alone would have drawn viewers to Images. Izanec and her friend Olivia Roberts '26 sported Harry Styles merchandise to the opening night showing. 
"I'm a die-hard Harry Styles stan, and I've been disassociating from all of the drama," Izanec said. "I love him too much to know [what happened behind the scenes]."
In contrast, Moore was excited to see the British singer on screen for another reason. "I'm not a Harry Styles girl, so I can't wait to see him fail miserably, as he did in that clip," she said. "I'm just kidding," Moore added, laughing.
The clip in question, released a month before the film's official premiere and mocked incessantly online, shows Styles delivering a painfully acted monologue. Sure enough, on Friday night when Styles appeared on screen to tell his on-screen wife that "not everyone gets this opportunity" in a strangely Americanized British accent, the audience at Images burst into laughter.
The film is billed as a psychological thriller, but you would never know from the crowd's response. "I was going kind of as a joke," McPartland said. "I had no idea that we would be universally laughing every time Harry Styles came on screen."
Despite its financially impressive opening weekend — both in Williamstown and nationally — critical response has been dismal, skewering Styles' forced performance as well as the film's awkward writing and lackluster back half.
Curran suggested that a combination of pre-release controversy and high expectations following Wilde's directorial debut Booksmart has produced a harsher audience than is fair. "It's a great-looking movie — the production design and costumes and music all carry you through the story," she said of the meticulously designed desert landscape and the film's streamlined color palette. "I think if it wasn't for all of this drama surrounding the movie, we probably all would have watched it and thought, 'That's an OK movie.'"
McPartland, however, thought that it was Styles in particular who made the film so amusing. "He's not a very good actor, but that's not inherently funny," she said. "He occupies some sort of cultural space that only makes sense if you already understand that."
Regardless, Don't Worry Darling — especially shown in a packed theater of College students — lived up to the spectacle promised by the never-ending barrage of gossip that has emerged in recent weeks.
"This was actually a really sweet moment of collective denigration," McPartland said. "I think I'm going to go see this movie three more times. I'm obsessed."
Images is screening Don't Worry Darling until Oct. 1.