'A tight fit': Students share experiences living in flex rooms, react to housing points pilot program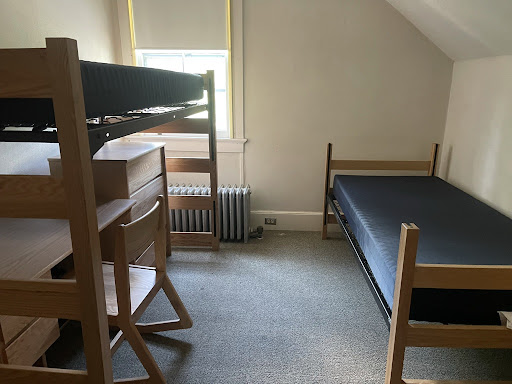 When the first-year residents of 33 rooms in Tyler Annex — or "Tannex," as it is affectionately dubbed by students — moved into their dorms, they were greeted with a flyer about "flex rooms" and two lofted beds crammed into a roughly 133-square-foot space.
Flex rooms have two sets of furniture and can be used as singles or doubles, depending on the number of students in the housing system during the given academic year.
"It's really not meant for two people," said Hridesh Singh '25.5, who lives in a Tyler Annex double. "It's doable … but for two people, it's a tight fit."
Without common rooms that could hold excess furniture, Tyler Annex residents in doubles have no choice but to loft both of their beds and put their desks and dressers underneath. "Otherwise the desks are not going to fit," Singh said. 
Aside from the forced top-bunk, lofted beds have another drawback. "Every time I sit at my desk, I bang my head on the bed frame," Singh added.
Singh also suggested that smaller spaces could lead to heightened tensions. "If you didn't vibe with your roommate, it would be really tough because of how confined the space is," he said.
The College has had flex rooms in the past. In response to historically large incoming first-year classes, however, the number of flex rooms increased from 45 to 155 this year, making rooms as small as 132 square feet into flexes.
To fit two full sets of furniture into such a limited amount of space, the Residential Life Team had to get creative. "The loftable furniture is intended to optimize the use of floor space in smaller rooms," Senior Associate Dean of Campus Life Douglass Schiazza wrote in an email to the Record.
Lizzie Lappin '25, who lives in a 175-square-foot flex double in Dodd, does not mind her lofted bed or small room. "I genuinely haven't felt cramped or anything at all," Lappin said, adding that her room felt more spacious than her previous one, which was a single in Sage.
Schiazza reflected this sentiment. Only "a few, but not many" students have reached out with complaints about flex rooms, he wrote.
Despite the lack of complaints about the smaller doubles, Schiazza and Dean of the College Gretchen Long "decided [they] wanted to do a bit more for the students sharing a flex room with another student," Schiazza wrote. The result was the housing points pilot program, "through which students who are sharing a Flex Room with another student will receive one additional housing point per day that they are roommates … to be used for housing selection for the next academic year," according to a campus-wide email sent by Schiazza on Aug. 29.
The housing points pilot program aims to give students who live in small flex doubles a better "selection time within their class year, which means they'll have more options to choose from at that time," according to the email.
"We do deserve the [additional points in the] lottery system," Lappin said. "People are living a lot differently than us [in non-flex doubles]."
For Singh, however, it remains to be seen whether or not the promised points will be worth his small living space. "I won't know … until [next year's] lottery ends," he said. "If I end up in another double, or something like that … it wouldn't be worth it."