Instructor Melissa Kate Adams-Silva shares ASL, Deaf culture with the College through new course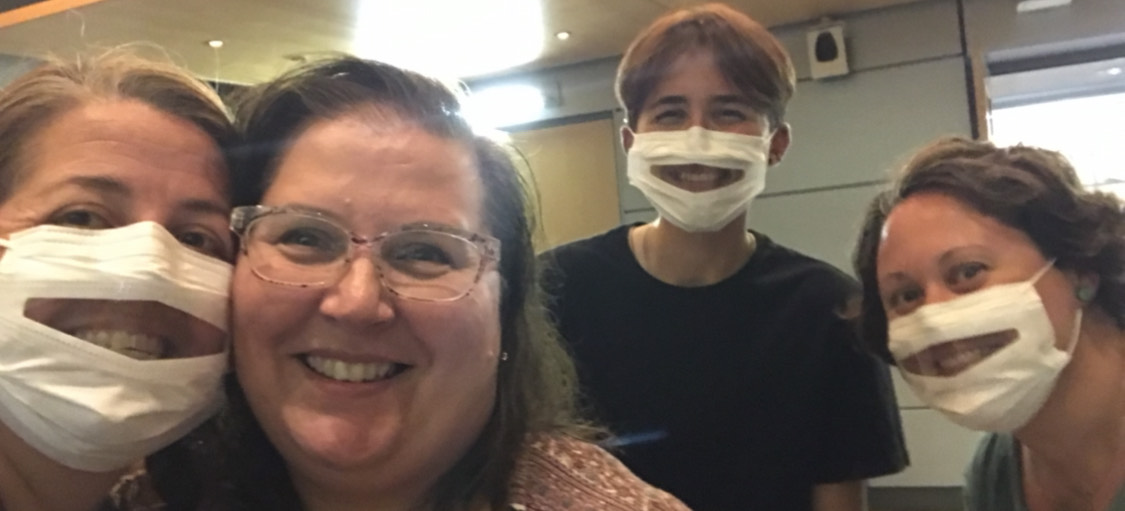 In the 1890s, Paul Hubbard, a quarterback for Gallaudet University, a Deaf university in Washington, D.C., gathered his team around him in a tight circle. Using this formation, he could communicate with his teammates without the other team seeing the plays he was signing to the rest of his team. And thus, the now-ubiquitous football huddle was born. Like other practices created by the Deaf community, the football huddle's origins are not widely known. 
"There are lots of things like that," said American Sign Language (ASL) Instructor Melissa Kate Adams-Silva, who is Deaf and is teaching an introductory ASL course at the College this fall. She pointed to examples like closed captions, which were created to support the Deaf community but are now used by non-Deaf people as well. Her course seeks to not only teach students ASL, but also to raise awareness about Deaf experiences and societal contributions from the Deaf community. (Some members of the Deaf community prefer to capitalize "Deaf" in reference to Deafness as a culture and reserve "deaf" for hearing loss as a medical condition.) 
This summer, Laurie Benjamin, an ASL interpreter at the College, contacted Adams-Silva about teaching ASL as a critical language course. Adams-Silva took on the position, as long as she could teach remotely, given that she was already teaching at several other colleges in the area via Zoom. 
"They told me that it's been about 30 years that the town, or Williams College, had been looking for a Deaf instructor," Adams-Silva said. Last year, two students enrolled in an online ASL course at Gallaudet University, but this is the first time the course has been taught by a College faculty member after years of student-led efforts.
Adams-Silva began the course this fall by immediately immersing students in ASL, asking them to use noise-canceling headphones to reduce their reliance on hearing. "We start class off without any voice," Adams-Silva said. "I used an interpreter for the first day so that you are fully immersed right away, and so you get a sense of how to use an interpreter. Most people come not having a clue what to do." 
Adams-Silva also uses a textbook for her course, but her primary learning objectives for the course extend beyond students understanding the mechanics of sign language. "My first hope is that they enjoy it, that they find a connection with the community, whether it's through being a teacher, advocate, [or] someone who just wants to spread awareness," Adams-Silva said. "Most of the time, within the first two weeks, people say, 'Why are we not doing this since birth?'" 
"There's a lot of our history that is really ingrained in the hearing world, yet the hearing are unaware of it," she added. "You have gained so much from us and our fighting to break down barriers." 
Adams-Silva strives to take the learning outside of class as well. Later in the semester, she envisions her students interviewing local Deaf community members, engaging in "paint, sip, and sign" nights (a casual art class where participants communicate with ASL), or participating in game nights that incorporate ASL. Her goal is for students to engage with Deaf culture beyond the classroom and to better understand and empathize with the Deaf experience.
"I don't want you to take yourself out of your papers or reflections — I want you to be involved in it," Adams-Silva said. "You may have experienced something similar, but in a different culture, different community, or different situation."
 Adams-Silva is currently only offering a year-long introductory course that requires an entire year of study to receive credit, but she expressed hope that interest in ASL classes would continue to grow in future years as more people become aware of the class. Adams-Silva also noted that there will be an ASL table this semester, open to all students looking to learn and practice the language. 
"What has been rewarding for me is seeing people getting involved," she said. "I've heard from so many [past students], even after the semester ends, about how it impacts their lives. They didn't think it would, but it did either with their children at home or with their jobs." 
She went on to note that broader efforts towards diversity, equity, and inclusion must include Deaf communities. "People keep forgetting us," she said. "They are not aware that they're excluding us or that there is a thing called hearing privilege… [There are] so many ways to be involved in the Deaf community, but the first one is becoming aware."