The Artist Otherwise Known As: Peter Miles '24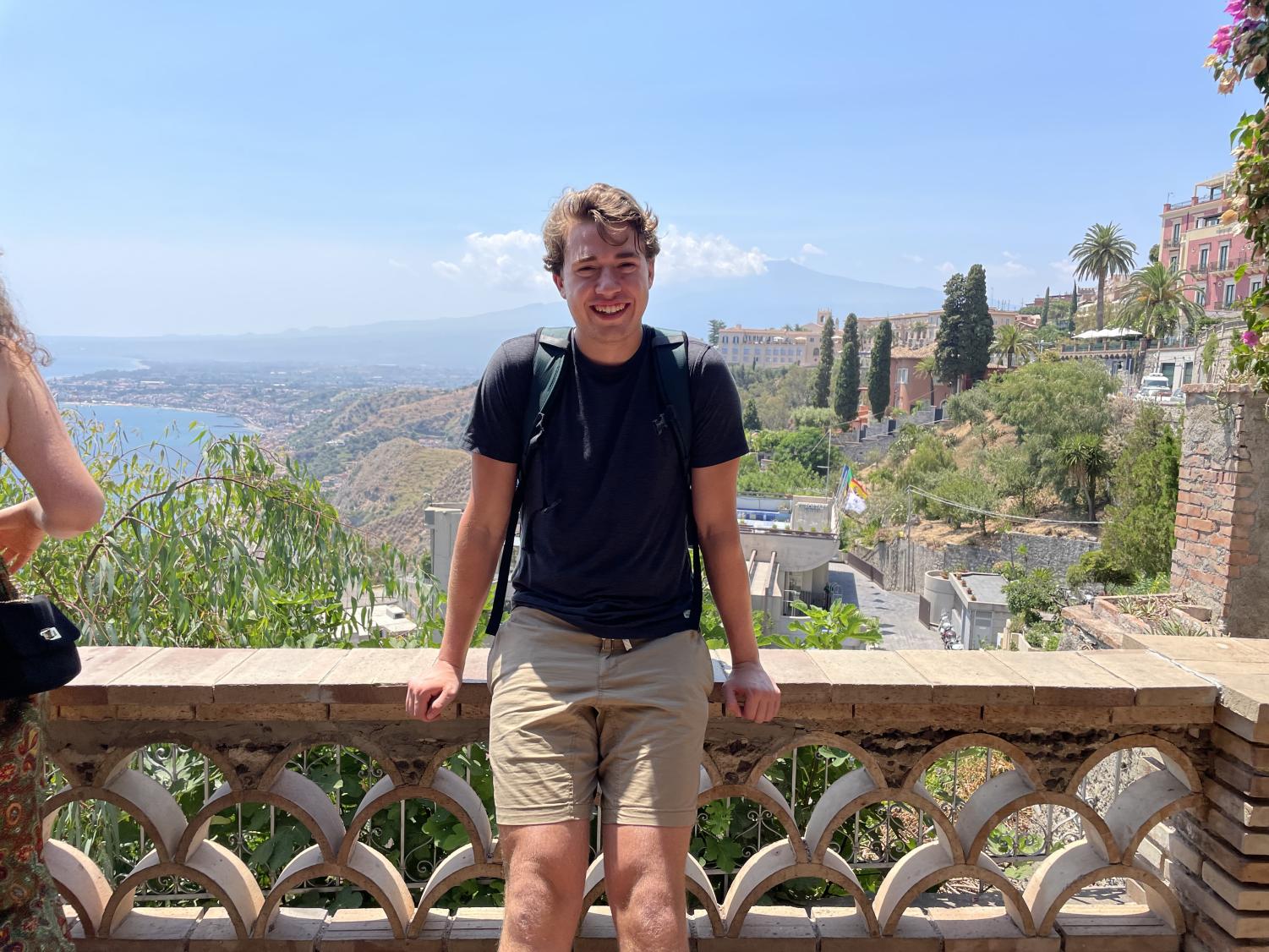 Peter Miles '24 has always been passionate about music. In addition to teaching himself how to play the guitar, he sang in choral groups throughout high school and is a member of the Springstreeters at the College. "I've always liked to sing," Miles said. "It's always been a great way to feel emotion more deeply when it can be hard to in everyday busyness."
Miles, however, had little idea that his interest in singing would lead him to study at the Mediterranean Opera Studio and Festival in Caltagirone, Italy, this past summer. After joining the Springstreeters his freshman spring, Miles was introduced to opera by Artist Associate in Voice and Co-Director of the Williams Opera Workshop Paul La Rosa, who encouraged him to audition for the workshop during Winter Study his sophomore year.
"It was a huge learning curve," Miles said. "Freshman fall, Zoom. The spring, still Zoom. Then sophomore fall was in-person for the first time, and then I had to learn an opera. I had no idea how to do it." 
For the audition, Miles explained that he first focused on the rhythms of the score. Next he learned the notes, and then layered the language pronunciation  — in this case Italian — on top. "We usually don't think about learning music this way, especially if you're just going to sing something for fun, because it's more intuition-based," Miles said. "For opera, it's about learning music that isn't intuitive to us, and then on top of it, learning the language that also isn't intuitive to us. You have to actually break it down into parts."
Miles played the role of Schaunard in the Williams Opera Workshop's production of La Bohème and enjoyed being part of the show, despite the challenges of navigating rising COVID-19 cases and canceled rehearsals. "It was really intense — we spent a lot of time rehearsing because we missed the first week of Winter Study because of COVID," he said. "So then we had to learn everything in two or three weeks and put it up."
Participating in the Opera Workshop highlighted the differences for Miles between performing in a student-led a cappella group like the Springstreeters and performing opera. "They're so wildly different, which is weird to say because they're both singing, right?" he said of opera and a cappella. "But I have a different appreciation for both." 
Miles mentioned that La Bohème, along with many operas, has more somber themes than the songs he sings with the Springstreeters. "I love the show, but it's also really depressing, because it's full of violence," he said. "Honestly, that's the other thing about opera. I'm like, 'why do I do this?'"
La Bohème also allowed Miles to experiment with a different part of his vocal range. For the Springstreeters, Miles usually sings as a tenor 1, which is the highest male voice part typically found in a choir. For La Bohème, however, he was a baritone — a much lower voice part.
Miles said he especially enjoys the technical focus required to sing opera. "Physically, the sound is much clearer, much richer," he said. "You can get a better resonance. And if you have the context for opera with some sort of cultural background, it has a lot of emotional capacity too, but opera [is] kind of inaccessible because a lot of people don't grow up listening to opera music or don't speak Italian."
Miles heard about the Mediterranean Opera Studio and Festival through friends at the College and La Rosa, who encouraged him to apply after the Opera Workshop. With a cast of around 50 singers from around the world, including other students from the College, Miles spent six weeks taking Italian classes, exploring Italy, and participating in daily opera sessions that focused on learning cultural conventions rather than vocal technique. "They would be like, 'this tradition in the Italian opera is that you have to sing it this way, and you have to make sure that you put the two vowels under the same note,'" he said. "It was all about learning the details."
Miles performed almost every night in three separate shows: Gianni Schicchi, Rigoletto, and La Bohème, in which Miles reprised the role of Schaunard. "La Bohème was my favorite, I think, because we did it here [at the College], and then I performed it there," he said. 
Miles hopes to continue pursuing music in the future, potentially through starting a band. Although he is not yet sure whether he will include opera in the repertoire, he said that opera has already improved his performance ability. "Even if I completely ignored everything I learned, just the muscle memory and the technique will carry over and make all the other things easier, freer, and more expressive, too," he said. "I learned a lot about just letting myself perform and express emotion in a very deep way."
Miles explained that fostering appreciation for opera would require greater means of accessibility to combat a growing lack of interest from younger generations. "I wish opera was more accessible, and it's just not," he said. "There's language barriers, and it's also just not a big part of the culture. But it's still a respected art." 
Miles mentioned that it even took him his three years of training to appreciate the medium. "Sometimes I'll play the music from La Bohème and be like, 'this is awesome,'" Miles said. "But that's only because I've listened to it so much and threw myself into it."
"People now ask me, 'are you an opera singer now?'" he added. "And I'm not going to have a linen scarf or a big beard, you know, that's not my goal. But I do wish it was more appreciated."