Spring approval ratings survey shows increased approval for the Office of Financial Aid, decreased disapproval for the Registrar's Office and CSS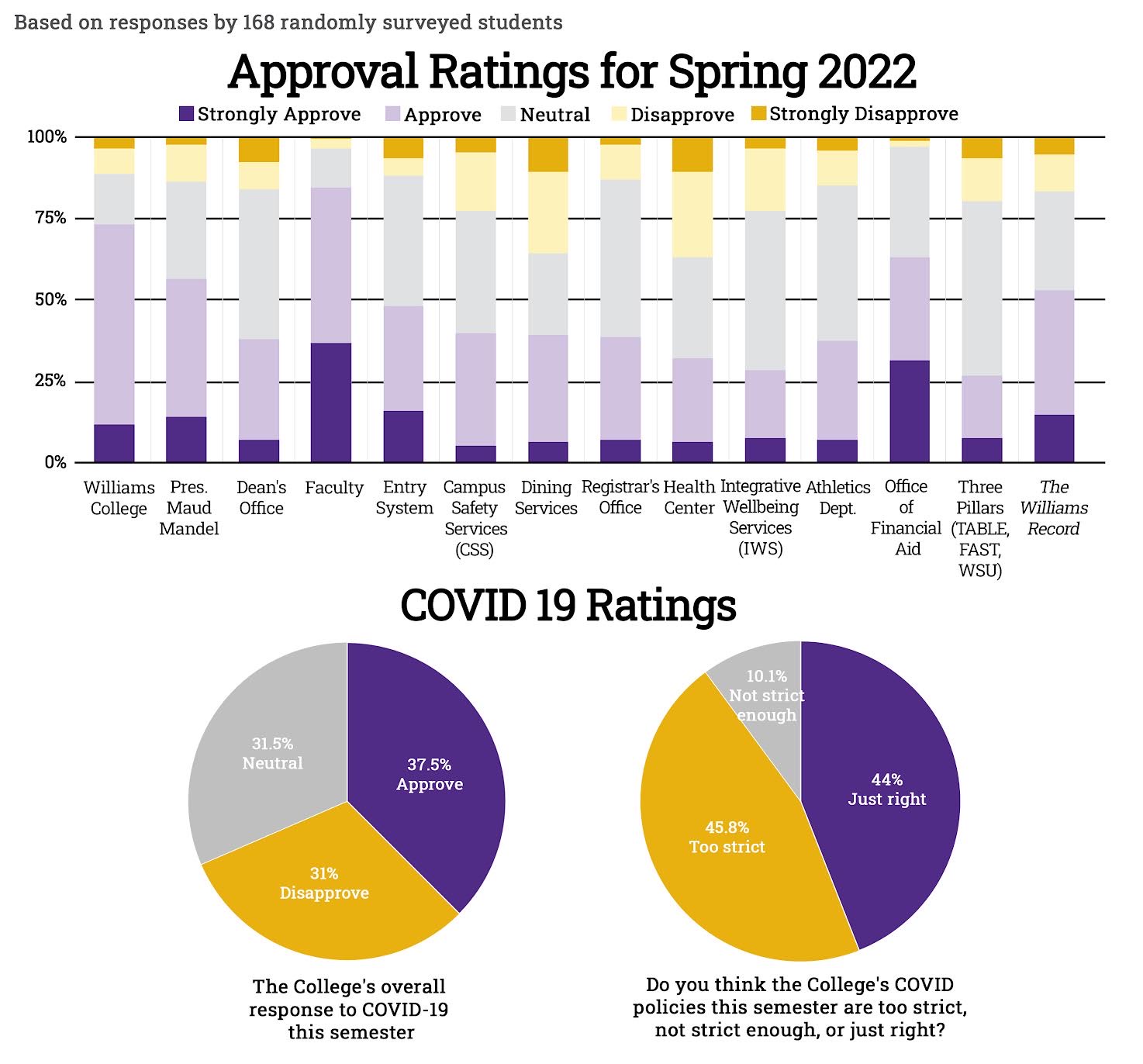 The Record sent its twice-annual survey last week to 500 randomly selected unixes to gauge student approval of various College institutions and policies.
While general approval for the College increased slightly from last fall, other institutions experienced more significant changes in approval. The Office of Financial Aid experienced the greatest change in approval, which rose from 36 percent to 63 percent and comes on the heels of the College's recent elimination of all loans in their financial aid policy. Disapproval of the office remained low: around 3 percent.
The Office of Financial Aid wasn't the only institution to experience a rise in approval that correlates to a recent policy change. This semester, the Registrar's Office's approval increased by 11 percent, while its disapproval decreased by 15 percent. These findings follow a change in the College's Pass/ Fail policy made in February to allow students to designate courses Pass/Fail after seeing their final grades.
Campus Safety Services (CSS) also experienced a notable decrease in disapproval this semester. While approval of CSS remained at 40 percent, about the same as fall 2021, disapproval decreased from 36 percent to 23 percent, marking a 13 percent drop. Last fall, students expressed discomfort with CSS's increased presence in dorms.
This semester's survey received a 34 percent response rate, and the sample statistics had a 7.6 percent margin of error. Nearly one third of the survey's 168 respondents were first years; sophomores, juniors, and seniors made up 24 percent, 20 percent, and 24 percent of respondents, respectively. In this survey, students graduating December of 2022 were considered seniors. Following the same pattern, students graduating December of 2023, 2024, and 2025 were considered juniors, sophomores, and first years, respectively.
45 percent of the survey's respondents said that they receive financial aid, which is slightly below the 48 percent of the student body overall that receive financial aid at the College. The number of respondents who identified as women was not significantly different from the number of respondents who identified as men. Additionally, 74 percent of respondents identified as white, while white, non-Hispanic students make up 50 percent of the student body. While differences between the College's and the Record's metrics for measuring demographic data may account for some of the bias, responses from students who identified as white were likely still overrepresented in the results of this survey.
The College's overall approval increased 7 percentage points to 73 percent, while approval of the faculty increased 6 points to 85 percent. With this recent increase in approval, faculty have the highest approval rating of all institutions surveyed this semester.
Other notable shifts include a decrease of 15 points in disapproval for Integrative Wellbeing Services (IWS), as disapproval dropped from 38 percent to 23, countering the increased disapproval of IWS that the Record reported on in the fall. This semester, approval of IWS increased slightly, from 25 percent to 28 percent.
In addition to approval of College institutions, the survey also asked its recipients about approval of the College's COVID-19 policies and mental health resources.
Respondents expressed more dissatisfaction with the College's COVID initiatives this spring than last fall. When asked about the College's response to COVID this semester with the options of "Approve", "Neutral," and "Disapprove," about 38 percent of respondents approved, while the rest were split between disapproval and neutrality. This is a significant shift from the overwhelming 74 percent approval for the College's response to COVID last fall, when respondents were asked the same question.
Similarly, when asked whether the College's CO- VID policies of this semester were "too strict," "not strict enough," or "just right," respondents were split between believing the policies were "too strict" and "just right," with 45.8 percent of respondents saying that they felt the current policies are too restrictive and 44 percent said they felt the policies are appropriate. Last fall, only 29.3 percent of respondents said the College's COVID policies were "too strict," while 64.7 percent said they were "just right."
In response to a question about whether or not the College offered adequate mental health resources, the majority of respondents either said that they felt neutral or the College was not offering adequate resources. 43.5 percent of respondents said no, 36.3 percent felt neutral, and the remaining 20.2 percent said yes.
Additional approval ratings can be found online at williamsrecord.com
Nigel Jaffe contributed reporting.