Students and faculty explore Sterling A. Brown archives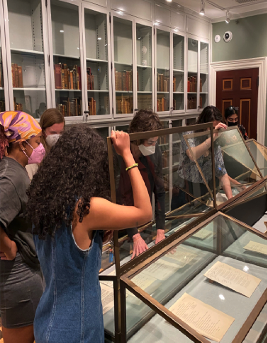 When the family of writer Sterling A. Brown, who was a member of the Class of 1922, contacted the College in 2019 to offer his complete archive, Lisa Conathan, Head of Special Collections, jumped at the opportunity to acquire it. "It was really a monumental archive for us to take in, representing the life work and legacy of a Williams alum from 1922, which we're super excited about," Conathan said. "[It's] the most comprehensive literary archive that we have."
Brown was a Black professor, critic, and poet — becoming the first Poet Laureate of the District of Columbia in 1984. As a professor of African American literature at Howard University, he taught students such as author Toni Morrison and activist Kwame Ture. "He really brought dignity and seriousness to allowing [African American vernacular] to just exist as literature and just to be as it is, and to contribute to American poetry," Conathan said. "I think that's a really important contribution to American literature."
Jessica Neal, the former Sterling A. Brown Archivist for the College said Brown's collection is a rare opportunity to learn more about Black cultural production and the 20th century. 
"It's written correspondence and photographs [and] art," Neal said. "His album collection — that, we have. His personal library — that, we have. It's over 6000 books. This all serves to document Black life through the eyes of Black folks, Black creatives, educators, activists, musicians, theologians, writers. And you find all of that and more in this collection."
Despite Brown's importance as a figure of the Harlem Renaissance, his work has not received the widespread recognition that it arguably deserves. "It's truly a shame because his work is truly phenomenal," said Destinee Filmore, a student in the Williams Graduate Program in the History of Art. "And I think he's now beginning to reach the point of becoming a central figure from that time period."
Filmore admitted to never having heard of Brown before coming to the College. "I'm an art historian by trade and a curator in the making, and my area of interest is African American modernism, so that includes the Harlem Renaissance," Filmore said. "Sterling Brown is one of the luminary literary figures from that time, and I had no idea who he was." 
Filmore is one of the students in Professor Bethany Hicok's English course, "Modernisms and the Archive," which examines American Modernist writers through their archives. Each student chose an object from the Sterling Brown Collections to include in a public exhibit, currently displayed in Special Collections. 
Lara Mentjes '22 created a case of materials from one of Brown's classes at Howard. "We get to see Sterling Brown in this case as not just this extraordinary poet, this magnificent figure, this alum that everyone is in total awe of — completely reasonably — but also as a human being and a student who had a big crush on a girl named Ethel," Mentjes said. "And I love that. I love the humanizing nature of the archive." 
Students in Assistant Professor of English Ricardo Wilson's course "Dislocating the Harlem Renaissance" have also had the opportunity to study Brown through the archives. Wilson said that Brown is a figure whose work is "temporally starting to get at the edge of what we understand to be the Harlem Renaissance," as his most famous book of poetry, Southern Road, was published in 1932. 
"But so many of his poems were constructed in the '20s," Wilson said. "His connections with folks are the who's who of what we understand to be the New Negro Movement or the Harlem Renaissance, so he's a useful figure in that way."
Chapin Librarian Anne Peale and the student workers assisting with the Brown collections were also on hand to help students navigate the archive. "I think the students [in Hicok's course] have really gone through a process of initially being a little bit overwhelmed by the volume that's available to them.As they've returned to the collection, over a number of sessions, they've gotten much more confident working through the material, understanding how to request access to additional resources," Peale said. 
Student archivists for the Brown Collections are responsible for summarizing its contents to help students and other researchers find what they're looking for. As students in Wilson and Hicok's classes navigated the Collections, these archivists were still sorting through its contents. "I think that is a super dynamic thing for students to kind of realize, you know, how … the archive is not a firm thing," Wilson said. "It's [some]thing that gets assembled by human beings. Some of them are your classmates."
Students in Hicok's class had used digital archives throughout the semester, and they were challenged by working with Brown's unprocessed physical archives. "We wanted to see some Sterling Brown manuscripts, so Anne [Peale] brought in a couple of boxes that hadn't been processed," Hicok said. "In fact, they [still] haven't been processed yet, and one of them is really a heap. I mean, it is crumbling, and Anne pointed out that before you can even begin cataloging this material, it has to be rehydrated so that you can actually get it out of the box without it being a pile of dust when you get it out of there."
Fanely Caba '25, a student archivist, said that going through Brown's collection has taught her about the history of the College. According to Caba, the College sent alumni and parents a pamphlet in the 1980s denouncing a cross-burning that occurred on campus. "I found [the burning] very off-putting," Caba said. "I wouldn't have thought something like that would happen on campus, especially in that decade."
Paige Anna Busse '24, another archivist for the Collection, enjoyed reading the stories of all the people with whom Brown corresponded. "[You get] somebody who worked with Gandhi, part of the Indian freedom fighters movement and an Indian socialist, who [was] in America and want[ed] to hear about the plight of Black people in America, and [was] like, 'I understand what it's like to be in prison,'" Busse said. 
Even though many of the students engaging with the Brown Collections did not previously know who Brown was, they all expressed an increased appreciation for his legacy through examining his archive. In October, Special Collections will be hosting a symposium about the Brown Collections, further celebrating his life and work. 
"He's somebody who I think has not gotten enough attention in the scholarly literature," Conathan said. "And the fact that we now are kind of processing these archives and cataloging all the books that belong to him, I think will call more attention."