Four in Two Thousand: Joey Fox '21, Sofie Jones '22, Irene Loewenson '22, and Kevin Yang '22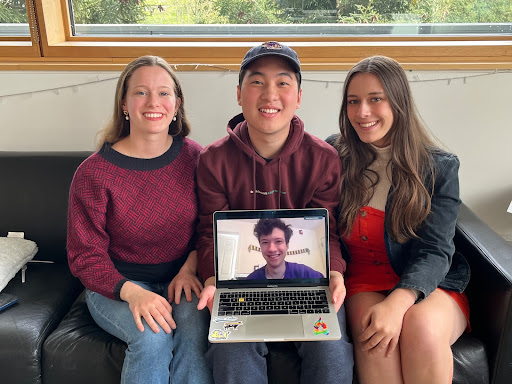 In spring 2021, Kevin Yang '22 served as editor-in-chief alongside managing editors Joey Fox '21 and Irene Loewenson '22. Then, in the fall, Loewenson served as editor-in-chief while Yang became a managing editor alongside Sofie Jones '22. For the last regular issue of the spring semester, current managing editor Bellamy Richardson '23 sat down with them — with Fox on Zoom — to discuss their experiences leading the Record online-only last spring and returning to print last fall. This interview has been edited for length and clarity.
Bellamy Richardson (BR): Could you each tell me something that you are particularly proud of from your time working at the Record on management?
Joey Fox (JF): I was really proud of the way that we tried to cover every single aspect of the campus. The thing that I felt personally contributed the most was my article about staff in the pandemic. But just generally, I was really happy with the way everybody on Board [was] committed to the idea of covering everything [and] everybody to do with the pandemic in a really holistic and helpful way. I think that people in general reacted to it well.
Kevin Yang (KY): I started news reporting [by] covering Town news. I was breaking the story with Jeongyoon [Han '21], former editor-in-chief, about the lawsuit against the police department revealing several instances of police misconduct. Before that, I was an opinions editor. I didn't write at all. And [after] starting there and moving through the Record and eventually becoming editor-in-chief, Town news reporting has still had a special place in my heart. I think that, for me, it's one of the greatest transformations of this newspaper. And obviously, I wasn't the one who did all of it. But helping encourage that transformation, having a town news section and focusing students' attention to our town — that's been really meaningful to me, and it's something that I'm glad the Record is still doing.
Irene Loewenson (IL): One thing I'm really proud of is the reporting that all four of us did in summer 2020, actually before we were on management — along with many other editors on the Record — about the impending reopening [of campus]. We had no idea what the fall semester was going to look like. Once we found out that it was going to be in person, we had no idea whether that was going to last or whether we would just be sent home. I'm really proud of how hard we worked to push the administration for answers about what life was going to be like and then communicate that to the students. And something I'm really proud of from my semester as editor-in-chief was working with Sofie and Kevin and the whole board to get the Record back into print. We stopped printing in March 2020 and revived the print operation in September 2021. It took a lot of training the board and relearning skills related to layout and setting up logistics, but we made it happen. 
Sofie Jones (SJ): It was very unclear at that time if the Record would ever be in print again. And that's not an exaggeration. We stopped printing for the pandemic during our sophomore year, right after we'd hired the current junior class. So our class year was really the last Record board that had done more than a few weeks of a print issue. I think the three of us really felt like the Record coming back into print needed to happen [at that moment]. Our online presence during the pandemic was really amazing, but I think we all felt, like Irene said, that to connect with our readers and to reach people in the community, it was going to be integral that we were back in print. 
BR: Do you have any wacky memories from your time at the Record or any fun moments that you'd like to share?
SJ: The time Irene and I almost pulled multiple all-nighters when the Three Pillars [were proposed]. We spent hours prepping questions to ask about the task force. You would have thought that we were reporting on Watergate.
KY: I think the camaraderie among the editors and being on management has been great because I'm good friends with all of you. And, you know, being a student journalist is hard sometimes. It's hard to report on things, especially in a tiny community with 2000 students. But knowing that you guys got my back — that was always great. And our group chats were always a place to rush to whenever something happens, even if it's not Record-related. As soon as an all-campus email drops, I'm in the group chat.
IL: I really loved the little outdoor Record get-togethers — lunches and dinners on Sawyer Quad last spring. Especially in the nice weather, it was great to have that in-person community when all of my classes were online and it felt like my whole life was in the Zoom void. It was really great to see everyone's faces and have a little bit of the Record goofiness in person again.
SJ: And even before that, when we first got sent home, the Record would still meet online the usual three times a week. Those were always really funny and lovely times, just because everyone was at home, starved for social interaction, and the Record became, in a lot of ways, goofier than ever.
JF: The first couple of meetings in particular — everything was extremely formless, and we were just sort of shooting at a wall, trying to figure out both how to do this paper and how to even work Zoom. People didn't know to mute themselves. People didn't know all kinds of things. Continuing on, I thought our management meetings last spring could oftentimes be extremely fun, even though they were on Zoom —  just the interplay of people making random expressions and posting things into the chat while someone was trying to take it seriously.
KY: I was very happy with how that turned out. And one of the most heartwarming moments was [when] we had a little celebration at the end of last year once outdoor limits were lifted, and everyone became friends so quickly after having only seen each other over Zoom. Seeing the new first-years meet for the first time as a group and seeing them jive like that, I was like, "Wow, this is so, so nice."
BR: My last question for you guys is, what kind of things that you learned from leading the Record do you think you're going to take with you to your future jobs and lives, whatever that may be?
KY: I'm going to law school next year, and people always ask me, because I've been doing journalism and it's been such a defining aspect of my experience at Williams, why I'm not going into journalism. Doing journalism for this long made me realize what I like about advocacy work, the differences between journalism and advocacy work, and why the natural next step is to advocate directly for the issues that I care about. But the work that journalists are doing is very similar to how lawyers work — seeing the big picture, looking at the fact patterns, investigating where you can, and being very, very careful about getting it right. I think it's been the best training I've had for skills I'll need [like] writing well, thinking under pressure, and offering clear analysis.
SJ: I think it can sometimes be the conception that doing journalism — or certainly editing or putting together the newspaper — is pretty isolating, or it's one person sitting before a computer and arranging everything. And because the Record does not work that way — because everything is incredibly collaborative and constantly interpersonal — I have learned so much about how to work with people to accomplish something and how to work through moments of tension. [Because I am] going into publishing, there is a lot that is directly related in terms of knowledge. But I think our experiences working with staff and the community at large, navigating different dynamics, and also treasuring the moments of collaboration will certainly stick with me.
IL: It's hard to pin down just one thing I learned from the Record because there are so many things that it has taught me. But one is that journalism and editing are very much about people. This is sort of like what you were saying, Sofie, but it's hard to write a good article or run a good news organization without having an understanding for how different people work and without caring about how they're doing.
JF: One thing that I think people are maybe a little bit taken aback by with the Record is that we have essentially no adult involvement whatsoever. We are people who come in, maybe with some high school journalism experience, but most people don't and, over the course of three years, learn how to be good enough journalists that the paper functions. And many of us, including me last year, go off into an actual journalism career. I went from the Record directly into a career covering New Jersey politics, and I did not really feel a learning curve. It kind of clicked. I knew what I was doing from the beginning. I mean, obviously, there were things I had to figure out and learn, but the Record was the best preparation I could have hoped for. I really like where I'm at right now, and I think that the Record is what put me there.
BR: Are there any final things that you all would like to say?
KY: I'll add a sentimental note. I remember being in the office for my first Record Tuesday, and I did not have any idea what I was doing, and this former opinions editor came up to me and leaned over my shoulder as I was doing work. And, within 30 seconds, she rearranged everything. I was like, "Oh my God, you're so cool." And, you know, leaving the Record now, knowing that those interactions are going to keep happening in this office for long after I'm gone, and that there'll be another pair of opinions editors when I'm 30 standing next to each other on a computer, and one's like, "Damn, I want to be a cool editor like you" — I think that's what makes this all so beautiful.