Frankie Stola '21.5 kicks off professional football career in German league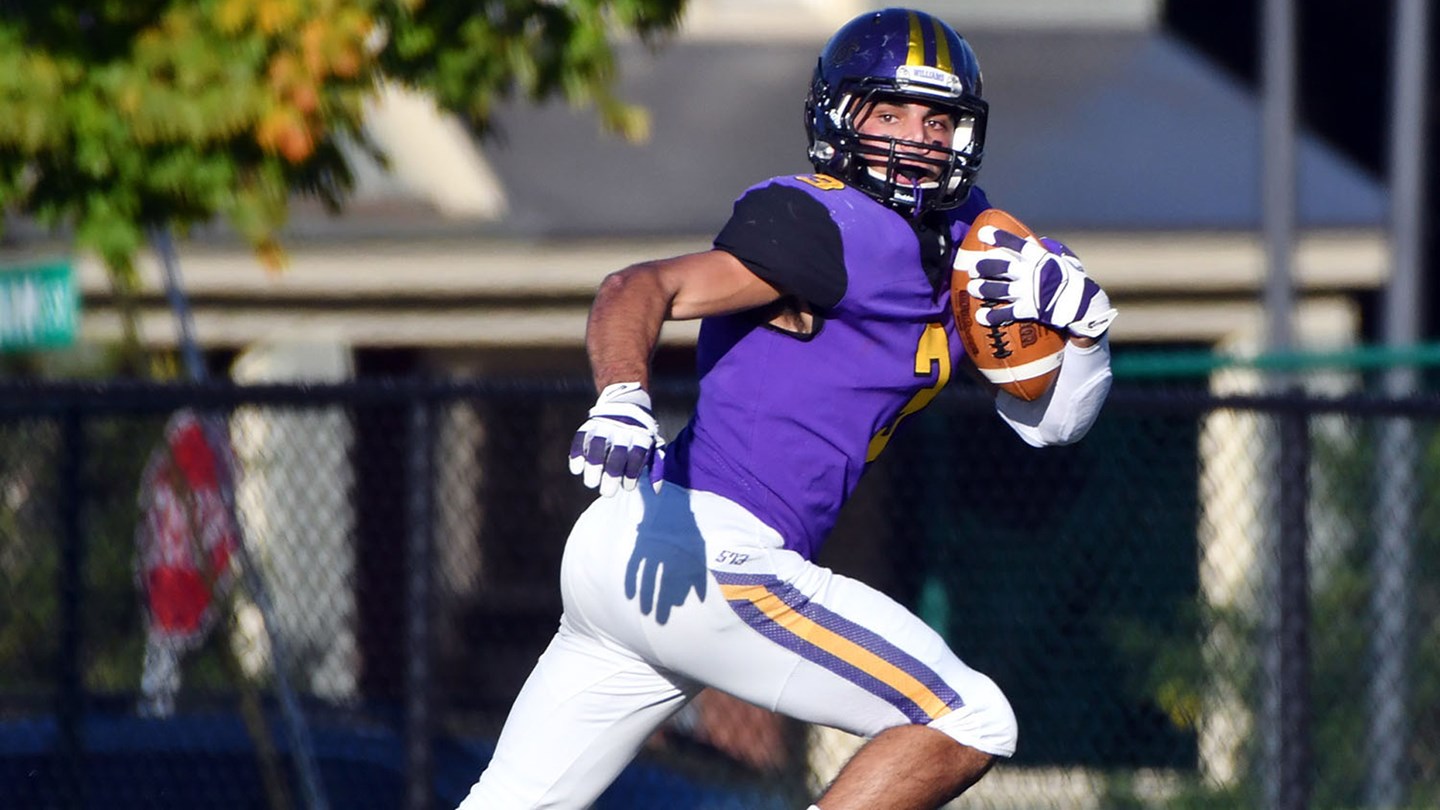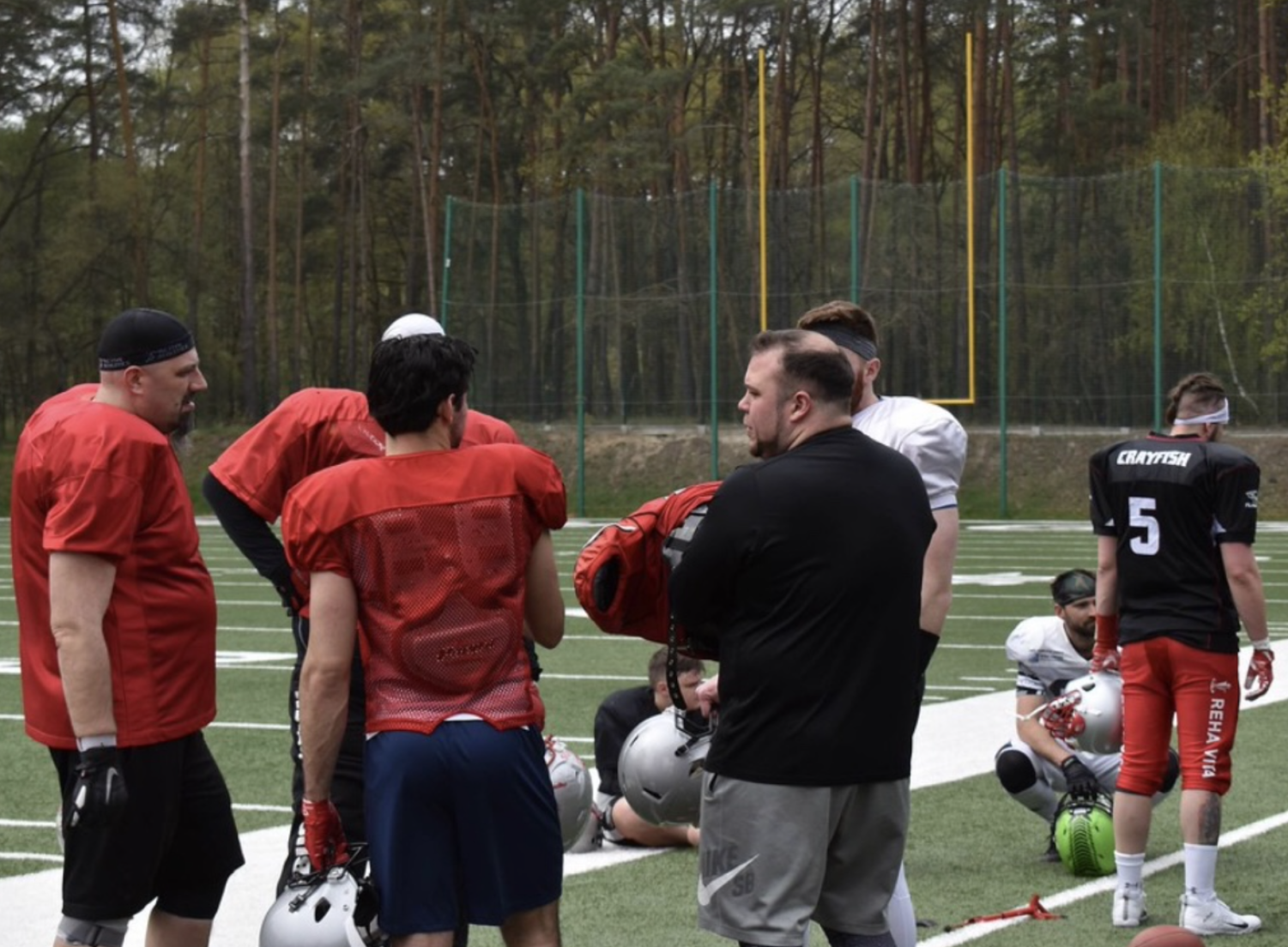 For most athletes at the College, their senior season brings an end to their competitive playing career. However, for Frankie Stola '21.5, graduation signaled the beginning of a professional career, albeit in a very different environment than Williamstown. Stola, a former receiver for the football team who holds six career and single-season receiving records, recently signed a season-long contract in April to play and coach for the Cottbus Crayfish American Football Club in Cottbus, Germany.
Stola, who originally committed to play both baseball and football at the College, quit baseball his sophomore year following a series of injuries and a disappointing 5–4 football season. From then on, football was his priority. "I decided that I needed to make a bigger commitment to the sport," Stola said. "[I wanted] to see how good I could get, and that required a greater commitment."
In 2019, Stola's junior year, the football team went 7–2 and was well-poised to make a run for the 2020 NESCAC title the next season, but it was unfortunately disrupted by the cancellation of the fall sports season due to the COVID-19 pandemic. Nevertheless, Stola returned for one final season this fall and helped lead the team to the College's first ever 9–0 season, ending the year with over 130 receiving yards on five receptions in the team's final game against Amherst.
"It was a lot of fun," Stola said of his final season. "The story of our class is a great success. COVID shut down our senior year but most of [my football class] withdrew for a semester, graduated this December, and finished off [our time at Williams] with a championship."
During his time away from football over the pandemic, Stola began to entertain the possibility of playing professionally in Europe.
Growing up, he had been introduced to American football teams in Germany such as the Berlin Thunder and Frankfurt Galaxy through the popular Madden Football video game. With graduation on the horizon, the prospect of being able to travel and compete abroad was appealing.
"I talked to my coaches from high school and Williams, [as well as my] family members, friends and teammates," Stola said. "Everyone was super stoked about the idea of it — everyone was all on board. I figured it would be a great way for me to continue to play football, to get paid, and to travel around Europe."
The uncertainty and novelty of the experience particularly appealed to Stola. "I was kind of a fan of going in completely blind," he said. "I knew absolutely no German. 
Though the transition to life in Germany has not been easy, Stola said he is enjoying his new lifestyle. "It's definitely a really tough adjustment, especially considering I don't speak the language," Stola said. "But the team is super welcoming, and the coaches do their best to make sure I'm all set up… There's definitely a lot of freedom, considering what I would call work is just going to football practice in the afternoon. It's a really interesting way to grow up, honestly."
Stola has now been in Cott- bus for a month, practicing with the team as well as helping to coach local athletes competing for the club's youth program. He credits the community as one of his favorite parts of his time abroad.
"I think the coolest part has been just creating new relationships," Stola said. "[My teammates are] all ages — we're talking like 40-year old-guys on this team — and I'm also coaching for [a] youth team, which is a 15 to 19 year old high school varsity team. I'm meeting all those guys and it's a really cool way to experience culture here."
The Crayfish competed in their first game of the season last Saturday, when they defeated the Berlin Thunderbirds 46-0. Stola scored two touchdowns.
While Stola's contract is up at the end of the season in September, he is not ruling out the possibility of prolonging his European adventure. "I'm definitely thinking about playing again, because now that I'm here I could probably make a little more money and play for a better team in one of the more elite leagues … like Italy, France, [or] Spain," he said. "There's also the thought of just getting a more normal job in America, but there are people like one of our coaches [who] was a former import who just never left — he married a cheerleader here and he fully speaks German and is just one of the coaches… I got all the time in the world to think about it basically, because I'm doing nothing except chilling here and playing football."