Fun Home celebrates discovering identities in a college setting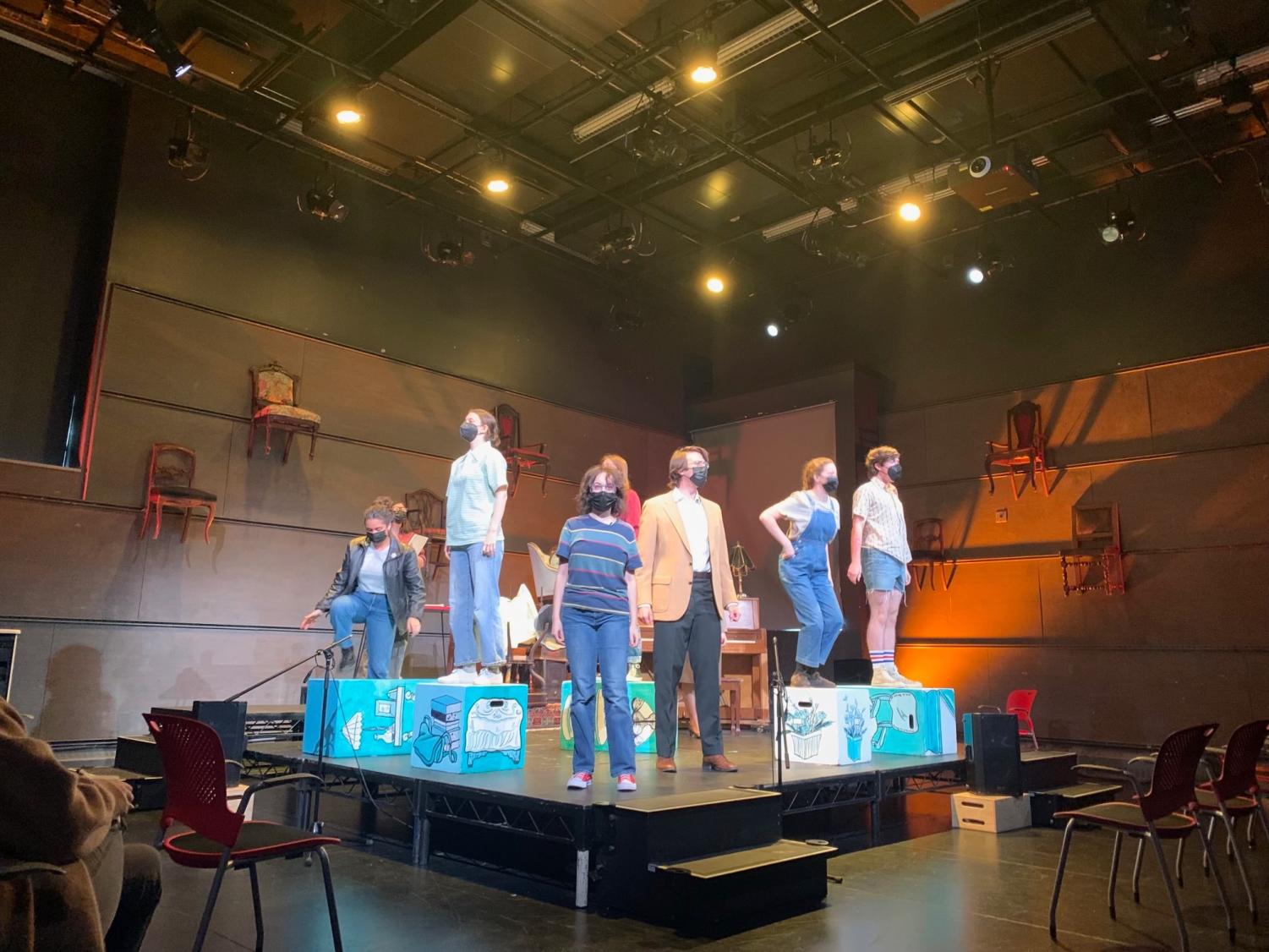 What a busy year for Cap & Bells. From Mamma Mia to Charlie Brown to Rosencrantz and Guildenstern Are Dead, talented student performers have brought both laughter and tears to campus audiences. This year's lineup of performances will end with a production of Fun Home, a Tony Award-winning musical adaptation of Alison Bechdel's graphic novel of the same name. It takes place during three separate periods of her life — age 9 (Small Alison), age 19 (Medium Alison), and age 43 (Alison) — as she grapples with her sexuality, relationship with her father, and identity at large. 
Maye McPhail '22.5, the director, and Kara Hadden '22.5, who plays Medium Alison, have considered producing the show for a long time. They described how they used to cast and plan the production in their heads during their first couple years at the College, and expressed how excited they are to make it a reality this year. "I'm so glad I accumulated the directing experience necessary to take on this project by my senior year because it's always been something that I've so deeply wanted to be involved with," McPhail said.
In the musical, Alison reflects on her childhood (Small Alison) and her experience at Oberlin College (Medium Alison) while trying to write an autobiographical graphic novel. As she processes her past, she focuses on her relationship with — and, perhaps, similarities to — her closeted gay father, Bruce. The show explores coming-of-age themes and queerness through how Alison processes her familial relationships. 
Hadden said she was especially enthusiastic about being part of Fun Home because it will be the first in-person production she has performed in since March of 2020. She also noted her personal connection to the show and its material. "I had the chance to see it when it was on Broadway, and that was very meaningful to me because it was before I was out," she said. "I remember seeing it during Pride [Month] and being like 'Oh, my God, yes.'"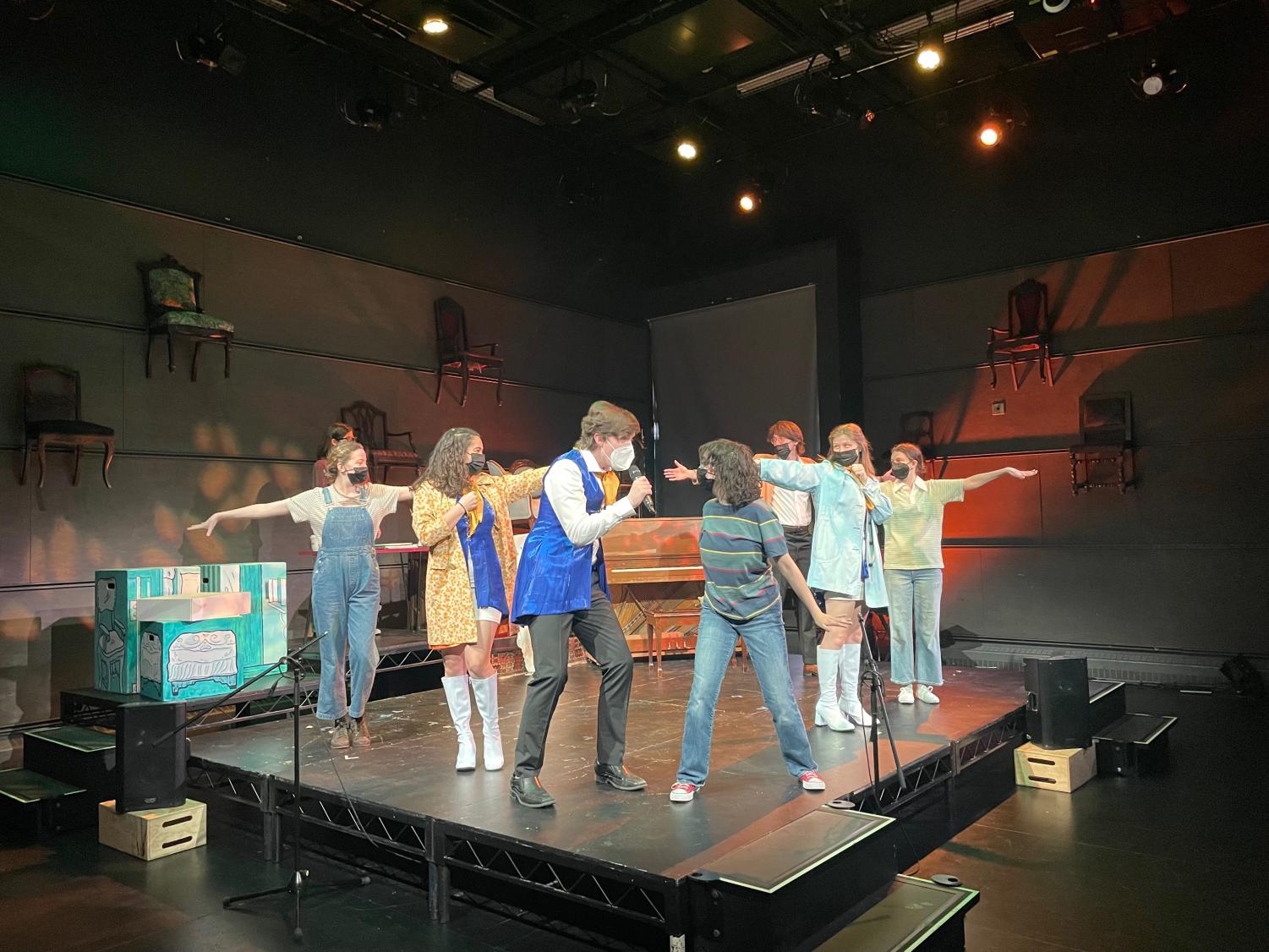 Hadden was not the only cast member who already had a connection with Fun Home before auditions. Isaac Wilkins '22, who plays Bruce Bechdel, saw the production during his sophomore year of high school. He said he was excited for Fun Home to be his College theatre debut during his final semester as a student. "I knew I had to give auditions a shot and have it begin and end my theatre experience at Williams," he said.
Music Director Sara Stebbins '24 was similarly eager to work on Fun Home as this is the first time they have been able to help a cast perfect their songs in person. They said the production is one of their favorite musicals and spoke about the show's relevance at the College. "It's about Alison Bechdel's tumultuous experience during her first year at college," they said, referring to Medium Alison's plotline. "It's the kind of experience of having your world open up in a way and then to have reality come crashing down on you immediately after."
"I think that [a] portrayal of a college student struggling with their identity and their relationship to their parents — and their relationship to the world — feels like something that is always relevant," Wilkins said. "It's particularly relevant now when being who you really are is the most important thing you can do." The cast underscored how Alison's self-discovery, which predominantly takes place at a liberal arts college, will be relatable to students at the College. 
Hadden described how, in the process of putting on the show, she has been able to reconnect with her own identity. "In terms of my queer identity, I feel sort of distant from that point in my life when I was coming out and having all these new experiences," she said. "So it's been really delightful to reconnect with freshman year Kara. Honestly, [Fun Home] has made me feel really excited about queerness." 
"I think what feels [also] very relevant is to be a queer person who has already come out dealing with the fact that all the scripts for your life often end in tragedy," Hadden said. She emphasized how she liked the way the production highlights queer struggles beyond closeted characters or advocating for political rights. "To me, this story is about Alison Bechdel dealing with the fact that the only example she has of a gay person was her father, who was an incredibly tormented figure and died by suicide. I think it's a story of her grappling with the question of how to make a life that doesn't go that way when that's the only life she knows how to lead." 
Because the show features multiple depictions of queer stories, cast members noted how crucial it is to recognize and research who Alison Bechdel was outside of her struggle with sexuality. In addition to her graphic memoir Fun Home, she is known for creating comic strips Dykes to Watch Out For, receiving the MacArthur "Genius Grant," and for originating the Bechdel Test. Employed by writers all over the world, the Bechdel Test requires that stories have (1) at least two women in a story, (2) that the women have conversations with each other, and (3) that the women talk about something other than a man or their relationships with men. Critics have used the Bechdel Test to assess representations of women, especially in film, and address sexism in the entertainment industry. 
Given Bechdel's success, McPhail discussed how she wanted to focus on more than the political implications of a queer story through her production of Fun Home. "I'm resistant to advertising Fun Home as a show that's about queerness in a political sense because I think a lot of the time, there's a politicization of queerness," McPhail said. "Sometimes, it's nice to look at the life of a living queer person who has enjoyed great deals of success and just think of it as something to be honored. Fun Home is a political show in the sense that all art is political, but I think there's also space for exploring different dimensions of identity and the stories we tell about identity." 
"It's a beautiful show," Stebbins said. "The story, the music, the all-star cast, the band, and all the designers — I feel really lucky to be involved. It's going to be exceptional." The cast and crew of Fun Home are currently in the midst of technical rehearsals and are eager for audiences to attend the performance. 
Wilkins said he wants audiences to come see the production to witness and potentially learn from each characters' development, self-discovery, and self-reflection. "We treat our past like it's behind us, and, in reality, it is us," he said. "We are our history — that one strand running through us. I hope that people will think back and see themselves intimately, inseparably connected to their histories after seeing the show."
Fun Home will be performed in the '62 Center's Directing Studio from May 12 to May 14.