Students create environmental time capsule, host discussion about future of climate change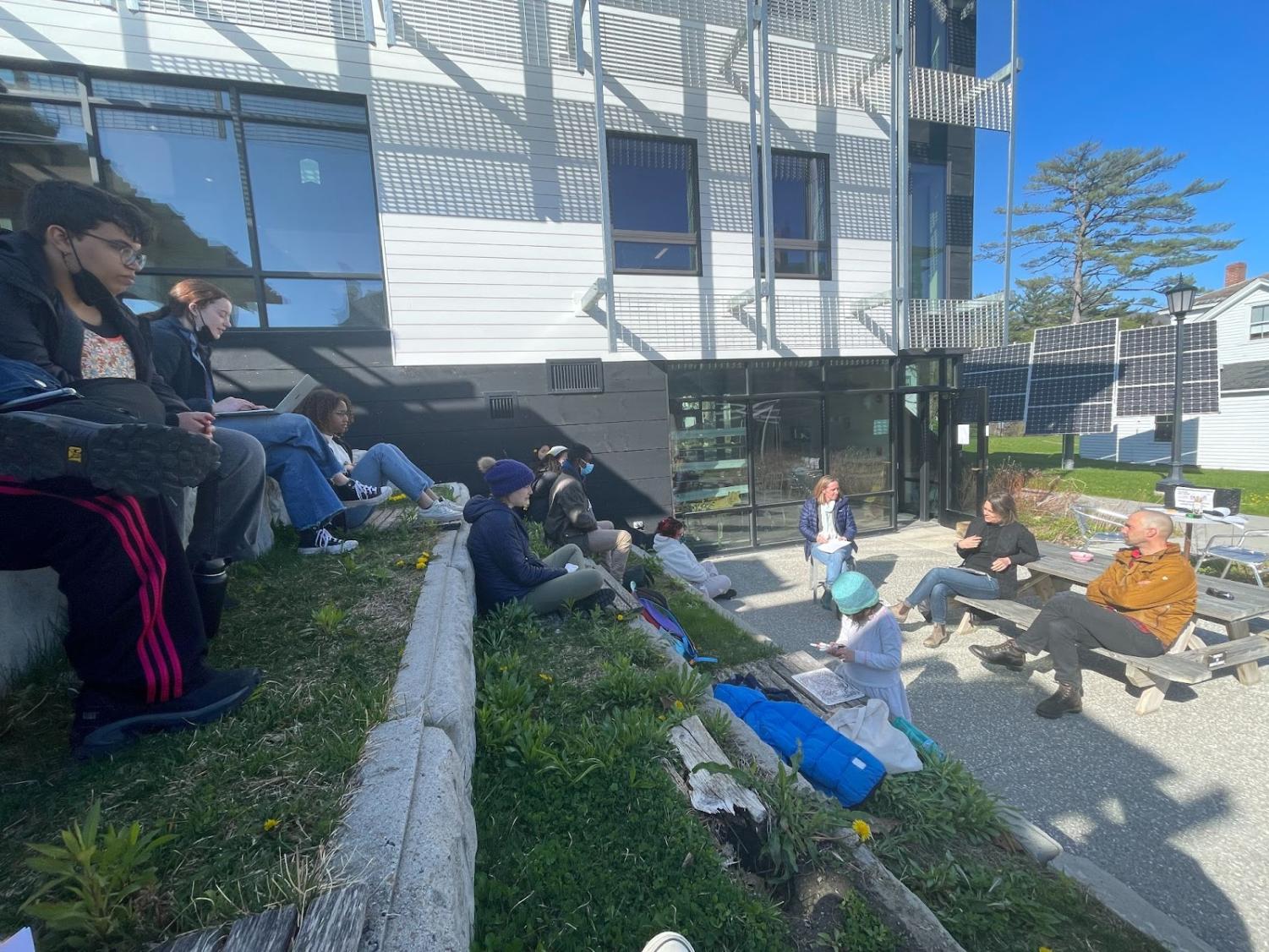 On Thursday, students and professors gathered on the steps of the Class of '66 Environmental Center to discuss the future of climate change and fill a time capsule with students' personal statements, quotations from the event, and other climate-related materials. Organized by Sabrine Brismeur '22.5 and Isabel Kelly '23 for their environmental studies course, "Communicating Climate Change," the event brought together faculty from the environmental studies, theatre, and classics departments for an interdisciplinary conversation.
The time capsule will be held by the College's Special Collections Department until a planned public opening in 2050, a year that many climate scientists believe will demonstrate the world's successes or failures in responding to the risks of climate change. "It's a catchy number — a half-century marker — but it also has some implications related to campus and climate change," Brismeur said.
Throughout 2019 and 2020, the College worked with Integral Group, a green engineering consulting organization, to "evaluate viable pathways to modernize its energy system and create a carbon neutral campus by 2050."
Attendees were invited to contribute personal statements to the time capsule. Before the discussion, students wrote responses to prompts such as, "What do you think Williams will look like in 2050 as a response to climate change?" and "What would you want Williams to look like in 2050?" Briseur and Kelly said they hope this archive will provide future generations with an understanding of the present historical moment in climate change activism. "If we opened something that people wrote 28 years ago, I feel like we would have a lot of opinions," Kelly said.
The purpose of the time capsule, Brismeur described, was also to draw a large group of students to the gathering and to ensure that their conversation would maintain relevance after the day of the event. "First, it was just going to be a discussion, but [I thought] nobody would show up to that," she said. "I wanted something that had meaning beyond what we did here. I would hate to know that this happened and then it was never thought about again — and in this way, it promises that it has meaning right now and in 28 years."
"A lot of the [class discussions] leading up to this event were [about] how you get people to show up because that's something that's so hard these days," Kelly said. "You have to get a lot of shiny things to throw in front of people."
After Brismeur and Kelly gave introductory remarks, three professors shared their thoughts about environmental issues and the future of the College, specifically discussing how they envisioned a sustainable College in 2050. Students were encouraged to write down statements by the professors that resonated with them to add to the capsule.
"We need radical transformation in how we change our lives, not just a nibbling away," Director of the Center for Environmental Studies and the Environmental Studies Program Nicolas Howe said. "As I was thinking about what my utopian version of this place would look like in 2050, [I was thinking] stuff like this would be normal," he continued, referring to the importance of open dialogues about climate issues. "[There would be] a reanimation of public life."
Professor of Theatre Amy Holzapfel also underscored the importance of accepting the necessary changes to our institutions and livelihoods rather than resisting them. "There's going to be change — there already is," she said. "[We need] an awareness of the discomfort that is going to come so [that] we can lean into it."
As a part of this radical change, Assistant Professor of Classics Nicole Brown proposed a shift in the way we understand waste. "Frankly, we have to want less [and live] more circumscribed but richer lives," she said. "This doesn't need to be a negative — this used to be the New England way — you didn't waste things. These are easy things [that we could do now], but often, our solutions are 20 or 30 years down the line."
After the professors spoke, students in attendance were invited to share their thoughts, leading to a broader conversation about higher education institutions and their impacts on climate change. "What's necessary in order to fix many of these problems is for prestige, itself, to die," Jay Schroeter '22 said. "The very idea of some colleges being better than other colleges has to die in order for the class struggle to end and for us to stop spending so many transportation resources towards getting here." Schroeter, among other students, envisioned a higher education model that placed a greater emphasis on local colleges to cut back on the environmental toll from thousands of students traveling to a remote location like Williamstown for college.
In 2050, the College community will be given the opportunity to relive this conversation at the capsule's public opening and reflect on nearly three decades of climate progress. "It might be a little wake-up call if things haven't changed the way that they've needed to," Brisemur said. "I think it will be really illuminating."