Student groups host first Spring Festival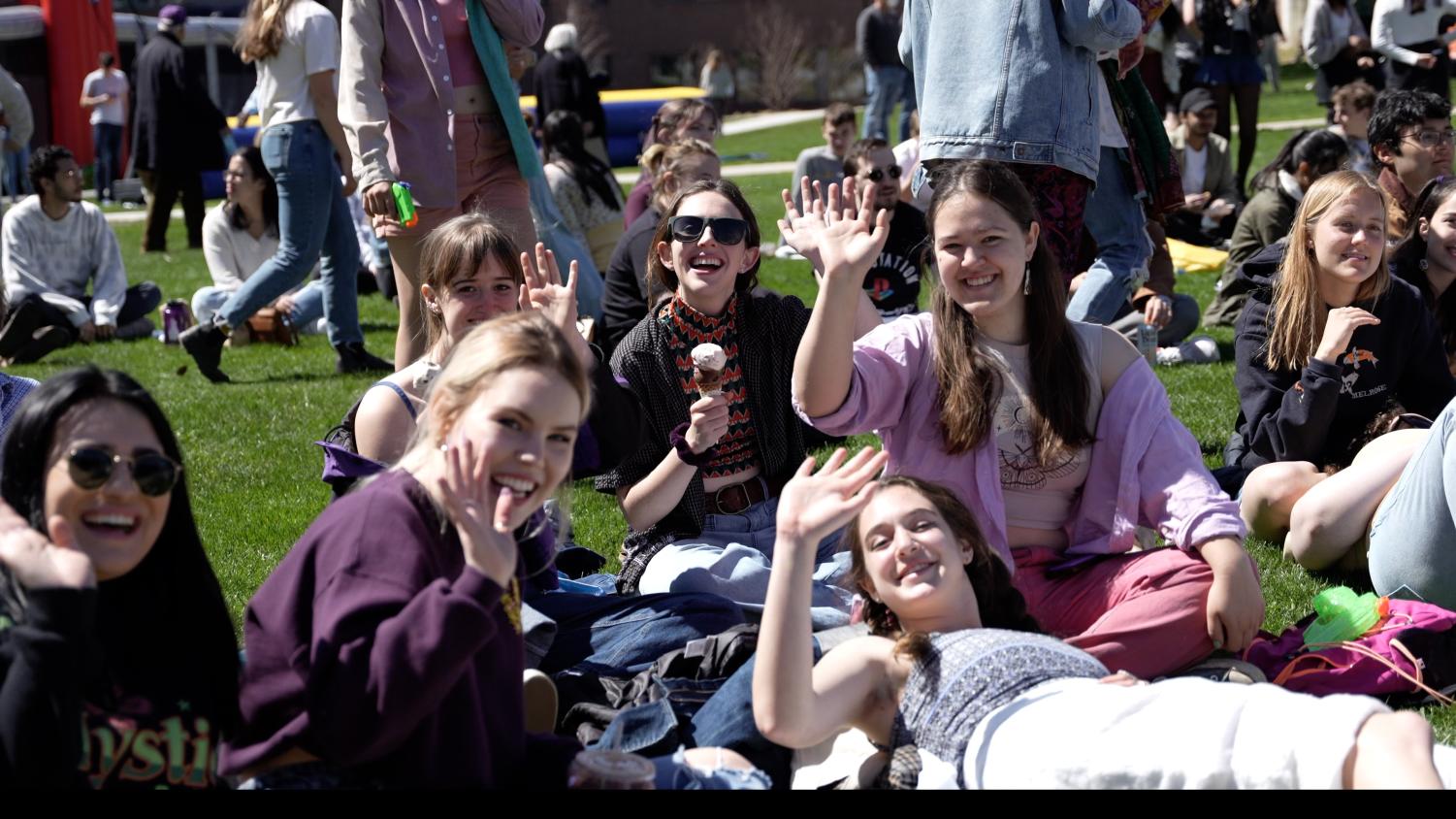 All-Campus Entertainment (ACE) held its first Spring Festival in collaboration with the Residential Life Team (RLT) and WCFM, the student-run radio station at the College, on Saturday. The outdoor event took place on Falk Science Quad and featured a battle of the bands competition with performances by student bands, a live show from the cover band Jimmy and the Hat Tricks, free food trucks, a Ben & Jerry's ice cream stand, and inflatable games.
In past years, ACE and RLT have hosted an annual Spring Fling performance, which was a campus-wide concert with a headlining professional artist. This year, due to the ongoing pandemic, ACE was unable to hold the same event, which has not taken place since rapper and songwriter Princess Nokia performed in Towne Field House in 2019.
ACE Co-President Gaston Aime '23 announced that ACE would not be holding Spring Fling in an all-campus email on March 8. "This past semester, we were unable to sign contracts with artists because of uncertainty regarding COVID restrictions in the spring," he wrote. "Williams' Covid policy had not been set in stone at the time, and we were unable to determine if visitors (such as artists) or large gatherings would be allowed, hence the lack of Spring Fling."
The financial risk that booking an artist would have posed given the fall's COVID restrictions was also a factor in ACE's decision-making process, ACE Treasurer Will Ding '24 explained. Given an ease in COVID restrictions this spring, Ding said, the ACE board — headed by two interim co-presidents appointed by the previous board — determined that an outdoor live music event would still be feasible. "We had talked to a few artists, but if we signed contracts and then they couldn't come, the fall would be on us — the lost money would be on us," he said. "There was nothing we could do about that."
However, ACE and RLT still wanted to organize a music event for the spring, according to Kendra Brenya '22, a Residential Director (RD) for Greylock Quad. As an RD, Brenya is responsible for planning and funding campus-wide events such as Williams After Dark, a program that hosts nighttime events. "Since we couldn't bring in an outside artist this year, RLT reached out to ACE to see if we could collaborate on a music based event with a huge emphasis on student musicians," she wrote in an email to the Record. "ACE was already involved with WCFM, so the three [groups] collaborated throughout the process."
Despite the shift from a headlining artist — which was a staple of past Spring Fling events — to student bands at Spring Festival, students enjoyed seeing their peers perform on stage instead. "It's nice to see your classmates on the stage," Isaac Leslie '25, who attended Spring Festival, said. "Judging by the good turnout, it seems like there's real interest … [and] I think moving forward, we can definitely do something like this again."
The option to conduct Spring Festival outdoors, Ding added, allowed ACE to plan despite looming uncertainties with COVID cases and changing restrictions. "Come spring, we noticed that — with the relaxation of the COVID restrictions — we could actually put something on," Ding said. "We decided [that] it would probably be better outdoors if there were another change and restrictions, and we went with the outdoor venue."
Shenba Vairavan '24, who also attended the event, suggested that the usage of outdoor venues for future events might allow alternative opportunities for students to gather despite the potential for fluctuating COVID cases in the future. "I think being able to plan things outside, which is one of the big things we learned in COVID, is going to help us create more fun outdoorsy events," she said.
ACE primarily funded Spring Festival by drawing from the general entertainment portion of its budget. Most registered student organizations (RSOs) receive their funding from designated sectors of the Facilitators for Allocating Student Taxes (FAST) budget. For example, all club teams draw from the FAST Club Sports and Competitive Teams sector. But ACE, Ding explained, has its own separate FAST allocation — roughly $86 thousand dedicated exclusively to the RSO in the 2021–2022 academic year — which gives ACE more financial independence to plan large-scale events.
Essence Perry '22, an at-large representative for FAST, explained that the annual lump sum that FAST grants ACE allows the group to spend money without seeking financial approval for individual expenditures. "I think the coolest part about the FAST [and] ACE relationship is that we give them a big chunk of money at the beginning of the year, and they give us a loose budget of what they might spend it on," she said. "But at the end of the day, ACE gets to allocate money towards what events they think are best for the campus. They [ran] all of the budgetary components of Spring [Festival]."
ACE's funding from FAST was augmented by funding secured by RLT, according to Brenya. "RLT's involvement in Spring [Festival] was funded through RLT funds administered to us from OCL," she said. "Each area across campus has a sum of money they can use for different types of events so I used some of my area's allotted funds to contribute to the overall event." RLT also helped supply volunteers to ensure that the day's events ran smoothly, according to Brenya.
While Spring Fling was organized by ACE and RLT, Ding said WCFM was involved this year for Spring Festival to help with the logistics of putting together the musical elements of the event, such as contacting performers and getting a large crowd. Ding pointed to Coverchella, an event recently held by WCFM, as an example of the club hosting live music events.
Lily Goldberg '22, the events coordinator for WCFM, performed as a vocalist with the student band Duke and the Flukes, one of the three bands to compete during the College's battle of the bands. Goldberg was a first-year during the most recent Spring Fling, which happened in 2019, and offered a point of comparison between the two events. "I personally was a little bit surprised when I heard about the cover band, simply because it didn't go with tradition," she said. "But I think people had a fun time, even if it was just different."
Brenya said that she was happy that students enjoyed Spring Festival. "This was the first time in my tenure here that RLT and ACE have collaborated with each other on an event this big and successful, so I could definitely see us continuing a relationship like this moving forward," she wrote. "There are a lot of amazing student groups on campus, but I think the RLT and ACE have access to the largest funds and have experience catering to large audiences, so it would be great to put our resources together and plan more events like this in the future."