Finding the College from around the globe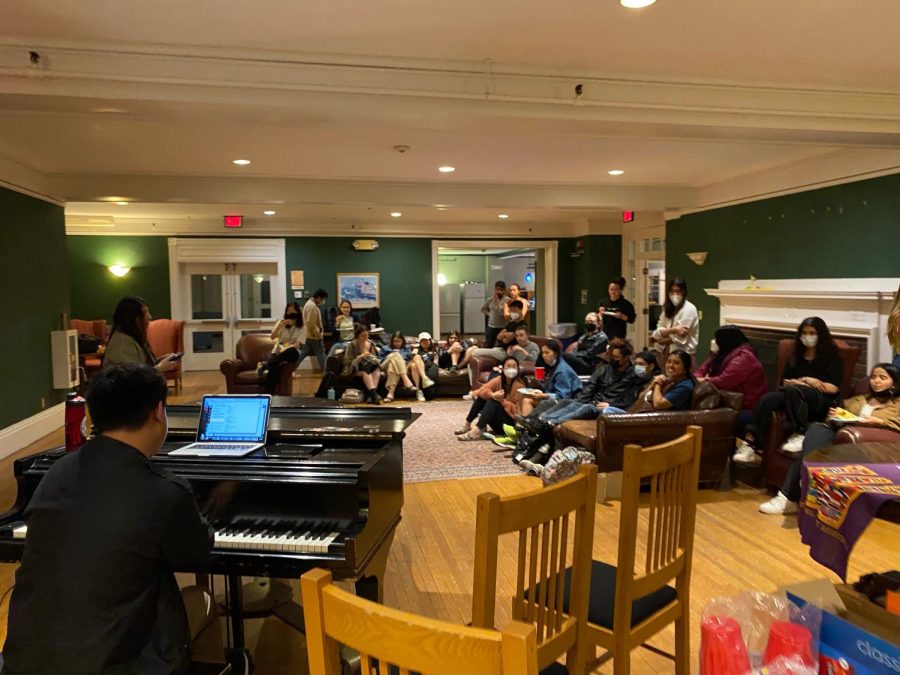 There are a few moments that occur in life where one cannot help but question, "How did I get here?" For me, this was eating visibly raw fried chicken from Whitmans' at 1 a.m. 
About a year ago — on March 25, 2021, to be precise — I was eating decent bread in my home in Geneva, Switzerland, while waiting for my Williams decision to be posted. My brother had always been the one who wanted to study in the United States, and I always said I would stay in Europe. Little did I know or expect that, within a month, I would be completely assured that Williams was the right choice for me.
Though most international students were at least certain they wanted to come to the United States, there are others who share my experience of uncertainty. "I was never certain that I would end up in the U.S.," said Li-Norah Flynn '25, a student from London, England. "In the end, it came down to the appeal of financial aid and the liberal arts education."
Indeed, the liberal arts education is what drew me to the College as well, but I wasn't initially convinced. I found out about the College in the fall of my senior year after my guidance counselor — who had just been hired from a school that frequently sent students to liberal arts colleges (LACs) — recommended Williams to me. While I first responded with skepticism because I had never heard of the College before, other international students knew that this was their path from the beginning. "The liberal arts experience and the U.S. [was] a must," said Jiwoo Han '25, a student from South Korea. She decided to apply through the early decision process, a choice made by many other international students who knew they wanted a smaller, less specialized educational program.
I waited for the regular decision outcomes before I made my decision, partly because I was unsure about my future and partly because of the stigma associated with LACs in Geneva. In French, collège means high school, which contributes to misinformation about LACs that many international students face in their home countries. The same is true in Korea, according to Han. "LACs are often perceived as the same thing as community colleges or free online uni[versity] courses to the general Korean public [and] employers," she said.
It took me until after I was accepted and had time to research LACs and the College before I made my choice. In the span of one month, I decided I wanted to abandon all of my plans I had previously made to stay in Europe and instead travel to Williamstown. This was almost entirely because I was eventually convinced by the LAC model. To me, a liberal arts education means having the freedom to explore, to learn what is important, and to think for myself in a world that is constantly trying to impose its will on you. For me, these are necessary skills difficult to acquire without the tight-knight community that Williams has, which allows for daily interactions with professors and interesting discussions with a lively student body.
While some, like me, were initially unsure about where they wanted to continue their academic future, they found the remoteness of Williamstown to be part of its appeal. "I was not sure about where I wanted to go for college," Celeste Murillo Dagdug '24, who is from Mexico City, said. "[I chose Williams] because it was something completely different from what I was used to," she added. 
Mexico City is a megalopolis with a population the size of my home country Switzerland. Despite this, she said that she has enjoyed the seclusion of Williamstown. "I love the location and the fact that it's so secluded from the rest of the world," she said. "It's kind of a secret that we all get to keep for ourselves." 
With the addition of the newly announced financial grants, the appeal of Williamstown should only increase around the world. Roughly two-thirds of international students are on financial aid, and many — such as Ale Pirela-Parra '25, who moved to the United States from Venezuela before college — said that the financial aid was a big part of their decision to come to the College. In fact, she actually learned about the school from a scholarship agency. "[I picked Williams] mostly [because of] good financial aid (hard to find as an international) and one-on-one attention and resources compared to other elite schools," Pirela-Parra wrote in an email to the Record. 
In the end, though none of us found Williams in the same way, our search for a liberal arts education in one of the only countries that offers such a curriculum binds us together.