Theatre department presents Sometimes the Rain, Sometimes the Sea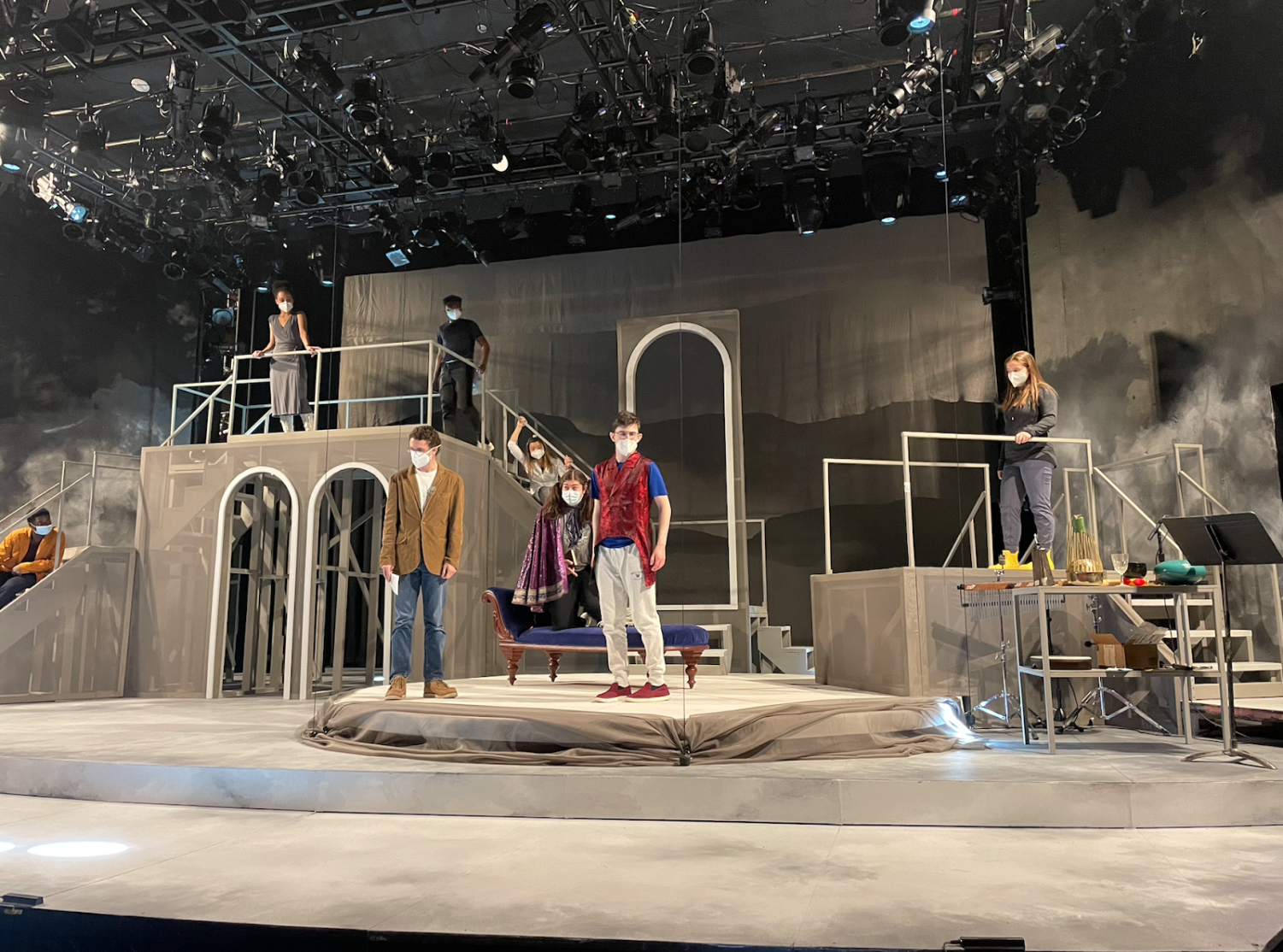 Sometimes the Rain, Sometimes the Sea combines the fun of imaginative play, the emotional impact of unrequited love, and an existential exploration of storytelling — what more could audiences at the College want? 
The show is a retelling of Hans Christian Andersen's The Little Mermaid, written by Brown University graduate Julia Izumi and directed by Brown University Associate Professor of Theatre Arts and Performance Studies Kym Moore. Moore, a co-founder of the AntiGravity Theatre Project, is known for her visually innovative directing style and keen understanding of craft. According to the theatre department's description, "her works are designed to reveal the multi-sensory, multi-dimensional, and mythic dimensions of reality." 
The production combines classic fairy tales and childhood tropes with an original premise. It intertwines the life story of the show's narrator, Dolan, who is based on Andersen, and the tale of a rain cloud falling in love with a human. Moore wanted to direct a fun play that featured fantastical and romantic themes coming out of the pandemic. Moore decided to direct Sometimes the Rain, Sometimes the Sea after attending public readings of the play. She knew Izumi personally, having taught her at Brown.
She noted how the production's playful themes are relevant for contemporary college students. "For students, it's an exercise in the imagination," Moore said. "It's something I'm very fearful that people are losing because of too much social media. We're just losing this ability to just pretend… We need a sort of return to innocence, playfulness, and joyfulness." 
Stella Oh '25, who plays the role of Raincloud, described how the playful yet impactful nature of the play comes from its merging of fairy tales and reality. "I think that the transformational relationship between reality and fantasy is what makes this play so powerful because it's not your typical kids story, but it's also not your typical dramatic play," she said. "It's kind of this evolution of connecting classic traditional children's stories with the present in a more modern and contemporary way." 
Moore has encouraged the actors to call upon their childhood imaginations and play on stage. Their playing takes both physical and emotional forms. Oh, for example, is playing a non-human character and has experimented with moving like a rain cloud. Other actors like Obi Nwako '24, who is playing the role of Ralmond (the human that Raincloud falls in love with), focused on displaying deeper, intimate connections with their scene partners — focusing on interacting and reacting in a genuine way. 
Witnessing the actors playing pretend on stage reminded Stage Manager Abigail Murray-Stark '22 of her childhood and make-believe games. "This play is trying to grasp onto the sensation of childhood innocence, but also play and having fun and how that disappears — how that's torn away from you when you become an adult," she said. Murray-Stark went on to recognize the importance of retaining aspects of childhood as she graduates from the College. "This play has had an impact on me. I'm going to try to retain a sense of playfulness [in my life after graduation]."
In addition to playing, many of the cast and crew said they enjoyed exploring the production's themes of love. Moore spoke to how the play's complicated depictions and examinations of love are inspired by Han Christian Andersen's own romantic experiences. "He was someone who gave everything he had as an artist to the world and his own life was pretty tormented," she said. "The main message of the play is that we all love differently. He's sort of emblematic of the different ways that we love each other."
Anderson was a Danish writer and Moore reflected on how he was seen as a cis, straight man in Denmark. Meanwhile, in Germany, people claimed Andersen was a queer writer. His struggle with labels and the different forms of love people were permitted to show in his time are displayed in the play's portrayal of multi-faceted love.
Murray-Stark discussed the play does not just portray variations of interpersonal love, but also self-love. "The character Dolan, who is based on Hans Christian Andersen, is plagued by loneliness," she said. "He is convinced that no one supports him in the world. It really reflects what Hans Christian Andersen was going through in his lifetime. He is desperately seeking attention and the love of others, but doesn't love or accept himself — he's incapable of doing that." She added that gaining self-love helps Dolan recognize he's loved by others. 
Nwako mentioned that the weaving of Raincloud's love story and Dolan's self-exploration into one play helps illustrate the necessity of storytelling in our society — what people are able to learn about themselves and others from telling and listening to stories. "I think the play definitely makes you understand the power of stories," he said. "The stories that we tell ourselves and the stories that we want others to hear about us are so crucial to who we are." 
The current geopolitical climate influenced Moore's desire to tell this particular story and to bring themes of love and playfulness to the stage. "It's not lost on me that we're living in a world that is full of darkness, full of tragedy, full of hateful behavior — all of these very dark energies," she said. "Love is the antidote… I think if you can impact the heart, then you're doing something in this moment." She said she hopes that Sometimes the Rain, Sometimes the Sea can help the audience tap into their emotions and that they can have fun while watching the show. 
The production team is excited for audiences to watch the show. "I think people should come see this play if they want to laugh and have a good time," Nwako said. "At the end, they'll sit back and realize, 'Oh, wow, I spent this time laughing and really enjoying myself. And I also just found these really important messages about storytelling and love along the way.'" 
Sometimes the Rain, Sometimes the Sea premieres on May 5 and runs until May 8 in the '62 Center.