Captain's Corner: Maxine Ng '22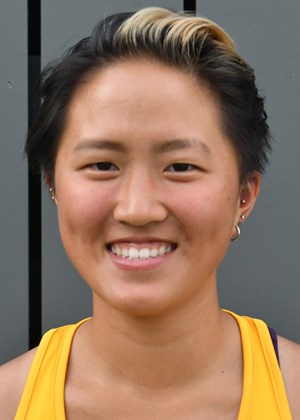 Team: Women's tennis  
Hometown: Singapore, Singapore
Residence: Prospect
Major: Geosciences 
Old Snar order: Hamburger, a frost, and a honeybun
What is it like being a senior on the team after the past two years of the pandemic? 
We're the first class that's really had a full season since my freshman year, so there are a lot of traditions that we've had to try to think about reincorporating. And my junior year, I was home for all of it. So a big part was missing because I didn't feel like I knew the freshman class at the time, [who are] now the sophomores. A side story was that I tore my ACL last year, so I was out for the fall. But during that time, I was able to take on sort of an assistant coach position, and just watch my teammates play and get to know them through watching their game and then spending time with them outside of it. 
I think it's been really freeing and fun to be back here. It's just so much fun to be here and to be playing with the team, and I think we've just come together as a cohesive unit really well over the season too, because we had two juniors who were studying abroad in the fall. So now having all 10 of us back — it's just a lot of fun.
You mentioned that you revived team traditions over the fall — could you elaborate on that? 
One of the ones that we like to do during the start of the year would be to do team dates. I know of a bunch of other sports that do that too. We have a round-robin sheet of people who have to ask each other to get a meal one-on-one, and we have until the end of the fall season [to ask], which is in late October. You can't do that over COVID — we tried calling, but it wasn't quite the same. We also have a tradition where we would do team snacks before matches. So every week, or the day before matches, each class year would buy snacks that would have a cheesy theme that would hopefully tie into like who we're playing. And then we get to eat them. 
We have a lot of inside jokes this year, which has been really fun. We also have "pump ups" before matches. Before the spring season started our sophomore class made a rap. We were playing Bates and they're the Bobcats, so one of the lines was, "Put the cats in our sack." [Laughs.] And then we get really hyped up about it. 
I read on your Ephs Sports profile that you represented Singapore in World Juniors. Can you tell me more about that? 
That was a really long time ago — I think it ties into why I'm here. I played a lot of tennis growing up, and I started when I was about 8. I traveled a lot for tennis and I did online school for most of high school. I think World Juniors was when I was 14. [Tennis] wasn't that big in Singapore, or it wasn't back then, but it's on the rise now. So there were a few of us that would play together. There was a time when we had a trial where we would see who the top three in the country were to represent our nation. One time, we went to Malaysia to play against a bunch of different teams, like Thailand and China. It was super eye-opening to get to meet other people from different backgrounds. Tennis is just a sport that brings people together, though it comes with a lot of privilege as well. 
So you've been playing tennis since you were 8 — do you have a favorite match that you've played in or a career highlight? 
Honestly, this season has been my highlight season, especially coming back from such a traumatic injury of tearing my ACL. That process of coming back, through watching my teammates and also slowly doing rehab, has been really rewarding. It's honestly been the best that my own mindset has been playing tennis, and with the last few weeks of school and our season wrapping up, these moments are not something I will really have once I graduate. I'm cherishing that. 
What are you going to miss most about playing tennis at Williams? 
Definitely the team. The way that college tennis is, especially at Williams, is that we value inclusivity. And we care for each other so much. Coming in, they were also the people that I wanted to spend my next four years with. It wasn't about however many matches we win — it's the [shared] journey of being able to spend so many days working towards the same goal. We're all also super close friends off-court. It's gonna be tough to leave. How do you feel going into next weekend's NESCAC tournament? We are very excited. The draw came out [Monday] morning, and we're going to be playing Amherst, who we played a couple of weeks ago at home and we lost 4-5. And in the fall, we lost to them 1-8, which was really bad. And there's been a lot of growth over that time. I think we're all just really excited and seeking vengeance for this weekend.