Danielle Deane-Ryan '97 delivers Earth Week keynote address on environmental justice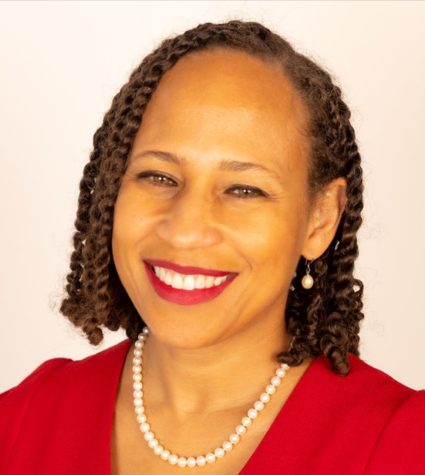 Danielle Deane-Ryan '97, director of equitable climate solutions at the Bezos Earth Fund, returned to the College on Thursday to deliver the Earth Week keynote address "Is it too late? Moving into a decisive decade for addressing climate crisis." She discussed the need to focus on equity within environmental organizations and spoke to her experiences at the Bezos Earth Fund, in the Department of Energy's Office of Energy Efficiency & Renewable Energy — where she worked during President Obama's administration — and at the Hewlett Foundation.
Deane-Ryan studied political economy and environmental studies at the College and was one of the only Caribbean students at the time.
Growing up in Trinidad and Tobago spurred her involvement in environmental justice issues, Deane-Ryan said. Petroleum extraction, which is how the nation has acquired much of its wealth, damaged her country's beaches and motivated her to enter environmental justice work. "Very early on, I realized, 'OK, so, we need energy,'" she said. "We need the money that it brings, we need the education, and [the question is] how do you not wreck this beautiful place?"
While she knew the extraction harmed the environment, she also acknowledged fossil fuel extraction's profound impact on her own life and ability to study at the College. "Oil company money paid for my education," she said. "Behind what you see today is a Caribbean island girl that found herself at Williams College with a passion for working on issues around the environment, and justice and economic development."
While some organizations focus on science alone, Deane-Ryan has consistently pushed them to consider equity. A common theme throughout her life's work has been pressuring organizations to pursue environmental justice initiatives that acknowledge the ways that racial minorities and low-income communities are affected most harshly by climate change.
At the Hewlett Foundation, Deane-Ryan worked to ensure that as much funding as possible was allocated to organizations that served marginalized communities. Large, mainstream environmental organizations pressured the Hewlett Foundation to fund efforts to reduce carbon before worrying about equity work, she said. Rather than accept this outcome, she worked with environmental justice advocates to ensure that their concerns were heard within the Hewlett Foundation, eventually leading to a provision requiring 35 percent of the Hewlett Foundation's donations to be dedicated to underserved communities.
In her work in the Obama administration, Deane-Ryan encountered similar challenges. The original plan that the administration put forward to put solar in a number of communities was criticized for having disparate impacts, meaning that "solar was ending up on roofs of wealthy folks, not poor folks," she said. "And it was a real challenge. So [the administration had] to go back and figure out what we did — in terms of policies that were recommended, in terms of who's listening, in terms of how technology was developed — that led to that situation."
Deane-Ryan referred to her current job at the Bezos Earth Foundation as the "elephant in the room" during the lecture. The fund distributes Bezos' money to various environmental organizations, and was established in 2020, when he pledged to donate $1 billion of his personal wealth to the fund annually between 2020 and 2030. Bezos founded and currently serves as executive chairman of Amazon, the online retail giant that has faced widespread criticism for its labor and environmental practices.
Deane-Ryan's team alone has distributed $300 million to environmental justice organizations in the last two years, focusing on groups with rigorous standards regarding equity and justice. She explained that Bezos' wealth holds immense power for many environmental organizations, which may receive unprecedented donations of millions of dollars at a time. During the question and answer period, Natalie Silver '22 — who is currently taking a class on global sustainable development — asked Deane-Ryan to elaborate on how she reconciles Amazon's inequitable practices, which she called inequitable, with the agenda-setting power provided by the Bezos Earth Fund's massive donations.
"To be clear, it's not the Amazon foundation, it is the individual [Bezos] foundation," Deane-Ryan said. "[Bezos] made his money and cares about climate change and went to work on climate change … [with] many environmental justice leaders." She also emphasized that organizations that accept Bezos Earth Fund money can still speak freely about Amazon in their environmental advocacy. While some organizations have refused funding from the Bezos Earth Fund on the ground that the money isn't clean, Deane-Ryan explained that the idea of clean money is a misguided one. "A lot of money has complicated things attached to it," she said.
In a follow-up interview with the Record, Silver explained that the answer Deane-Ryan offered to her question felt insufficient. "I don't see the money as different and she made the claim that the money was different," she said. "[But] Jeff Bezos' wealth is derived from Amazon."
Rwick Sarkar '23.5, Silver's classmate who also attended the lecture, found Deane-Ryan's statement similarly troubling. "I have personal opinions that maybe are not in line with [Deane-Ryan's] because Amazon is actively continuing to create problems," he said. "I think it's different if that wealth was just acquired, and then it's being put to this use, but Amazon is continuing to [create problems]. That being said, I understand her perspective."
"I just don't believe that Jeff Bezos cares about climate change," Silver said, noting that $1 billion a year makes up only a small portion of his total wealth.
"I mean, the man's flying into space for a joyride," Sarkar added, referring to Bezos' 10-minute trip into space last July.
Despite their difference of opinion on the Fund's connection to Amazon and the nature of Bezos' environmental priorities, both students noted that they found Deane-Ryan's perspective to be interesting and that they gained knowledge from her lecture. Sarkar said he appreciated that Deane-Ryan never claimed that her work will be the singular solution to climate change and that she showed humility in recognizing that she plays only one role in the fight.
Deane-Ryan remains optimistic about the potential to bring these issues to the forefront of the efforts to stop climate change. "It can be hard, in the midst of these challenges, to stay positive," she said. "So it's critical for us to stay connected to each other, to learn some of the lessons of history, and to remember how many people worked to get this far and that things are not linear."