Women's tennis falls to Middlebury away, bounces back with home win over Skidmore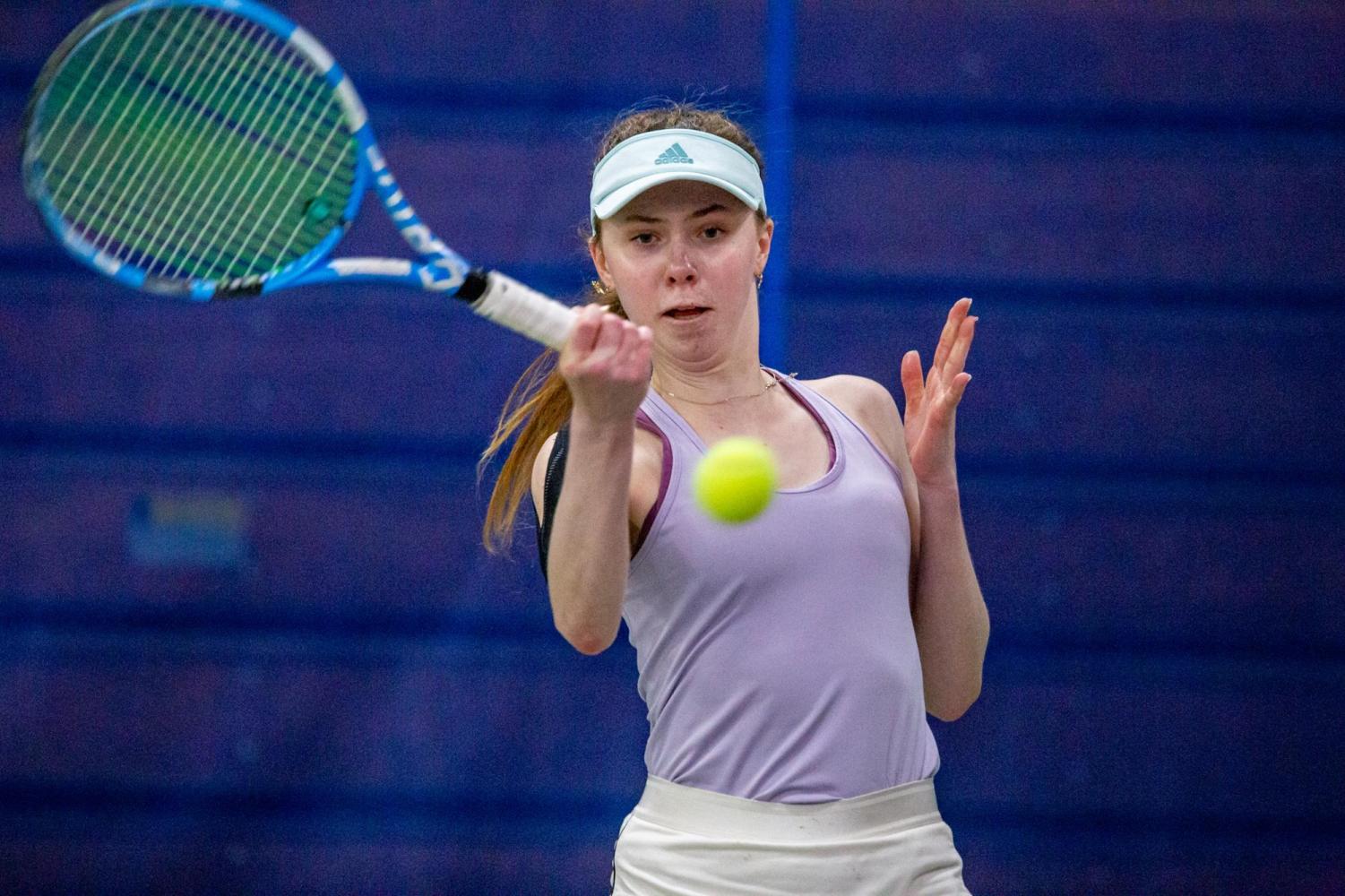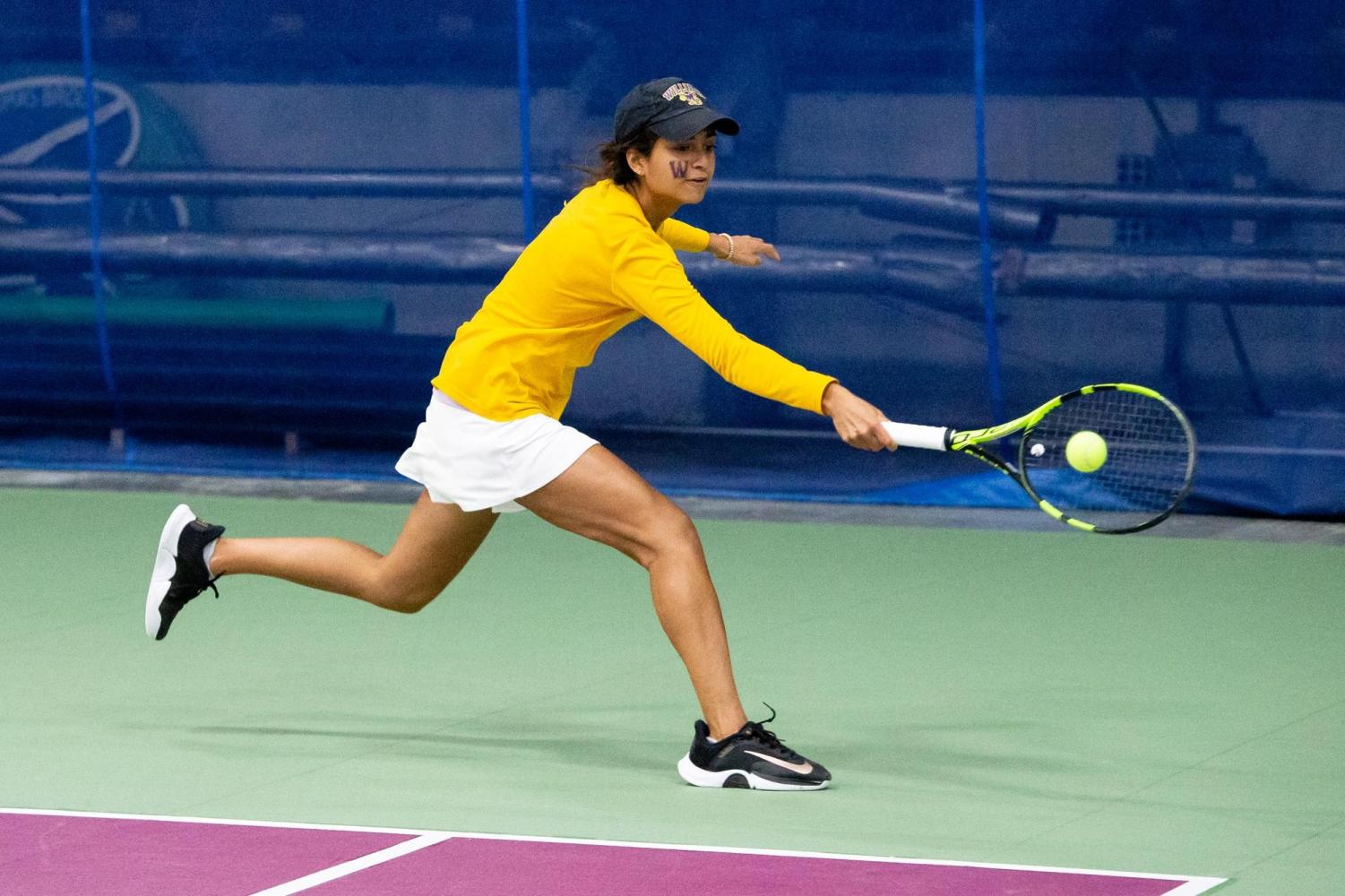 On Saturday, women's tennis took on Middlebury at the Panthers' fast indoor courts. Despite battling hard well into the night, the Ephs fell to the Panthers 7-2 overall. "Middlebury executed well in doubles on courts 2 and 3 and gas pedaled once they had a singles set under their belts. It's a good lesson for us to learn from," head coach Anik Cepeda said of the loss.
Number two doubles Katherine Orgielewicz '23 and Ananya Aggarwal '24 and number three doubles Izzy Santiago '25 and Julia Pham '22 both fought to hold the baseline and pinch the middle on the fast surface, but the Panthers were the more aggressive team and won 8-2 and 8-4, respectively. Number one doubles Erica Ekstrand '24 and Yuu Ishikawa '25 rushed to a 4-1 lead, but the Panthers crept back in a battle for the first strike and finishing volley, evening the score at 5-5. In the end, the Ephs stepped up to win the first point for Williams at 8-5. Down 1-2 overall, the Ephs moved on to singles ready to fight.
Aggarwal played a grueling first set, trading games and points against a big hitting player. Unfortunately, she fell short in the tie breaker and the match. "We had our chances in most of the sets, and just let them back in," Cepeda said.
Ekstrand's singles performance was a highlight of the match. Facing a heavy hitter who had a toolkit of big strokes, volleys, and drop shots, Ekstrand had to use everything in her capacity to engage in this battle. She struggled to break serve in the first set, falling short at 5-7. Still, she was able to regain her ground in the second set, taking it 6-4. While Ekstrand struggled to begin the third set, going down 1-5, she clawed her way back to 5-5. Middlebury won the next game to go up 6-5, but there was nothing to deter Eckstrand. She won her serve to make it 6-6, bringing fire to the final set tiebreak, winning 7-4.
"Shoutout to the whole squad — they kept their heads up and brought a lot of enthusiasm against a really tough opponent," Cepeda said.
The Ephs took on the Skidmore Thoroughbreds for their second match of the weekend, this time on their home courts. Despite the snowy weather in mid-April, Williams brought the heat, pulling out a close-fought win 5-4 overall. "I'm proud of how the team pulled this one out," Cepeda said. "It's been a challenging and long weekend of indoor tennis. I can tell the squad is motivated to put in the necessary work these final few weeks."
Doubles began with energy and cheering from both teams, with fellow Ephs supporting from the sidelines. Number one doubles Ekstrand and Ishikawa made quick work of their opponents with their aggressive formations and lightning- quick poaches, taking the first point for the team at a crisp 8-1. Number two doubles Zoe Bennett '23 and Aggarwal and number three doubles Pham and Maya Jamroz '23, both playing together for the first time, battled trading service games, but ultimately fell to the Thoroughbreds 8-5 and 8-4 respectively. Although the Ephs were down 1-2 going into singles, they turned up the heat even more and got ready to fight for every point.
Ekstrand took the momentum of her doubles win and rolled it into singles. She came out firing ground- strokes, many of the times out hitting her opponent in long rallies, and cruised through to win the match 6-0, 6-1. Aggarwal stayed up on her baseline, remaining steady and ready to play great offense and defense at every moment, and pulled through her match with incredible heart, taking it 6-2, 6-4.
Ishikawa brought her usual toolkit to the court in the number two singles spot. She took the first set 6-3, but found herself in more trouble in the second set when she was down 2-5. Ishikawa fought back into the second set, forcing her opponent into a tie-breaker.
After falling in the breaker, she re-grouped for the third set, quickly grabbing a 5-0 lead. After a glimpse of a comeback from her Skidmore opponent after grabbing a break, Ishikawa shut down the possibility of a longer match quickly. She won the third 6-2, taking the match to prevent the clinch.
With a 4-4 overall match score, last on court was Pham, duking it out in the number six position. With each team lined up on the sidelines, support roared through the bubble. She put heart into every groundstroke and chop she hit, playing fiercely. Pham's opponent held strong on her serves, but she had to put in work to hold. Pham handedly took most of her service games and hit many aces while she was at it. In the end, Pham defeated her opponent, taking the match 6-4, 6-4 in an incredible effort. The whole team swarmed Pham to congratulate her for clinching the close match.
The Ephs will gear up for another double-header next weekend against Trinity College and Connecticut College. Cepeda reflected on the Ephs' win. "Shoutout to our senior, Julia [Pham]," Cepeda said. "She was in a tough position heading into singles and stayed solid and committed to the game plan. Kudos to the team for pulling her through that difficult moment. We needed every voice today."