Captain's Corner: Rachel Neugart '22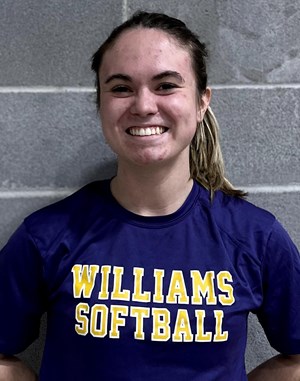 Team:
Softball
Hometown:
Cold Spring, Minn.
Residence:
Lambert
Major:
Psychology and English
When did you start playing softball?
I probably started playing softball competitively for the first time when I was 10, but I played little league baseball from [ages] 5 to 9. And then before that, I had a bat in my hand by the time I could walk. I was one of those kids whose first gifts were a tee and one of those giant orange bats.
Who are your idols?
I would say Michael Jordan, just in terms of his mentality and how he approached the game.
Yeah. Baseball legend. 
Uh huh. In terms of baseball or softball — baseball wise, Mike Trout is really fun to watch. And nowadays I like Pete Alonso. When I was in middle school, I remember seeing the College World Series for Div. I college softball, which I would say is larger than professional softball. So that's where I got a lot of my idols from. Some big household names would be Jennie Finch, a pitcher, or Jessica Mendoza, [an outfielder and sportscaster]. In the last five years, it's the Romero sisters.
How did you become a utility player?
Growing up, I played a lot of different positions depending on the coach, so I came into college having played all nine positions on the field. Coach [Kris Herman] specifically recruits players who can play a lot of different positions, so I think that was a big piece of why I ended up here. For example, when I came in as a first-year, I was working out in the outfield, and now I work out in the infield instead. 
You work out in the infield?
Yeah, I do push ups out there and some squats. [Laughs.] But depending on what the team needs, my position and the positions of my teammates have changed a lot each year.
Are there any unwritten rules of the game that you particularly like or dislike?
I don't think it applies so much to softball as it does to baseball, but one unwritten rule would be that you don't throw at anyone's head. But that's really more in baseball. That's not really the culture of softball. 
Wait, so you are allowed to throw at people's heads in softball? 
No, it's that baseball players used to do that intentionally, but softball players don't do that. So the rule isn't really needed.
I've always wondered, what do athletes remember about past games? Do you remember every game you've played in, or just pieces from them, or very few?
I have a few games that I remember very clearly from each season because they had an important outcome. But I actually remember my teammates more than anything. People always remember how you treat them and how you make them feel. And I remember just having a lot of fun in the dugout with my teammates at the end of seasons, or at the end of games, and those are the memories that I hold on to. 
We have this tradition on the team called the scribe report. An upperclassman writes a recap of the weekend for the team, and it's only for the team to read. No one else would understand it because it chronicles the jokes that we make on the bus or how we come up with different cheers in the dugouts, and I write those reports this year. So I remember a lot of the funny stuff that happens in the dugout, like the funny cheers, or the chants, or the moments where everyone's laughing really hard. And then I have reinforcements that I ask for [stories about] back of the bus shenanigans and things like that. 
Any other favorite team traditions?
In the fall, we do a six-week team challenge where we have to drink 64 fluid ounces of water a day; get seven hours of sleep, five nights a week; go to 100% of our classes, lifts, and practices; we have to spend time one-on-one with everyone on the team even if they're abroad, including coaches; and then you also have to meet with all of your professors twice over the six weeks; and lastly, setting a personal challenge for yourself. It sounds really intense, but it's a really good way to start the first six weeks of school.
What will you miss most about playing softball at Williams?
I'm gonna miss the excitement that comes out of the dugout when we're in the middle of a rally and stringing together a lot of runs. It's a really intense type of energy that's super fun and cool and something you don't always get.
But also, I'm actually really gonna miss practice, just because I think there's something to be said about working out with your friends for two hours every day for many months on end. You just spend so much time together that you build strong relationships, and you create so many jokes with each other, and you get to really watch people change and grow throughout the season. I think I'm really gonna miss practice and spending that time with my teammates the most. There's a lot of love on the team, and I'll miss that a lot. It's pretty special. I don't think a lot of people get the experience that I've had.