The Artist Otherwise Known As: Caroline Douglas '23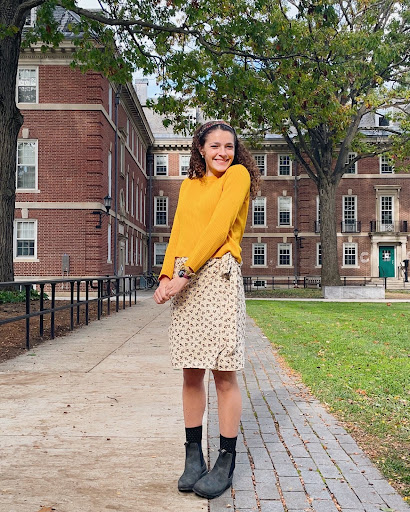 Throughout the fall, Caroline Douglas '23 frequented the Green River in search of three things: water samples for her geoscience research, photos for her junior arts seminar, and videos for her video art class.
For her junior seminar, she created a four-part photo series of herself, her grandmother (whom she calls Nonna), and the River. And for her video class, she created a green screen video.
"My route to those final pieces was certainly not direct," she said. "There was lots of figuring things out and freaking out and panicking, but we made it through!"
Douglas' art career began long before her Green River projects. When she was a month old, her family attended the music and environmental Clearwater Festival in Croton-on-Hudson, N.Y., for the first time — an event she has returned to nearly every year since, and which has served as an inspiration throughout her life.
"From pretty early on, I was given this amazing experience that allowed me to see art combine with science and activism in ways that I haven't really seen anywhere else," Douglas said. While at the festival, she volunteered to paint childrens' faces and later taught families about the Hudson River and microplastics.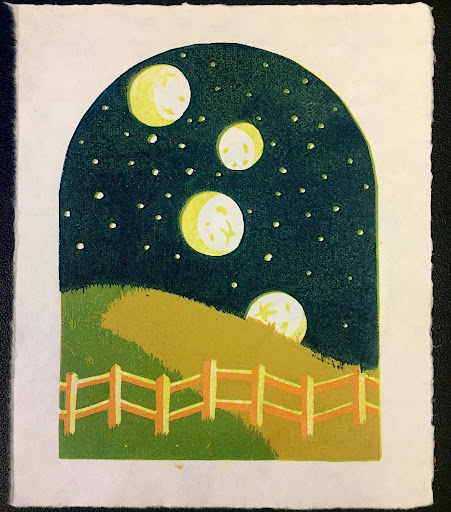 It was her early experiences with the Clearwater Festival that inspired Douglas to pursue both of her majors at the College, geosciences and studio art. 
"Some of the materials [I use] are really, really toxic in art," Douglas said. "I'm not sure if I should be using them, but then I'm like, 'Huge corporations are blowing up the entire planet in terms of carbon emissions.'"
When asked what style of art she did, Douglas replied: "I don't really know."
"You can tell I don't like picking just one thing," she said. On her Instagram account, @artcaroline, Douglas displays everything from linocut reduction prints to painted nails to a sewn brown corduroy bear she named Barnaby.
"The bio of my [art] Instagram page is: 'A collection of creations! Old, new, completed, unfinished, 2D, 3D, whatever,'" Douglas said. "I don't really want to put myself in a box."
Before coming to the College, Douglas had only focused on 2D visual arts. "I took five drawing and painting related classes throughout high school, all with the same teacher," she said.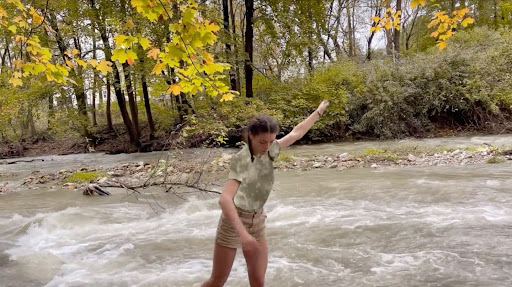 Douglas, upon arriving at the College, took ARTS 100: Drawing I with Former Professor of Art Frank Jackson, who then pushed her to enroll in other classes that would let her be more physically engaged with her work. In the years since, she has explored many different media, ranging from linoleum printmaking to quilting to muralism.
In the process of studying art at the College, Douglas has engaged in a variety of new art forms. In ARTS 236: LINOCUT!, she stood on her desk to press ink from linoleum templates  onto paper. In ARTS 369: QUILTY!, she injured her thumb from making tens of thousands of stitches. And in ARTS 223: Fresco Mural, she is currently collaborating with fourteen other students to create an eight foot wide fresco mural — work that she's doing on one foot, thanks to a torn achilles tendon from a track meet.
Her latest artwork outside of class is on her injury: Douglas painted yellow and pink flowers on her leg cast, meticulously highlighting the stems of tulips, buttercups, and hyacinths from an upside down perspective.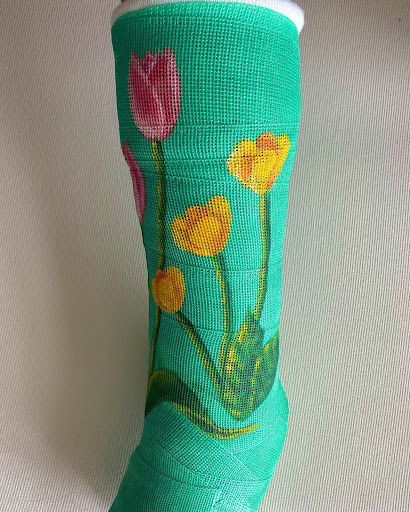 "With art, it's not that my goal is to make this incredible thing," Douglas said. "My goal is to enjoy what I'm doing and make something that I'm proud of, or to have a little escape from other responsibilities."
Following in the footsteps of her time at the Clearwater Festival, Douglas said she can see herself pursuing education in the future. "I've really enjoyed working with first graders at Williamstown Elementary … and so I think I could see myself being an art teacher," she said.
For aspiring artists, Douglas has some advice. "You don't have to be good at drawing to be good at art. I think that's such a huge misconception," Douglas said. "I have heard so many people say 'I'm horrible at art, I can only draw a stick figure.'"
Whether painting, quilting, or video editing, Douglas believes in finding enjoyment in all her activities. "You can just make art for the fun of it," Douglas said. "It doesn't have to look good, as long as you're just enjoying what you're doing.