Students reflect on community on campus during spring break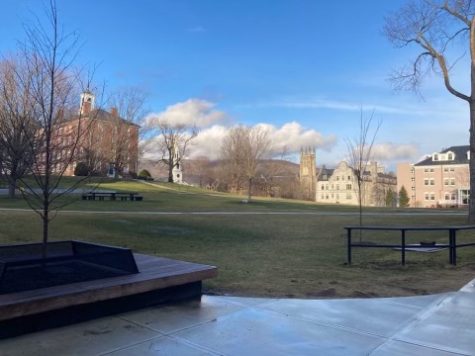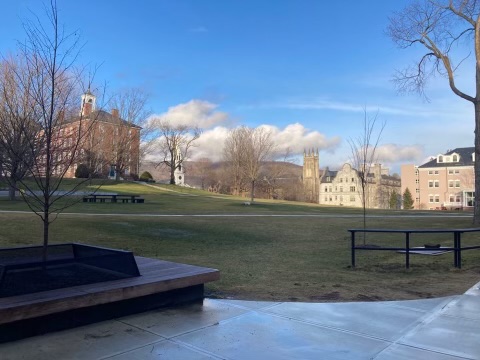 As students said goodbye to their friends and left campus for spring break, Ashlyn Oh '23 had her doubts about staying on campus. "I was nervous to be on campus for so long without the full support of all my friends," she said. "Just mental health-wise, what do you do with nothing to do for two weeks?" 
Oh was one of an estimated 80 students who stayed on campus over the break, lived in largely empty buildings, and ate all of their meals at Driscoll, the only dining hall that was open. She wasn't the only one nervous about the prospect of spring break on campus. "Especially with the pandemic, I've noticed that it's really hard to be alone," Olivia Matters '23 said. "So I definitely felt kind of nervous about being alone again." 
Matters decided to make an effort to form a community of Williams students on campus over the break as a way to combat that isolation. The GroupMe she created, "On-campus spring breakers!!," became a platform for people to share various group activities they were hosting, from yoga to board game nights. 
Isaac Rivera '25.5 also made sure to stay social on campus and took over activity planning after Matters left for the second week of break. "It can be very isolating if you're expecting isolation," he said. "A lot of people have to take the initiative in order to meet people [and] to find solidarity and community during a time period like that."
According to Rivera, being on campus also gave him the opportunity to break out of his typical social circles. "I think often, as frosh, we get so caught up within our own little events in life and little circles that [we forget that] there's a whole other upperclassmen community," he said. 
Oh also said that she met new students over the break. "I spent a lot of time with international students, and so we had a lot of conversations about things that I just don't think about on a day-to-day basis," Oh, a domestic student, said. "I had conversations about privilege and money and gender and sexuality with queer students and low-income students on campus. I made friends with students from Tunisia, Kazakhstan, Ukraine, [and] Belize." 
However, other students described spring break as an opportunity to spend time with their close friends rather than branch out. 
"A lot of people who want to stay over break, they're usually a consistent group," Niko Wolfe '24 said. "I didn't really meet many new people, but it was nice to hang out with my break people." 
Even Jay Schroeter '22, who created a "free friendship alerts" GroupMe over spring break to encourage new social interactions, spent a lot of time with the friends he already had. "I had one friend who was in Poker [Flats] with me, and we would just play a board game a day," he said. "That was most of my social activity."
Multiple students also described spring break as a way to enjoy the College without the pressures of classes. "It felt like I wasn't stressed about anything, but it was nice to be in the space and just enjoy it," Zayneb Moin '25 said. "It made me like Williams more." 
"This place just has a different air when it's unhurried," Matters said. "It can be really beautiful, and it can be really fun just to see your friends in a more relaxed environment." 
Despite these positive experiences, several students expressed frustration about the limited dining times over the break. Driscoll only served brunch every day from 11:30 a.m. to 1:30 p.m. and dinner from 4:30 p.m. to 6:30 p.m. "A lot of people came [for dinner] between 6:00 p.m. and 6:30 p.m., which was the last bit that dinner was open, just because lunch and dinner were so close together," Wolfe said. "I think if they had just shifted dinner 30 minutes later, it would have made a difference." 
However, Rivera characterized the condensed dining times as a positive change. "If there weren't any plans, you would recognize someone in the dining hall just because of how [short] the dining hall hours were," he said. "It was kind of nice in a way." 
Rivera did express disappointment that the College had not set aside money for spring break events as they had over winter break. "We need funds in order to organize these events to make them accessible for a lot more people," he said. "They need to actually put a designated spring break [housing] coordinator [in charge] so that these events can happen." 
Rivera still described his spring break experience on campus as a positive one. "I was having a great vacation until everyone came back," he said. "And then I was like, 'What are you guys doing here?'"