Images in Review: Deafness and representation in CODA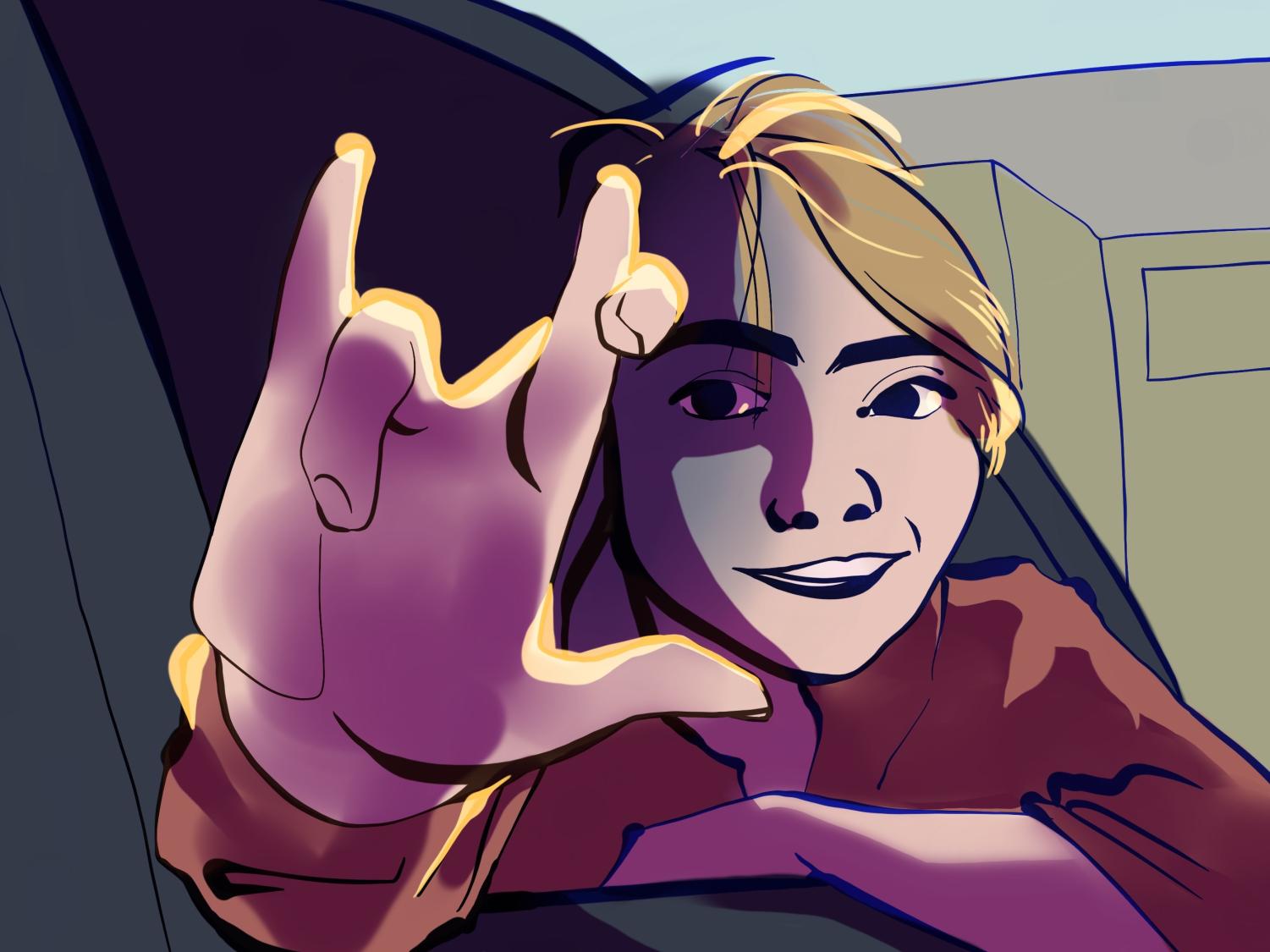 Even after watching CODA twice, I am still struggling to answer a question: Who is this movie for?
Director and screenwriter Sian Heder's Academy Award-winning Best Picture CODA is in most ways a familiar coming of age story, filled with tropes like a talented small-town girl with big city dreams, an overinvested music teacher, rehearsal montages, a high-stakes college audition, and the struggle between ambition and family. The movie is familiar until it's not; the small-town girl has a new label — she is a Child of Deaf Adult(s) (CODA). 
CODA follows one such child, Ruby Rossi (Emilia Jones), as she navigates high school while simultaneously shouldering responsibilities as the only hearing person in her Deaf family, consisting of her father Frank (Troy Kotsur), mother Jackie (Marlee Matlin), and older brother Leo (Daniel Durant). She works on her father's fishing boat every morning before school to answer radio calls and haggle fish prices. She interprets for her parents everywhere, even in a painfully detailed doctor appointment about her father's pubic rash. 
Her experiences as a CODA are not all positive: She is bullied by classmates, frequently has to choose between important rehearsals and helping her family, and feels like she must protect her family from the criticisms of their unaccommodating small town. Ruby exists in a delicate yet exhausting balance, one we as audiences don't fully recognize until she disrupts that balance with her passion for singing and music. 
The predictable storyline does not take away from the charm of the Rossi family, with scenes between Frank and Jackie challenging most audiences' unfamiliarity with Deafness and sharing the underlying feelings of isolation and marginalization many Deaf people experience. The most poignant parts of the film take place in American Sign Language (ASL), when the supporting cast can shine in their roles. While the film industry has a history of casting hearing actors to play deaf characters (even in the movie CODA is adapted from, La Famille Bélier, both the mother and father are played by hearing people), CODA makes a point to cast Deaf actors to play the family. 
Ruby's brother Leo is played by Daniel Durant, who acted in a recurring role on ABC's Switched at Birth and is known in the Deaf theater community for his roles in Cyrano and Spring Awakening at the Deaf West Theatre. Troy Kotsur, a Deaf actor who won an Academy Award for Best Supporting Actor, steals all his scenes as Ruby's father Frank with his hilarious and vivid use of ASL, most notably in his awkward first meeting with Ruby's future boyfriend and his heartwarming exchange with Ruby after her concert. Marlee Matlin, who plays Ruby's mother Jackie, is the only Deaf woman to win an Academy Award, which she was awarded in 1987 for her role in Children of a Lesser God. Kotsur and Matlin are the only Deaf people to win Academy Awards, a reminder of how little authentic talent is represented in roles other than one-off, guest performances and minor plot points.  
As a Deaf person, I remember the excited rumblings of d/Deaf (the lowercase d references medical deafness, while the uppercase references cultural Deafness) friends in group chats and on video calls as we eagerly awaited the movie's release. Finally, we thought, some serious representation since Children of a Lesser God! An authentic media representation of Deaf culture! Marlee Matlin is on screen with other Deaf actors! And after watching, many of our excited hopes about representation felt fulfilled, in large part because there are plenty of moments that felt relatable and made me feel seen. 
I found myself laughing when the family listens to music with bass so loud that, as Frank puts it, his "whole ass is vibrating" because I do the same thing — even if my choice in music is metal while Frank prefers rap. The film also puts their sex lives on full display, which is a welcome change from mainstream depictions of disabled characters as nonsexual and nonromantic. And while film conventions for editing dialogue are sound-centric, CODA recognizes that ASL can't follow these same principles and ensures the hands of the Rossi family are fully visible at all times, even when there are multiple speakers in the frame. Without these filmmaking details, Troy Kotsur would not have been able to pull audiences into his hilarious storytelling that won him an Oscar.
But while many of my hopes were met after watching, some were dashed by the film's missteps. 
For a film attempting to present reality with its depictions of a working-class household facing ableist social barriers, the narrative is predictable and far too ideal. The wholesaler is purposely undercharging you for your fish? Start your own co-op. Can't afford college? Get a scholarship. Your embarrassing story is shared with the whole school? Furiously walk away and move on, leaving no room to consider your feelings could exist beyond that those shown on screen. CODA ignores the real-world implications of its plot while still attempting to portray the real-world experiences of Deaf culture and life as a CODA. 
CODA treats music as a clash with deafness, framing Ruby's love of music as an overarching conflict between her and her family. While watching, I was reminded of Sound of Metal, a 2019 film told from a hearing perspective that follows the same deaf-people-can't-enjoy-music stereotype and the trappings of disabled inspiration porn through its treatment of deaf people just living as challenges to be overcome. While CODA uses moments between the family without Ruby and scenes like Ruby's concert where sound fades out to shift to a deaf point of view, they emphasize the apparent disconnect between deaf people and music.
 The film dramatizes CODAs, a choice that fails to acknowledge deaf people's competence and ability to thrive. This choice is portrayed in the movie by Ruby's older brother Leo, who feels frustrated by the apparent savior complex Ruby upholds (even calling her "Saint Ruby") and in a heated argument with Ruby expresses how he feels infantilized by his sister's actions. Furthermore, lack of access to interpreters is a real problem CODAs face, but the film creates an artificial tension between the family's dependence on her and her ambitions. It somehow exists in a world where the Americans with Disabilities Act doesn't exist — legally, Ruby would never be allowed to interpret for her parents in a courthouse or a doctor's appointment. These missteps show how the film exploits systematic discrimination for interpersonal drama and distorts hearing audiences' perceptions of how to navigate a hearing world.
Most obviously, the film seeks to cater to hearing audiences, even in ASL. Ruby is not nearly as skilled with sign language as her family (a glaring plot hole for the main character meant to have grown up surrounded by fluent signers) and the script's occasional use of signed English phrases just doesn't work well coming from Deaf ASL speakers. 
Of course, the film can't be entirely faulted; Deaf media must appeal to hearing people to be successful, and as much as CODA is about a hearing person's relationship with Deafness, the film does explore its Deaf characters' relationships with the hearing world, as these characters exist not as two-dimensional characters, but as people with hopes and dreams and good senses of humor.
I still can't answer the question of who this movie is for. As someone who desperately wants authentic representation of d/Deaf and hard of hearing (HoH) people in media, seeing any representation on screen at all pulls me into theaters to watch regardless of its reviews. CODA reflects the experiences of CODAs and the Deaf community in a way which relies on d/Deaf/HoH audiences, but it shows these experiences through a hearing lens and relies on hearing notions about the abilities and realities of Deafness.
Watch the film for its feel-good narrative and emotional family scenes, but as with any underrepresented community in media, watch critically and learn beyond the confines of the narrative alone.