One in Two Thousand: Isabelle Sanderson '25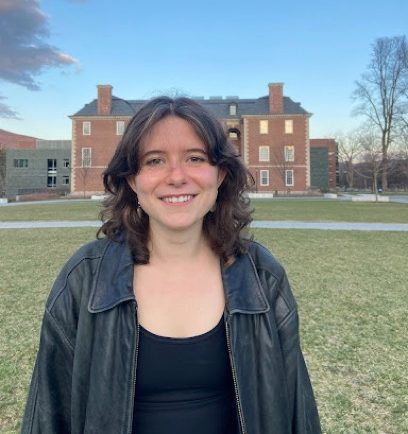 Each week, we randomly select a unix from a list of all current students at the College for our One in Two Thousand feature. As long as the owner of a selected unix is willing to be interviewed and is not a member of the Record board, that person becomes the subject of our interview. This week, the computer (using a script in R) chose Isabelle Sanderson '25, who discussed her favorite coffee shop in New York City, roller skating, and her interests in art history and psychology. This interview has been edited for length and clarity. 
Maria Lobato Grabowsky (MLG): We're both in the same entry, Sage 2. What has been your favorite thing about living in Sage so far?
Isabelle Sanderson (IS): I'm gonna be really honest. When I got the housing assignment over the summer, I was really excited just because I liked the color sage. I wanted to live in Frosh Quad and between Willy and Sage, [there was] no difference aside from one having a nice name, in my opinion.
MLG: What do you think you will miss the most about Sage next year?
IS: Proximity. Also, it really does feel like it's [in] a college. It feels collegiate. 
MLG: We're also both from New York City, which definitely has a lot more to offer than Williamstown. If you had to choose one store, coffee shop, or restaurant from New York City to add to Spring Street, what would it be?
IS: Oh my God, I would choose Plantshed. That's my favorite coffee shop. I talk about it way too much. They also have really good matcha and really good vegan cashew brownies, which are weird but so good. If you buy enough coffee from them, they give you a free plant!
MLG: I feel like we need a plant store on Spring Street. 
IS: Yeah, I agree. 
MLG: Now that the weather has been getting better, you have been talking a lot about roller skating. Tell us more. 
IS: I started to roller skate when my best friend at the time got really into it. She's one of those types of people that will find something and completely latch on to it. So I think it was easy to be like, "Oh, we're gonna hang out, and we're gonna skate."
MLG: Would you say you have one roller skating memory that stands out? 
IS: God, yeah. I was roller skating in the Mermaid Parade a couple years ago, which is this thing that happens in Coney Island in June, and it's super exciting. Everybody dresses up like mermaids, and then there's a parade that goes through the crowd. This guy beckoned us into the parade because he was also on skates, and so we snuck into the parade, and roller skated in front of this guy's float. I tried to do this trick I really liked called "shooting the duck," where you bend down and stick out one leg, and I fell. [Laughs.] And all [of] the people were like, "Hey, it's okay." They were actually really cute about it. But it was really funny because then, I just had to keep going.
MLG: Where do you plan on roller skating at Williams?
IS: Oh my God. I have no clue. I got added to a roller skate group where there's a bunch of people that roller skate, which is cool. 
MLG: I also know that you really enjoy art and art history and that you go to a lot of museums at Williams. I was wondering — what do you think is your favorite museum?
IS: Definitely MASS MoCA. Well, actually, I don't know. Maybe WCMA because they do really interesting and different exhibits… and they do a really good job of contextualizing the work and explaining it. And they [have] quite a bit of diversity in what they show, or at least in what I've seen thus far. I really liked Sweaty Concepts. And because of my recent [class] assignment, I spent a lot of time in the Sol Lewitt one. 
MLG: What class was the assignment for?
IS: Postwar Avant-Garde Art.
MLG: I know that on top of art history, you are also thinking about majoring in psychology, so I was wondering how you think the two work together? Do they overlap in any way?
IS: Usually when I tell people what I want to major in, they immediately start talking to me about art therapy, which is something I don't necessarily want to do. But that is a very clear overlap. I was really into it because of this woman I really liked, this art historian Siri Hustvedt. She compiled this anthology of art history related papers that I read when I was younger [and] really liked. It's this book called A Woman Looking at Men Looking at Women and has things by [Susan] Sontag and other art historians discussing the male gaze and art. I reread that a bunch when I was younger and [Hustvedt]  is an art historian who's trained in psychology. I think there are a lot of art historians who have that background, just because it allows you to look at the art and think about the human connection in a different way. 
MLG: You also have been working at Goodrich [Coffee Bar] since your first semester. Why did you decide to work at Goodrich, and what has been your favorite thing [about] working there?
IS: I've always wanted to work in a café. I think that's sort of the dream. And I really liked working there because I really like seeing all [of] the students and seeing your friends early in the morning getting coffee. I think it's a really nice community. 
MLG: If you could add one new thing to the menu of Goodrich, what would it be?
IS: Oh my God, they're really weird, but the cashew vegan brownie from Plantshed.