Students raise awareness on campus about war in Ukraine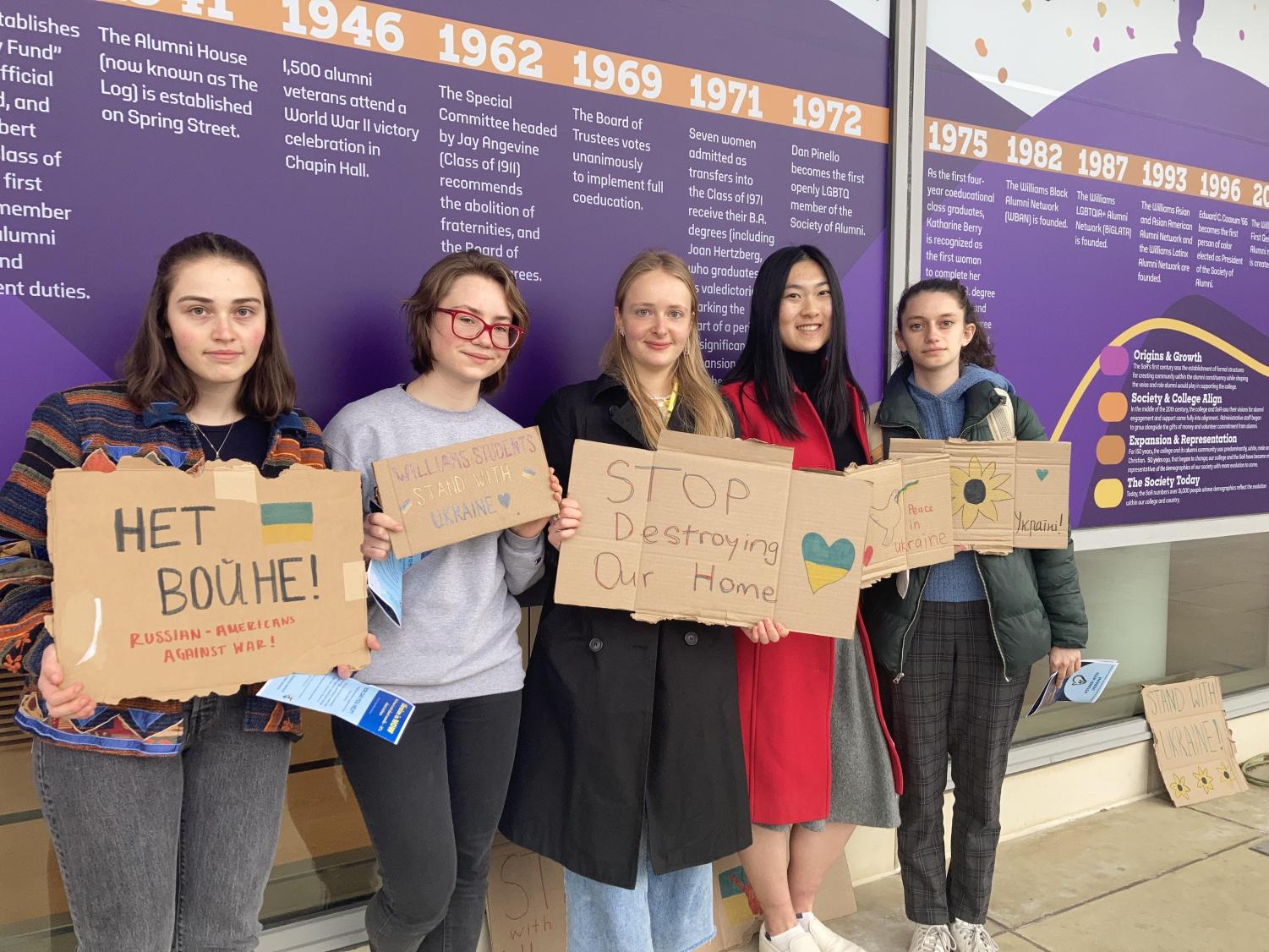 Students gathered outside Paresky yesterday to attend a rally organized by Ukrainian student Diana Sobolieva '25 against the current war in Ukraine. This came after a discussion about the war with Sobolieva, fellow Ukrainian student Alina Luchyshyn '23, and professors on Monday night. 
Sobolieva decided to plan the rally after hearing the experiences of her family and friends who are in Ukraine and are witnessing the violent impact of Russia's invasion firsthand.
"I talked to my dad, and he asked me to do as much as I can in the U.S. to help Ukraine even though there aren't many things I can do, unfortunately, as a college student," she said in her speech at the protest. "But I can spread awareness and help get people to donate [to Ukrainian aid organizations]."
At the rally, Sobolieva and Russian-American student Sasha Rieser '25 spoke about the ways in which the war is impacting their family members in Ukraine, and Catholic Chaplain Bridget Power led attendees in prayer.
To Sobolieva, spreading awareness is critical to making sure that people remember that as the war progresses, it continues to impact Ukrainians.
"If [the war] comes into a more frozen state … a lot of people forget," Sobolieva said. "I don't want this to happen, because at the same time, people are still dying every day and there are so many bombings every single day. I don't want anyone to forget this is happening."
While Rieser had planned on attending the rally, after helping Sobolieva — her entrymate — create pamphlets and promote a QR code with resources to support Ukrainians, she decided to speak as well.
"Initially, I was hesitant — I didn't want to take space from Ukrainian students," Rieser said. "But it's very important for Russian-Americans to show solidarity at this time."
While the rally was student-organized, College faculty has spearheaded other opportunities for community members to engage with the conflict. 
The Department of Anthropology and Sociology, the Department of History, and the Russian program at the College hosted and facilitated a discussion on the war in Ukraine that featured Sobolieva and Luchyshyn, as well as current and former professors at the College on Monday night.
Isabelle Wood '22 attended Monday's discussion and told the Record that it gave her a nuanced understanding of the background of the war. She said she was particularly moved by listening to Sobolieva and Luchyshyn discuss the violence in Ukraine. 
"What was most impactful about the panel weren't the ways in which members of the faculty illuminated the intellectual contours of the crisis," Wood said. "Rather, it was a stark reminder that although geographically distant, this is a conflict that is affecting members of our community, including students, in deeply personal ways and has encouraged me to think of ways that I can be a more active ally to my peers."
Sobolieva told the Record that she was heartened to see fellow students and members of the College community attend the rally to express their support for Ukraine.
"It's so important that people actually care about what is happening in other countries and are very supportive of the Ukrainian community," she said.