After three years, Maplefest returns in full to Hopkins Forest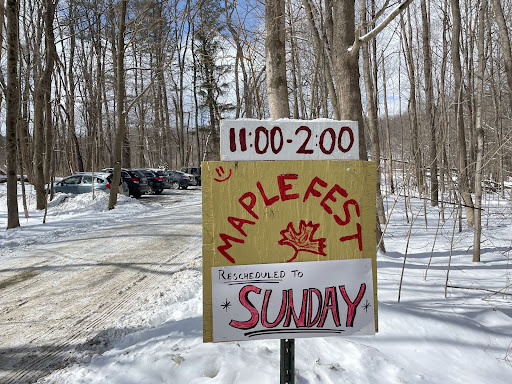 Drew Jones was only seven months into his tenure as manager of Hopkins Memorial Forest in 2000 when Aya Reiss '00 approached him with an idea: What if the forest hosted a maple syrup-themed festival?
"The idea for [the festival] sprung from attending a Sheep to Shawl event in Vermont," Reiss wrote in an email to the Record. "It was so fun to follow wool from its origins to the creation of a useful product. It seemed natural and logical to suggest creating a similar venue for appreciating the process of making maple syrup." Within a matter of months, Jones and his team of student caretakers organized Hopkins Forest's first annual Sap-to-Syrup Day, a tradition that would later be known as "Maplefest."
The festival, which has been open to the Berkshire community nearly every March since its conception, was canceled in 2020 and restricted to only students in 2021 because of the ongoing pandemic. This year, Maplefest made its full return to the public on Sunday, March 13. It was originally scheduled for the day before, but due to a bomb cyclone bringing heavy winds and snowfall, Jones postponed the event for the first time in Maplefest's history. 
"Drew sent me an email that was like, 'Please post this on Instagram and update everyone,'" said Will Schnall '25, one of the student caretakers at Hopkins Forest and the manager of its social media accounts. "I posted a very dramatic thing that said, 'Maplefest has been postponed.'"
Despite the last-minute change, hundreds of students and community members flocked to the forest on the chilly Sunday morning to take part in the sweet festivities, marking the first community-wide Maplefest in three years.  "It was just so fun to [see] people interacting and engaging in the forest," Jones said.
The festival featured a host of maple-related activities, ranging from tree-tapping demonstrations to syrup taste-testing. "We kind of [have all] the traditional aspects," Jones said. "We open up our sugar house, … we show them how it works, we try to teach people a little bit about the chemistry, … we show them the boiling process, [we] show them what the sap looks like going in, … and they can smell the steam [and] just take all that in."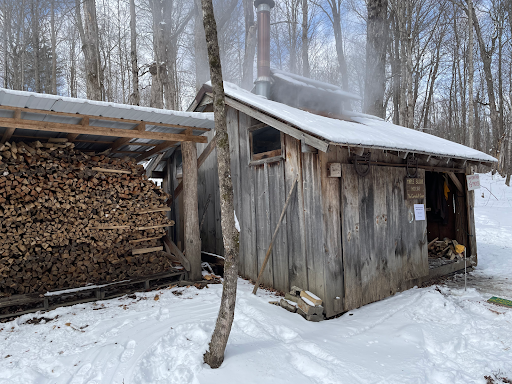 Student caretaker James Fortin '22.5 ran the old-fashioned maple sugaring station, demonstrating a pre-colonial method for sugaring maple sap. "I want people to understand the long tradition of maple sugaring and all of the different technological improvements that have gone into it over the centuries," he said.
Attendees also had the opportunity to see how Hopkins Forest caretakers collect and boil sap. Schnall gave a demonstration of the tapping process for the maple trees, which is the first step in maple syrup production. 
The community could then enter the sugar house, where they could see the boiling process — the next step — for themselves. "What comes out of the tree is not concentrated, so it will taste like water," explained Sam Magid '25, another Hopkins Forest caretaker. "When you boil it down, it turns into maple syrup." 
Most modern maple syrup productions use more advanced technology, but according to Schnall, Hopkins Forest's antiquated system of buckets and spiles, small metal pegs used to tap trees, is what gives it charm. "They're very old-school in the Hopkins Forest," Schnall said. "It's really inefficient, but it's kind of fun."
While this is the first chance the broader Berkshire community has had to try Hopkins Forest syrup this year, the caretaker team has been hard at work collecting and boiling sap for weeks. "Since a week or two after Winter Study, we have been tapping the trees," Magid said. Throughout the season, the team amassed enough syrup to sell in bottles to the community — and for Maplefest attendees to taste for themselves.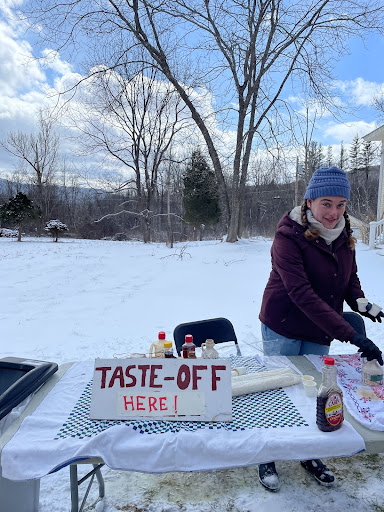 At the taste-off station, Emily Axelrod '25 and Regina Fink '22.5, Hopkins Forest educators, gave participants two cups of maple syrup — a  store-bought syrup in one and Hopkins Forest syrup in the other — testing to see if people could identify the difference. Niko John '22.5, a Hopkins Forest caretaker, prepared catered bagels from the coffee bar with maple cream cheese — a product made with syrup tapped in Hopkins Forest. Students also served warm pancakes and even "sugar on snow," a taffy-like candy made by pouring boiling maple syrup on packed snow, served with a pickle to cut the sweetness.
"I really liked the maple syrup on the snow with the pickle," Emily Stanger '25 said. "The pickle was an insane touch — I thought it was going to be bad, but it was really good."
Though the event's goals are to teach the community about maple sugaring and share the products of Hopkins forest, Jones and the caretakers ultimately recognized the event as a chance for the College and Town communities to gain a greater appreciation of what Hopkins Forest has to offer. "Since spring of 2020, I think [Hopkins Forest] has taken on a different meaning for people, and I think it has more appeal to more people than it did two, three years ago," Jones said, referring to the effect of the ongoing pandemic.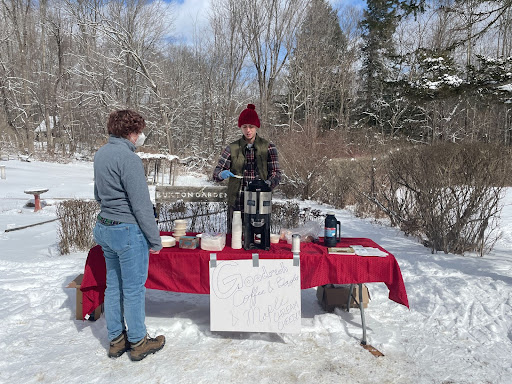 Similarly, Maplefest was a rare tradition that brought together students of the College with townspeople of all different ages. "It's nice to feel grounded in the greater Williamstown community," Ella Sobhani '25 said. 
"Seeing the little kids enjoying themselves outside was fun in a time when midterms feel all consuming and make it hard to appreciate the space around us," Audrey Shadle '24 said.
"With the [number] of hours we're putting into making the maple syrup by hand, I don't think we're turning any kind of a profit," Magid said. "It's more a way to connect with the community — to get people excited about the outdoors, get people excited about what Hopkins Forest and its history means, and get people having a fun time."