Hippies vs. Squirrelmen, written and directed by Diego Mongue '25, premieres at Images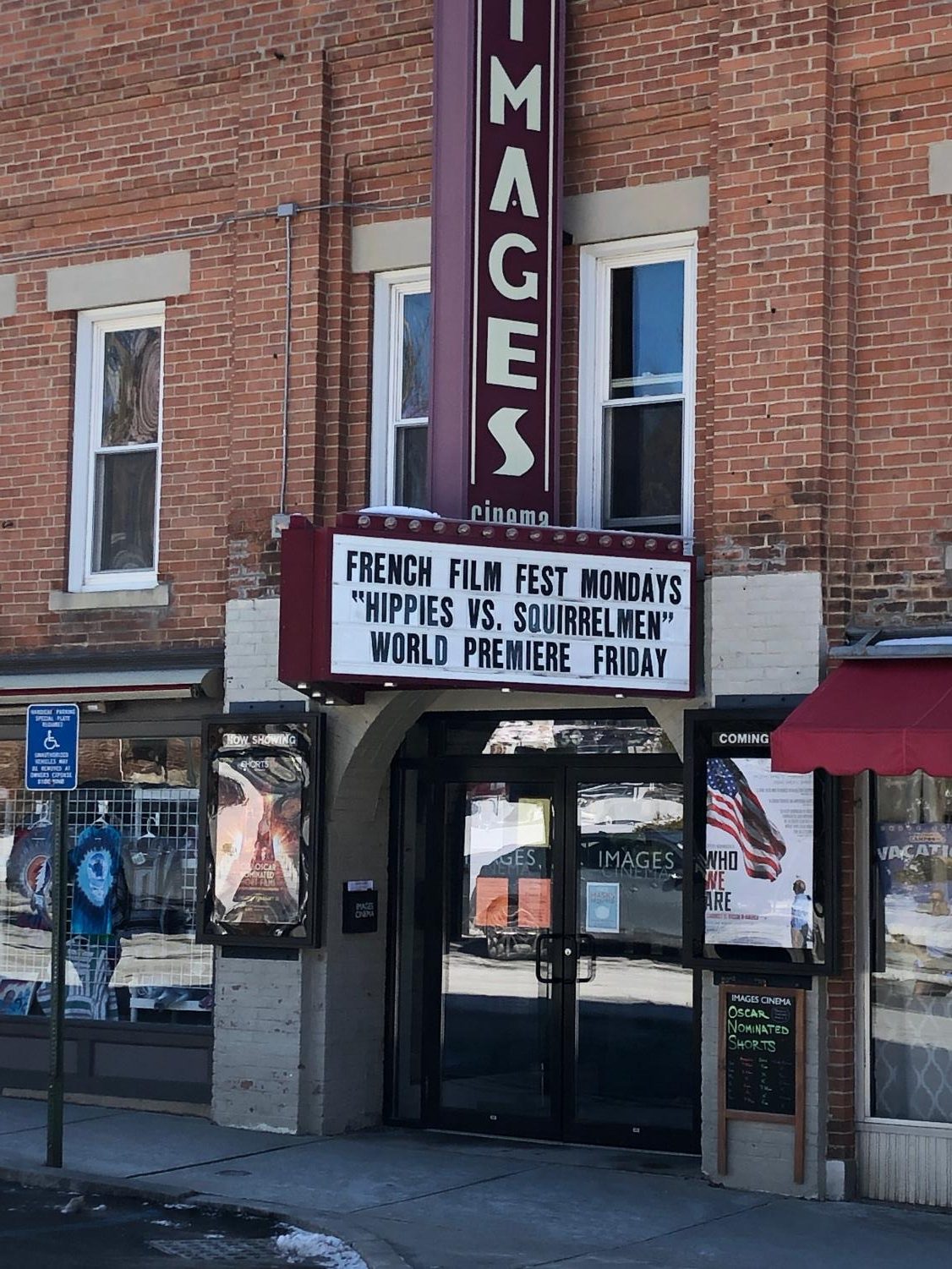 On March 4, some 40-odd people at Images saw the world premiere of the feature film Hippies vs. Squirrelmen, directed by, written by, and starring Diego Mongue '25. I was lucky enough to find out about the screening as a friend of Mongue; he is an extremely talented drummer, I am an okay bass player, and we have played together a couple of times. I knew that he had made several comedic songs and music videos, including a song named "Dirty Smelly Clown," so when he told me and a few others that a film of his was premiering at Images, I knew I would have to be there.
Edited down from 21 hours of footage shot at locations all over Berkshire county in just 15 days during the summer of 2021, the 86-minute Hippies vs. Squirrelmen was hardly the beginning of Mongue's filmmaking career. He got his start when he was just 8 or 9 years old, using his Motorola Droid, which had a camera and built-in editing software, he said. Some of his early movies include Let's Get Hammered, a horror film with an "evil hammer man," The Forbidden Fatal Strike of the Black Dragon, a kung-fu film, and X-Force Two (a sequel to X-Force One), an action film where the protagonists fight an invisible army because, in the words of Mongue, "you know, no budget."
Mongue started to get more serious about filmmaking during his senior year of high school, when he made a 55-minute film titled Groundchuck with a few of his fellow students at Berkshire Arts & Technology Charter School, including Kyle Gwilt '25 and Cameron Langsdale '25, who are also first-years at the College. The film, based on a story that Mongue wrote for an English class, explores the journey of some campers who eat mystery meat that turns out to be human. 
"We premiered it during Senior Week [of high school], and everybody hated it," Mongue said. "It was the greatest moment of my life." 
"There's something truly amazing when people hate what you do, in a certain sense," said Mongue. "Because to truly hate something, you have to put effort into it. So, it's like, 'You're actively hating this. You're actively thinking about this in choosing to dislike it.'"
Mongue said that after finishing Groundchuck, he felt that he "needed" to make another film, so he wrote the basic plot for what would eventually become Hippies vs. Squirrelmen. "I sat down and I was like, 'What is weird? Because I need to come up with something weird,'" Mongue said. "And I went, 'Hippies, hippies are weird.' Then I looked out my window, and what did I see? I saw a squirrel."
The movie follows a group of supposedly peace-loving hippies as they reunite and stumble upon a mysterious world through a portal in an elevator. This world, named Boonglargius, is filled with a group of creatures called "squirrelmen," which have the heads of squirrels and the bodies of humans. After a hippie dies in an accident that the hippies mistakenly attribute to the squirrelmen, the two groups wage war on one another, each trying to bring about the other's violent demise.
Though the storyline was planned out, the actors in Hippies vs. Squirrelmen had no script. "It's a lot less of a workload than having to actually memorize lines," Gwilt said. "Especially since this was just sort of a fun summer hobby-type thing. For us, it was a lot lower pressure than to have to actually memorize anything."
Marko Iwasiwka, a first-year student at the Massachusetts College of Liberal Arts who edited and produced the film, said many of the scenes were made on the fly. Still, even with the amount of improvisation involved in the film, Iwasiwka did not see a need to worry about how the film would turn out. "With [Mongue], you can trust him in the process," Iwasiwka said. "If he has an idea that seems absolutely insane and impossible to do, it isn't impossible. It is possible."
But the film suffered some setbacks during production. Scheduling issues arose with one of the actors, which is made clear in one scene of the film when Mongue's character breaks the fourth wall to jokingly explain why another character is missing from the scene. 
The cast and crew had to rely on the kindness of strangers and friends' parents for some of the sets, which resulted in some awkward moments during filming. In the beginning of the film, Langsdale's character, who is wearing a sumo suit, goes into a bathroom and screams for about a minute straight before coming out of the bathroom having shed the suit. 
"I'm screaming my ass off, and that's not an overdub," Langsdale said. "When [I] came out of the bathroom … [my friend's] dad who owned the house was there, and in the background of everybody … I could see him. He looked very sad." 
In another scene in the film, a hippie's arm gets ripped off, but the shot was almost lost due to bad weather. "We shot that like 30 seconds before this insane thunderstorm happened," Mongue said. "It was basically, Marko, you get the shot, whatever it is, that's what we're using and then you run with the cameras at the car before the rain starts… It's so funny because we were just running through the woods with like rubber arms."
All of these problems made production increasingly difficult, necessitating successive rewrites that, in aggregate, made the film less coherent. Eventually, Mongue decided that the film needed a narrator to clear up some of the plot. "When we started editing Hippies vs. Squirrelmen, it made no sense at all," said Mongue. "I mean, I look at it now, and if I took the narrations out, nobody would know what's happening. I wouldn't, and I wrote it."
Still, the narrator's lines were created more or less on the spot. Chase Bradshaw '25, who played the narrator, an on-screen role, said that he and Mongue would write some lines for the narrator on a piece of paper, and then they would place the paper inside a book that the narrator would hold as a prop. After they filmed Bradshaw reading those lines, they would write more and repeat the process.
The last thing that was supposed to be completed in the film was an animated sequence. But, according to Mongue, it was going to "take way too long to animate if we actually [wanted] to meet some sort of deadline in the near future."
Rather than digital animation, the crew tapped the talents of Yasmine Faigle '25, who created a series of drawings to be used in place of the animated sequence. The last drawing in the series, which Faigle described as the "punch line," features a buff squirrelman with nipple piercings and a chest tattoo that reads "mommy."
"I drew a lot of inspiration from the squirrels here at Williams," said Faigle. "They inspire me every day. They're pretty chunky. They're pretty beefy. So you know, they're my muses."
Getting the film to play at Images was relatively easy, Mongue said. He emailed Doug Jones, executive director of Images, and asked if the theatre would be able to premiere Hippies vs. Squirrelmen. Jones agreed to show the film without even having seen it.
"[Mongue] gave me a copy of the film, and I started to watch it," Jones said. "And then I stopped because I said, 'No, when I watch this movie, I want it to be like it should be.' I wanted to be in a theatre with other people, with everyone discovering and being surprised by what's going on and what's going to happen next."
When Mongue found out that Jones had not watched the film prior to the premiere, he said that his reaction was, "Oh, God, you haven't seen this? You agreed to this and you haven't seen it?"
But Jones said that he enjoyed the movie when he attended the premiere. "It reminded me, just in sort of its fearlessness and its spirit and energy, of a classic midnight movie," said Jones. 
"Hippies vs. Squirrelmen was incredibly time-consuming, and I am proud of it, in a sense," Mongue said in a speech at the film's premiere. "It's probably the worst and best film you will ever see."
Mongue's next film, Director's Cut, is already in pre-production.