Captain's Corner: Georgia Ganser '22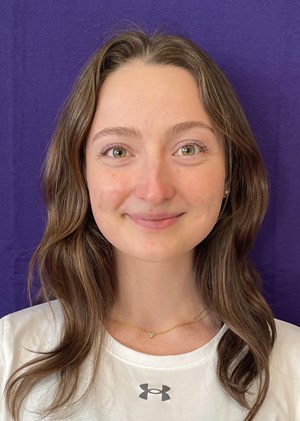 Team:
Women's crew
Hometown:
New York, N.Y.
Residence:
Lambert
Major: 
English and history
What was your experience with rowing like growing up in New York City?
My experience with rowing was watching The Social Network and seeing this scene, a montage of people rowing. I was like, "That looks pretty cool." So that's kind of all I knew about it.
Why did you decide to walk on to the team at Williams?
I think that crew everywhere is kind of a big walk-on sport, and that it's not incredibly accessible to young people. It's an expensive sport — you need a body of water, you need a boat, and it's also not as common as, let's say, little league soccer. But at a school like Williams or other universities and colleges, where there's more funding, I think that there's also kind of a push for students to join the crew team because normally recruiting [classes] can be pretty small. I just saw a flier in Lasell and asked my friend, "Do you want to go to this interest meeting?" [At the meeting] our assistant coach told us, "Sitting in this room are the people that are gonna be at your wedding." I was like, "I don't know about that." And now four years later, I'm like, "Oh, my gosh, that's actually totally true."
The women's crew team is big. What is it like captaining a group that large?
It's certainly a challenge with any big group that you need to make sure that everyone is accounted for, feels cared for, [and] feels included. I think that if the group was smaller, it might be easier in some ways to manage, but everyone is so self-sufficient. The training plan really does speak for itself, and I feel like people just internalize themselves and kind of are their own captains in some ways. My co-captain Lexi Cooper '22 is also my best friend, and she's the best, so we will trade responsibilities back and forth.
As a coxswain, how does your personality change when you are on and off the water?
I think, most tangibly, I would say my voice is a bit different. I think with some other coxswains on the team it may be a bit more pronounced, but I think I become more focused. I love to laugh and there's definitely a time and place for that, but being in the boat things become a bit more serious. Sometimes it's a difficult line to walk because I am a part of the team, I am like any other athlete in that sense. But in the boat, making calls and steering and owning practice, I have to adopt more of an assistant to the assistant [coach] position, so I think I just become a bit more serious, confident, and present.
Does the team have any fun traditions?
Not this past weekend, but the weekend before we had "Crewtillian" which is this thing that we do to welcome our first-years onto the team. They've just gone through this grueling winter training, and they're like, "Where's the water? What am I doing this all for?" It's right before we go on spring break, and we just say, "We're so happy you're on the team. Welcome."
Do you have any pre-regatta rituals? Does the team?
I personally have to listen to musical theater on the bus ride there. I like "Don't Rain on My Parade" or something that just gets me like, "I am ready for this." That is just in my AirPods. I don't want to share with other people, it's just for me. Reviewing our race plan while we're rigging our boats and getting ready is always a good thing to do.
I heard you are writing a creative writing thesis. Can you share a little about it?
I wrote a collection of short stories. I'm an English and history major, and last year, my junior year, I took a lot of classes with Jim Shepard, and I really loved fiction writing. It was something that I hadn't really explored before. I was so bored of academic writing, and this just sort of revived my spirit. My thesis was only over one semester and Winter Study, so I've submitted it, and I'm waiting for feedback. It's five stories, and they're kind of all about navigating one's own psychic neuroses. It feels very internal to me when I read it, and when I wrote it — it's pretty heavy, but it's about a lot of different things.
Who inspires you?
Mary Whipple [a former Olympian on Team USA] is an incredible coxswain, and I listened to a lot of her videos. During the winter, when the rowers are training on the ergs, and they have a lot of tangible numbers as they are getting better, and as I am preparing for spring, sometimes I'm like, "What's my training over the winter?" A lot of that for me will be listening to audio, my own or of other coxswains that really inspire me, and just trying to prepare myself for that first time that I sit in the seat again in the spring.
What regatta are you looking forward to the most this spring?
There are a couple! Little Threes because it's our Ephs Super Fan day, and it's on our course, and it's really fun. That's with Williams, Wesleyan, and Amherst. Also NIRCs, which is our race that will determine if you get the AQ [automatic qualifier] to the NCAAs. And then, a girl can dream, but I am gonna manifest it and say that I'm looking forward to NCAAs.
Would you rather row a 2k in a giant pool of jello or a giant pool of pudding?
To start, I would rather not row. But, I might say jello because I think if you're working really hard, you could start to melt it. And it might give a little bit once you take those first strokes and break it up, so I think that jello would be better.
If you could row on any body of water in the world, where would you row and why?
I've rowed in the East River, and it's full of trash. It's very gross. I've always wanted to row in the Hudson because I'm from New York City, and it's iconic to be on that water and to see the skyline, but it's very dangerous. If I can safely row on the Hudson, like around the tip of Manhattan, I think that'd be cool.