Introducing Purplexity: The College's new a capella group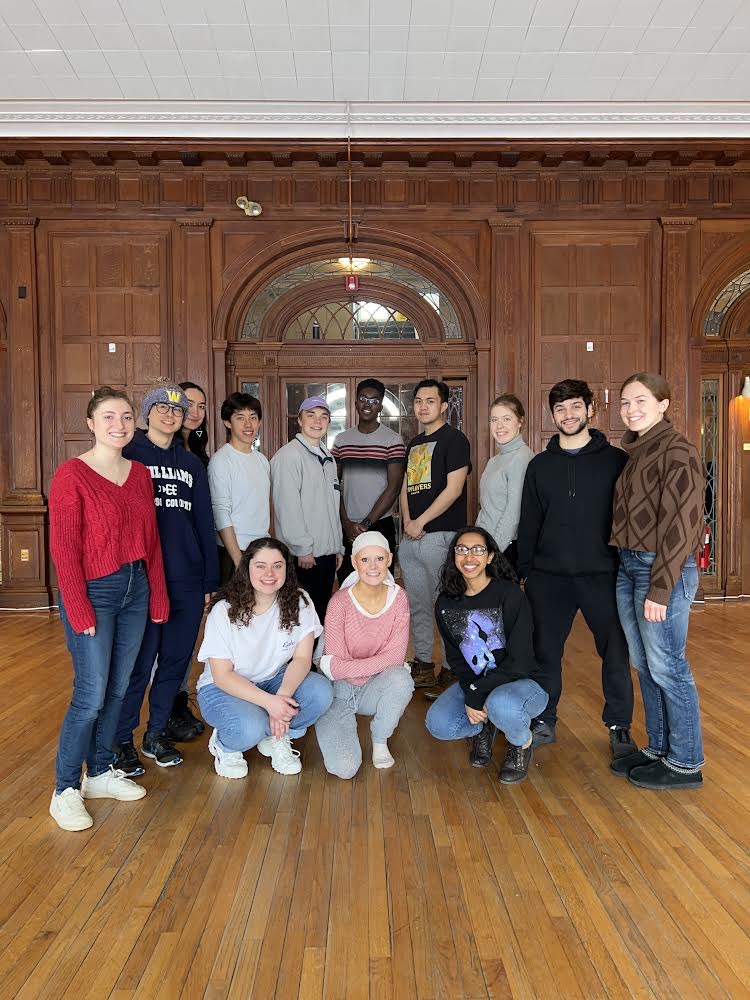 Throughout their first year at the College, Molly Arts '24 and Sarah Lindeman '24 discussed starting a new a cappella group on campus. "We always loved singing and would go down to the Mission piano room and sing impromptu all the time," Arts said. "We wanted an outlet to be able to sing in a group." A few weeks ago, their dream for a flexible a cappella rehearsal schedule and relaxed environment finally became a reality.
Purplexity is the newest a cappella organization at the College. Before the introduction of Purplexity, the College had eight existing a cappella groups including an array of co-ed groups like the Ephlats, Purple Rain, and Good Question; higher voiced groups like the Accidentals and Ephoria; and lower voiced groups like the Springstreeters and the Octet — covering a variety of music genres. 
Co-founded by Arts and Lindeman, Purplexity differs slightly from the rest, as the group will not be associated with Eph Capella, the administrative body that manages overlapping audition processes and acceptances for seven a cappella groups on campus. All groups under this umbrella run a centralized auditioning process at the beginning of the fall semester, where applicants rank the groups that they are interested in joining and are accepted all at once — ensuring that all a cappella groups at the campus are able to fill every vocal spot and that no students are accepted into multiple groups.
The Aristicows, until recently, was the only a cappella organization at the College that is not in Eph Cappella because it does not cut anyone who auditions. Unlike the Aristocows, Purplexity still plans on holding auditions and cutting some applicants, but this procedure will be done independently of Eph Cappella auditions.
"Part of our goal with making this group was to make a group that wasn't part of Eph Cappella to give students a secondary outlet outside of that overall umbrella," Lindeman said. "We have a lot of student athletes and students who are deeply involved with other clubs or other things that want a chance to be in an a cappella group but maybe don't have the time for the rigor of Eph Cappella and those a cappella groups." 
This relaxed sentiment is seen in Purplexity's tryout process, which included only a single audition as opposed to the audition, callbacks, and callback parties that make up the Eph Cappella auditioning system. "We don't want it to be a stressful process," Arts said. "It is stressful having auditions and waiting to hear about callbacks, and then waiting to hear about if you get in, and then making a good impression at the callback parties. We just want to make it one audition — if you can sing, great."
The current members held auditions for four days last week, in which auditioners were expected to sing a part of a song that they felt showcased their voice. "We're just going to stick with our one audition … and have it be less about sort of the social blend," Arts said, in describing the decision to forego the traditional callback parties of other a cappella groups. "I think it is important to get along with your a cappella group, but we're hoping to make that community come afterwards instead of having that be a qualifying predictor of whether people get it or not." 
Even before Purplexity held auditions, Arts and Lindeman reached out to others they had met who would want to join. "We had a couple of people we knew that might be interested," Lindeman said. Both had met students at previous a cappella auditions and the opera. "[Our group] is drawn from a lot more classical singing, but I think what a lot of people don't really understand is that if you have classical training, you can do whatever you want," Lindeman said. 
Lindeman said Purplexity plans to perform songs from a variety of genres and decades. They have created a Spotify playlist of potential songs to cover and have gone through a ranking process to start to narrow down the list. But they've already decided on one track — Lionel Richie's "All Night Long" — which will be Purplexity's group song.
On Saturday, Purplexity held their first rehearsal as an entire group. "We're so excited about the group," Arts wrote in an email to the Record. "We can't wait to start rehearsing more repertoire once we get back from spring break."