Student songwriters perform at the Log for 'You Are My Jam Sessions'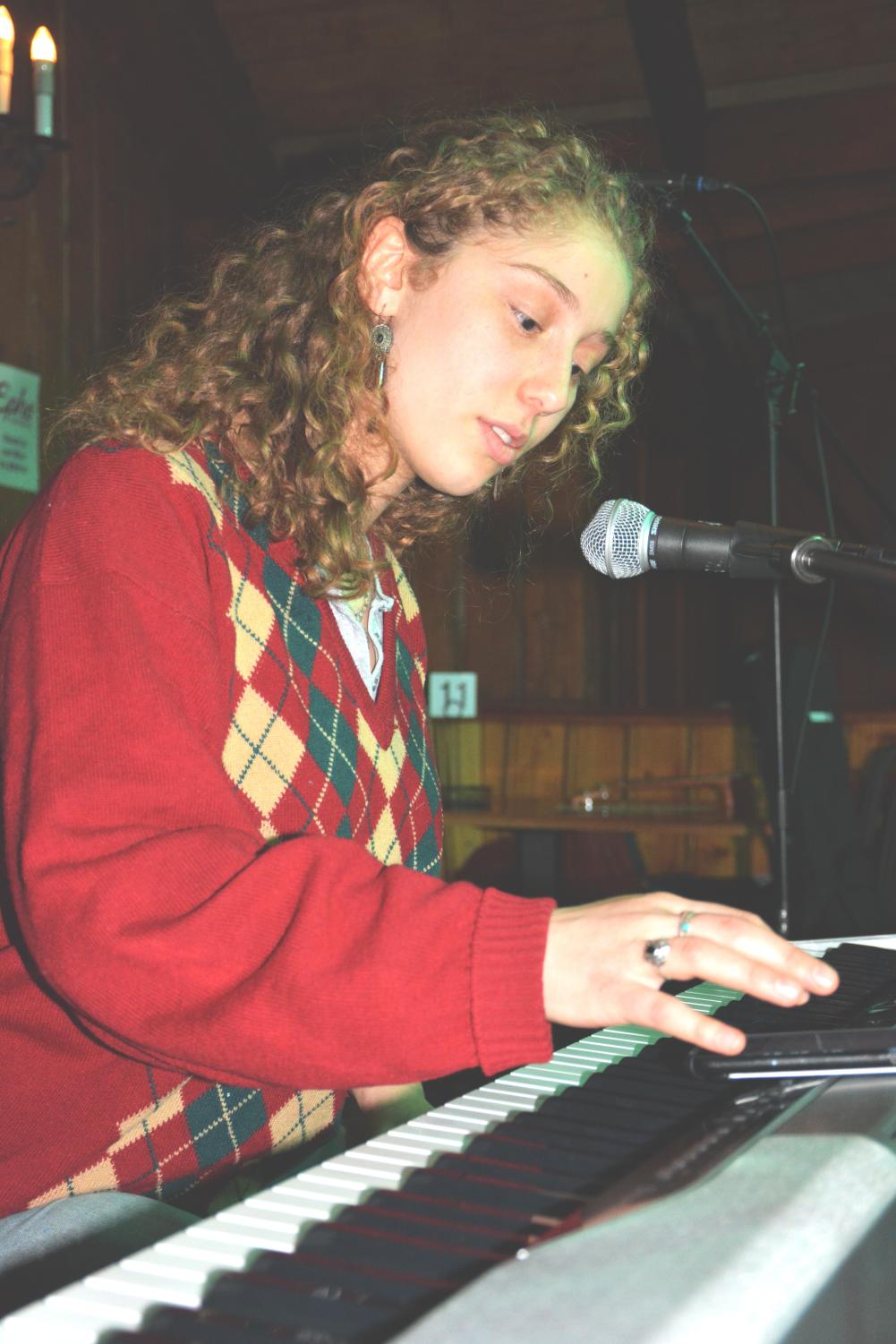 If you were at the Log by Ramuntos on Spring St. on Sunday, March 13, the first thing you might have noticed was the small stage equipped with a microphone and illuminated by soft colored lighting. The doorways were hung with string lights and students sat at tables in clusters, eating and talking among themselves. That all changed, of course, when Olivia Gubel '25 got to the stage. What followed was a hushed and expectant energy from the audience as Gubel thanked Assistant Director for Student Centers and Events Sam Boyden, Artist Associate in Vocal/Songwriting Bernice Lewis, and the performers about to follow her on stage.  
So began the first installment of the "You Are My Jam Sessions" at the Log, a monthly event at 7 p.m. on Sunday nights featuring five student songwriters, each sharing two to three original songs. This past Sunday, the set included Gubel, Lizzie Ferguson '22, Bellamy Richardson '23, Avery Trinidad '23, and Lea Elton '24. (Richardson, a managing editor at the Record, was not involved in the writing or editing of this article.) The songs ranged from Gubel's dramatic and impassioned narrative style to the sentimental pared down nature of Ferguson's songs. There was also a song on the ukulele written to a former crush by Trinidad and an abundance of songwriters' anecdotes, laughter, and appreciative murmurs from the crowd. 
This comfortable and intimate atmosphere is exactly what Gubel had in mind since beginning work on this event in the fall. As someone who has been writing and performing her own songs for the past four years, Gubel wanted to give other students the opportunity to share their own songwriting, especially if they'd never done so before. "I want to make this a place where if you want to explore your artistic interests, even though you're not the best, or you don't know if you like it, you can do it," she told the Record.
Gubel gathered the group for this first session from a mix of classmates from her songwriting winter study class, word of mouth, and from prospective performers messaging the "You Are My Jam Sessions" Instagram account. The decision to include students in the performance is a matter of balance, namely if Gubel believes their musical sound balances with the other performers. The only restriction is that performers must have written the songs themselves. "When I'm listening to people's submissions, I'm not really thinking about if this person is a strong songwriter. I'm thinking about what they're writing about … just achieving a balance," Gubel said. With this strategy, she hopes to actively encourage songwriting among students. 
Gubel acknowledged that sharing one's songs can be an intimate experience, something which performer Trinidad corroborated. In an interview with the Record, he said, "there's a very specific type of vulnerability there because not only this is something I made, but this is something I'm [choosing to] show and perform." Taking this into consideration, the community created by "You Are My Jam Sessions" is meant to be an entirely judgment-free opportunity to explore one's creativity. As Gubel said, the goals of these performances are to allow performers to share and improve their own work, an important experience for any artist. 
The community created by these sessions benefits more than just the performer. "I love art because it is meant to be shared and meant to be enjoyed," said Elton, who performed on Sunday. "I think art is really healing, and so it's affirming … if one day someone listens to a song and is like, yeah, that actively helped me."
Already, students seem to be receptive to this mission as the Log was packed Sunday night with all the seats filled, and only standing room left. Gubel has performers booked until April and might expand from once a month to performances twice a month if the demand exists. She hopes to be able to work with artists on campus and give them the opportunities they need. And if this ethos isn't enough to convince other students to join,  Gubel wants to sweeten the deal: "If you perform, I'll make homemade jam for you before the performance."