Review: You're a Good Man, Charlie Brown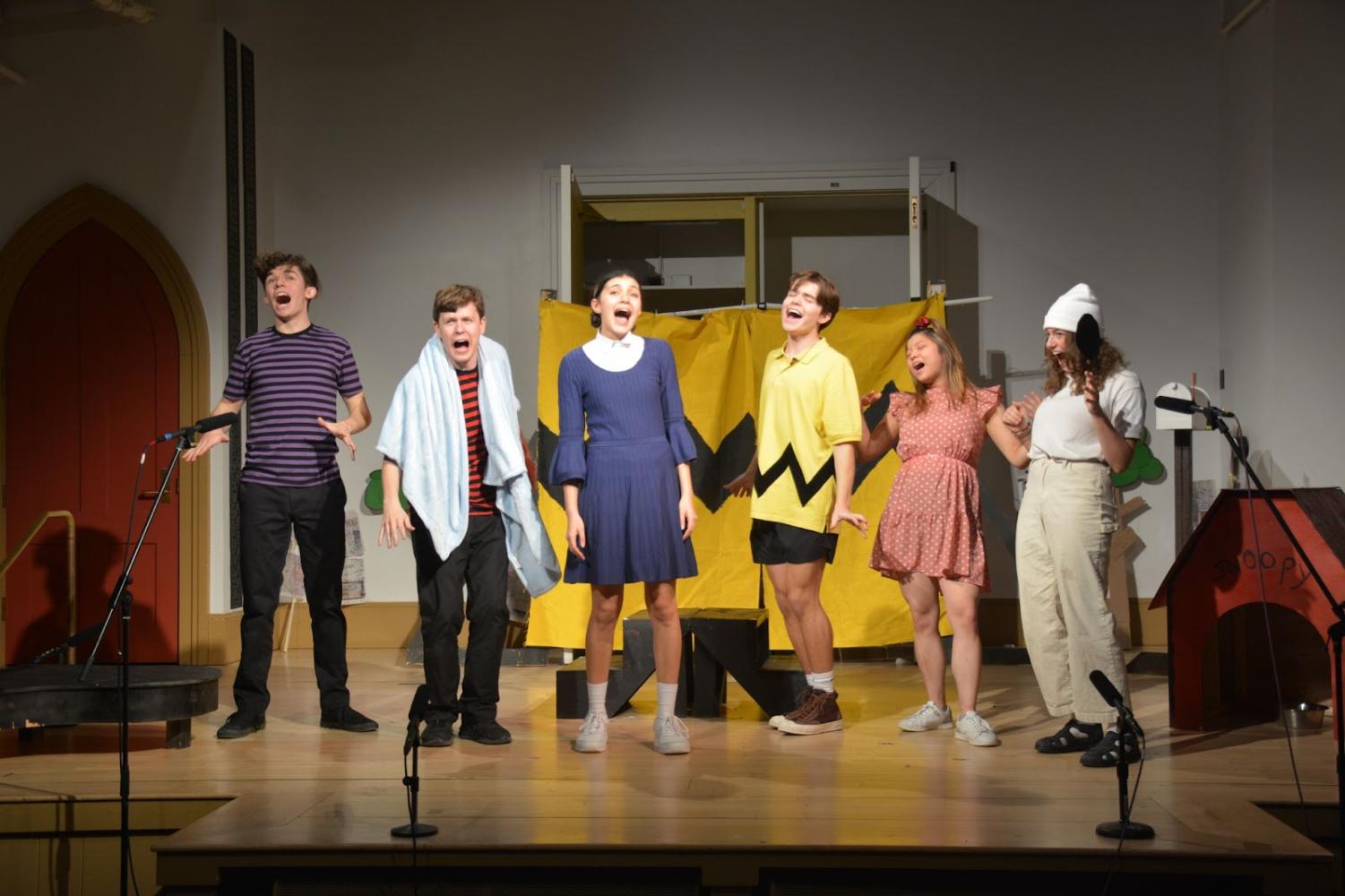 Whenever I come across anything related to Charlie Brown or his gang of friends, I am hit with a wave of nostalgia recounting the cartoons and movies I grew up with. After the Cap & Bells production, I was left with a deeper appreciation for the mix of humor and thoughtfulness in this childhood classic, as well as the urge to hum all of the wonderful songs for days afterward.
Directed by Tim Gore '24,  the Cap & Bells production of You're a Good Man, Charlie Brown came to life this past weekend. Although he did not grow up with the comics, Gore has a connection to the musical. "I saw [the show] for the first time five years ago … and I loved it," he said. "It's such a fun show and I love the style of comedy." Similarly, stage manager Sari Klainberg '25 said she used to listen to the musical songs in the car with her family when she was younger. Being involved in the show connected everyone to their childhood memories, the same way it did for me.
The musical's comedic sensibility was something Gore focused on while directing. "We're college students playing kids and that's part of the comedy, [like] seeing Linus coming out onstage sucking his thumb," Gore said. The dedication of the actors embodying child-like mannerisms and cadence made for many laugh-out-loud moments. The fast pace also helped as scenes occurred in quick succession similar to sketch comedy. Gore mentioned that the short plotlines were "like the comics so there's not one single story line. There's a bunch of mini vignettes." He credits the actors for nailing the comedic subtleties and non-linear narrative structure.
The production was an especially small cast for a musical, featuring only six members: Shoshie Hemley '25 (Lucy), Quinn Casey '25 (Charlie Brown), Ryan Crants '24 (Linus), Lily Goldberg '22 (Snoopy), Stella Oh '25 (Sally), and Carl May '25 (Schroeder). (Casey, a social media editor at the Record, was not involved in the writing or editing of this article.)
This is Oh's first experience as part of a larger scale Cap & Bells production, and she said that being surrounded by such a talented cast motivated her to improve her own skills. "Everyone's really inspiring, and it's been a reminder of the great Williams community, especially in the theatre," Oh said. 
Klainberg stressed how the process incorporated the ideas of many production members. "I'm hoping it's clear how collaborative of a process this was. People who don't do theater from a production side don't realize the amount of time and people that it takes, from lighting designers, to prop designers, set designers, [and] band members," she said. Gore also spoke to the talents of the crew. "The designers have worked really hard pulling together resources. Our design team is really great," he said. 
Performing in Goodrich brought a unique set of challenges for stage manager Klainberg. "We can't have rehearsals while coffee bar hours are happening," she said. The set and prop pieces also had to be set up and taken down for each rehearsal. But the crew was able to make the most of the space and could set up a light board and wires. For Hemley, the shared spaces led to some funny moments during rehearsals. "We'll be practicing in there, and people will be doing work in there watching our rehearsal," she said. 
Another highlight of the show was the musical numbers accompanied by a live band, directed by Leo Marburg '24. Because the live band was seated in front of the stage, the audience could enjoy the energetic interplay between the actors and their musical accompaniment.  
When remarking on the impact he hoped to make with the show, Gore said, "The closing number of the show is called 'Happiness,' and every time I mention the Peanuts or this show to somebody their face lights up … the Peanuts have this universal happiness appeal which is unique. This show for me has been about 'Let's put a smile on people's faces, let's just have a fun time. I'm really hoping people will be laughing out loud and they'll love seeing their friends on stage doing these crazy things and that they'll walk out with a smile on their face."