One in Two Thousand: Henry Wieman '25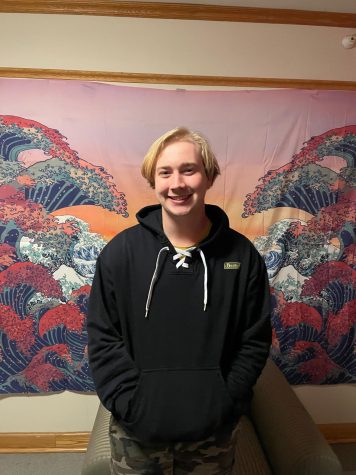 Each week, we randomly select a unix from a list of all current students at the College for our One in Two Thousand feature. As long as the owner of a selected unix is willing to be interviewed and is not a member of the Record board, that person becomes the subject of our interview. This week, the computer (using a script in R) chose Henry Wieman '25, who discussed their nicknames, Newark, Del., and their involvement in campus groups. This interview has been edited for length and clarity. 
Gabe Miller (GM): When we first met, I knew you as "Becket." How did that nickname come to be? 
Henry Wieman (HW): For eight years now, I've gone to a summer camp called Camp Becket in the Berkshires. This past summer was my first time on staff. Previously, I had been a camper, and I have a sweatshirt that says very prominently on the front the word "Becket." My friend Ava [Irons '25] was trying to get my attention during first days [at the College], and I wasn't listening, so she called out, "Becket." She was hanging out with all of her friends who I had not yet befriended — I now have — and they only knew me as Becket because that's what finally got my attention. It took them a couple of weeks to realize that I didn't have just a sweatshirt with my name on it. 
GM: You're currently wearing Becket attire right now. 
HW: I am wearing a different sweatshirt than I was then. 
GM: Becket isn't the only other name I hear you go by. I've heard Hunter? 
HW: Yes. Hunter is my brother's name, and my econ[omics] prof[essor] calls me "Hunter." I think it's only happened twice, but it's happened enough that I don't notice it anymore… My brother was an econ[omics] major [who] graduated a couple years back, so the people from the department know him. Whatever, I'm not going to major in [economics], so I don't need to have a perfect relationship with them. 
GM: Do you look a lot like your brother? 
HW: I do with the mask. 
GM: So you grew up in Newark [pronounced New Ark]? 
HW: Newark, Delaware — not to be confused with Newark [pronounced New-erk], New Jersey. 
GM: How does Williamstown compare to a state college town? 
HW: In terms of nothing to do, pretty even. Newark is the town with the University of Delaware, to be fair, but I live in the suburbs. Even in the non-suburb area of Newark — the college town part — it's still Delaware, so not a huge amount to do. I'd hang out with friends, but there were't big things, just suburbia. 
GM: And then, there's Wilmington. 
HW: Wilmington's also all right. 
GM: It's like Pittsfield, yeah? 
HW: Yeah. Wilmington is like Pittsfield. So in terms of "out" activities that one can pursue besides just hanging out with friends, [Newark is] fairly similar [to Williamstown]. Like going out on Hoxsey is kind of the equivalent of going partying at a friend's house. 
GM: So I hear you are involved with frisbee on campus? 
HW: I do B-team. 
GM: What is a B-team? 
HW: So there's A-team — people who compete and do stuff, and they are a social group. B-team is more of a social thing. We practice once or twice a week. We just kind of mostly hang out within that space, sometimes trying to do stuff outside of that. It's fun… I like the crew. Frisbees are fun to throw around, and it's not too much exercise. 
GM: You're also in the a cappella group Good Question [GQ]? 
HW: Great question… Yes. No, the name is Good Question. GQ is something I am also a part of. Again, somewhat lower time commitment, but I like to sing. I've been doing theater since middle school, and I've been singing according to my parents since third grade… I thought about doing some of the performances here, but I felt for my first two semesters, I kind of wanted to get in the swing of things before committing too much to those. But that might happen in the future, and right now, I'm happy with a capella. It's fun. I really like the people I'm doing it with. I really like singing crazy songs [with people] that are not taking themselves too seriously. So that's fun. 
GM: Regular decisions are coming out soon. Is there any advice you'd give an incoming pre-frosh? 
HW: I'd say really engage with your entry. Some of my best friends here have been either from my entry or through people that I've met in my entry. I'd say almost all of my friends aside from GQ, and to a lesser extent, frisbee, have been through hanging out with people [in Sage 1] and just getting to know them, going out with them on the weekends, or just grabbing a meal. It is a thing that is on some level unique to Williams, and I would make use of that if I were you. 
Also, commit and engage with groups like extracurriculars because those are fun, and that's another way to make friends and another way to spend [your] time. [The College] is a massive academic commitment — you are learning a lot, and you are doing readings or problem sets for that. That is definitely a good amount of your time that's being consumed. But I have found myself kind of bored when I didn't have stuff to do or people to hang out with. I would definitely recommend finding extracurriculars both to kind of spend your time and find new things that you might enjoy.