'Low-stakes thinking but high-stakes validation': Wordle culture at the College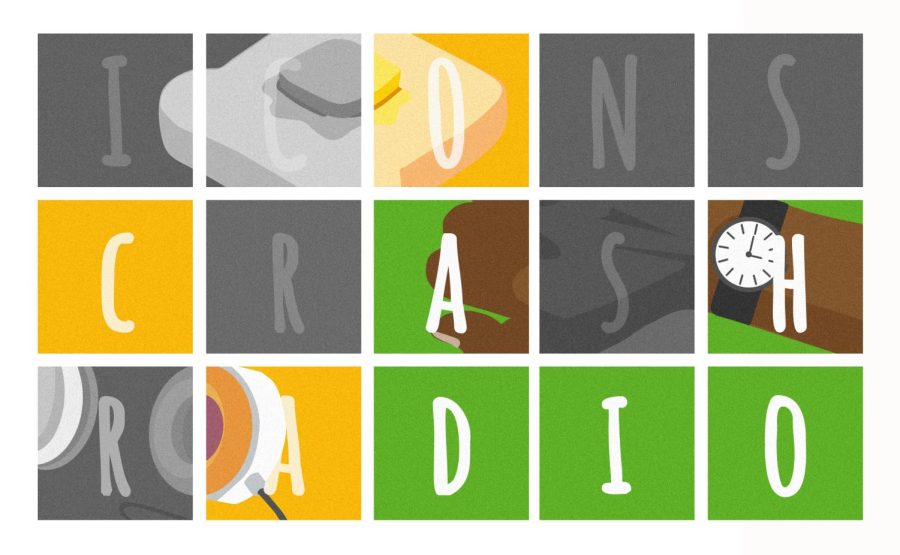 There's a new superspreader on campus — and it's not COVID-19. It strikes right at midnight, invading Goodrich Coffee Bar by breakfast time, and even impacts your family back at home. Its 30 boxes terrorize even the brightest minds this campus has to offer, and it is impossible to resist. 
Wordle — a daily online word game — has hit the College. 
Players are given a maximum of six tries to guess the five-letter Wordle of the day. After submitting a word, the color of the tiles changes to indicate how accurate the guess is: green tiles for letters in the right spot, yellow tiles for letters in the word but in the wrong spot, and gray tiles for letters not in the word at all.
Some students have consistent words that they use for their first word every day — check out the Record's "Wordle on the Quad" in last week's print issue — picked carefully for their combination of vowels and common consonants. Trinity Conant '23 uses RAISE because it uses her favorite vowels and versatile consonants; Amalia Culpepper-Wehr '24 uses ADIEU for the vowels; and Justin Hartwig '25 uses CRANE because he saw a YouTube video explaining that it was the best word to use, statistically speaking.
The word of choice for Delilah Delgado '25 is STARE. "At this point, I'm just loyal to it," she said. "What if on the one day I don't use it as the starting word, it's the answer? That would be devastating."
However, some students take the opposite approach by starting with a new word each day. "I don't have a go-to starting word — I think that's boring," Hannah Adams '25 said.  "I just go with the first decent word I can think of."
Ruby Navarro '24 shared a similar sentiment. "I switch up my starting word every time," she said. "I find it fun to see where that word might lead me to."
Sometimes, Annika Brockman '24 starts with the correct word from the day before, while Sari Klainberg '25 picks words based on her current situation. "Recently I was in line at Goodrich and put TIRED," Klainberg said.
Klainberg, like other students, first found out about Wordle through social media. "My dad kept posting jokes about it on Facebook, and I was honestly concerned because it just seemed to be random boxes in random orders and even thought maybe he was hacked," she said. Many other students reported finding out about it on Twitter, TikTok, Instagram, and Yik Yak. 
There is only one Wordle puzzle available to users each day, and it refreshes at midnight. Hannah Bae '24, Delgado, Lily Goldberg '22, Nick Hollings '24, Chan Lee '24, Jimmy Li '24, Navarro, Sammy Sasaki '24, and Shenba Vairavan '24 all shared that they complete the Wordle within five minutes of its release.
However, other students wait until they wake up in the morning. Culpepper-Wehr completes it during breakfast, Conant plays as she drinks her morning coffee, and Rijul Jain '25 does it first-thing every morning. "[I do it] as soon as I wake up, in order to cure my chronic bleary-eyed start to the day," he said. Adams shared the less popular technique of doing the puzzle in the evenings. 
Many students have successfully completed the Wordle every day since they first began playing. Rachel Schmidt '25 reported the highest streak of those interviewed: 52 days straight.
After arriving at the correct word, a key element of Wordle culture is the sharing of your scores with others. Unlike other word games like crossword puzzles, users can share their scores without revealing the answers because the site creates a pattern of colored square emojis for users to send to friends or post on social media. 
Some students like Li and Hartwig have group chats solely dedicated to sharing Wordle scores. Goldberg has a Wordle group chat with her parents. "I wouldn't be caught dead sending to a friend," she said. 
On the contrary, some students go to great lengths to share their Wordle scores. "[I send my score to] everyone I can," Hartwig said. "My parents still don't play, unfortunately. [They're] too scared of losing."
Other students reported rivalries between the people they share the Wordle with. For Delgado, the competition is a family affair. "It's kind of devastating sending [scores] to my mom because my mom is brilliant," she said. "She'll always get it in way fewer tries than it takes me."
Some students take the game less seriously. Vairavan said Wordle is fun because of its "low-stakes thinking but high-stakes validation." Navarro said she has learned new words from playing the game.
Conant is also passionate about Wordle's simplicity. "I despise complex Wordle strategy and discourse," she said. "I like to guess my words and hope for the best, and I think if you disrespect other people's Wordle approaches, you're just mean. It's not that serious." 
Jain shared a similar sentiment. "Wordle is like the anti-crossword, egalitarian game for the people," he said. "I think Wordle keeps us connected and also honest."
Not all Wordle strategies are created equally — while every player gets the same six opportunities to guess the Wordle, Hartwig said that two distinct categories of players have emerged. "I feel like there's a big difference between someone who gets the Wordle in five [guesses] and does it in five minutes versus someone who does it in three [guesses], but they spent three hours crafting the perfect word," he said.
Because Wordle resets and releases at the same time daily worldwide, many students shared that the sense of community is what makes Wordle fun for them. "Being able to share it with my friends and family and be in on a society-wide game … is so much fun," Conant said.
Schmidt also said that the community around Wordle sets it apart from other word games. "I really like word games in general, but I think Wordle is great in particular because of the community aspect," she said. "I love seeing other people's approaches to the same word, and I like the commitment to not spoiling the word for anyone."
The popularity of Wordle has sparked spinoff Wordle variations, where the same rules apply, but the word choices center on a certain theme. Some students play Worldle (geography), Dordle (two Wordles at once), Quordle (four Wordles at once), Octordle (eight Wordles at once), Nerdle (calculations), Absurdle (hard words), Subwaydle (subway routes), Taylordle (Taylor Swift-themed), Poeltl (basketball-themed), Jewdle (Jewish-themed), and Squabble (multiplayer). However, Brockman sticks to the classic. "I am a purist," she said.
While Wordle started as its own standalone website, it was recently acquired by The New York Times, which has sparked some controversy among players. Many students criticized the move following rumors of a plan to put Wordle behind a paywall, which would follow the precedent for other NYT puzzle games. "I read something saying Wordle would 'initially remain free' after the switch, which worries me," Hollings said.
Hartwig agreed. "The day they put it behind the paywall is the day Wordle dies," he said.
Wordle has become an integral part of the daily lives of people in the Williams community, not just for students currently at the College. 
Incoming first-year Max Billick '26 does the Wordle each day on his commute to high school. "I think that part of the initial appeal was that it was less esoteric than a lot of literary games," he said. "It felt very accessible, and it didn't take me all of the guesses, so that little sense of accomplishment sort of reeled me in."
Former Record managing editors and recent alums Joey Fox '21 and Rebecca Tauber '21 also complete the Wordle each day. Fox does it daily after breakfast and sends his score to a small group chat of other alums of the College. Tauber's starting word is AUDIO because she works in public radio, and the word tests out a lot of vowels. For her, the game is fun because of "the daily glimmer of hope of getting the rare one try."
Despite the resounding student sentiment, not everyone is impressed by the game. The College's Chief Communications Officer Jim Reische also plays daily, starting with the word FAULT, often correctly completing it within three or four tries. "It's fun, but I don't feel like it's that hard," he said. "I kind of don't get the hype."
But students say that they are still attached to Wordle. "It's not going anywhere anytime soon, at least not for me," Delgado said. "I feel like this is gonna be one of those things that I cling to."