Building community and wellness: IM sports return with soaring popularity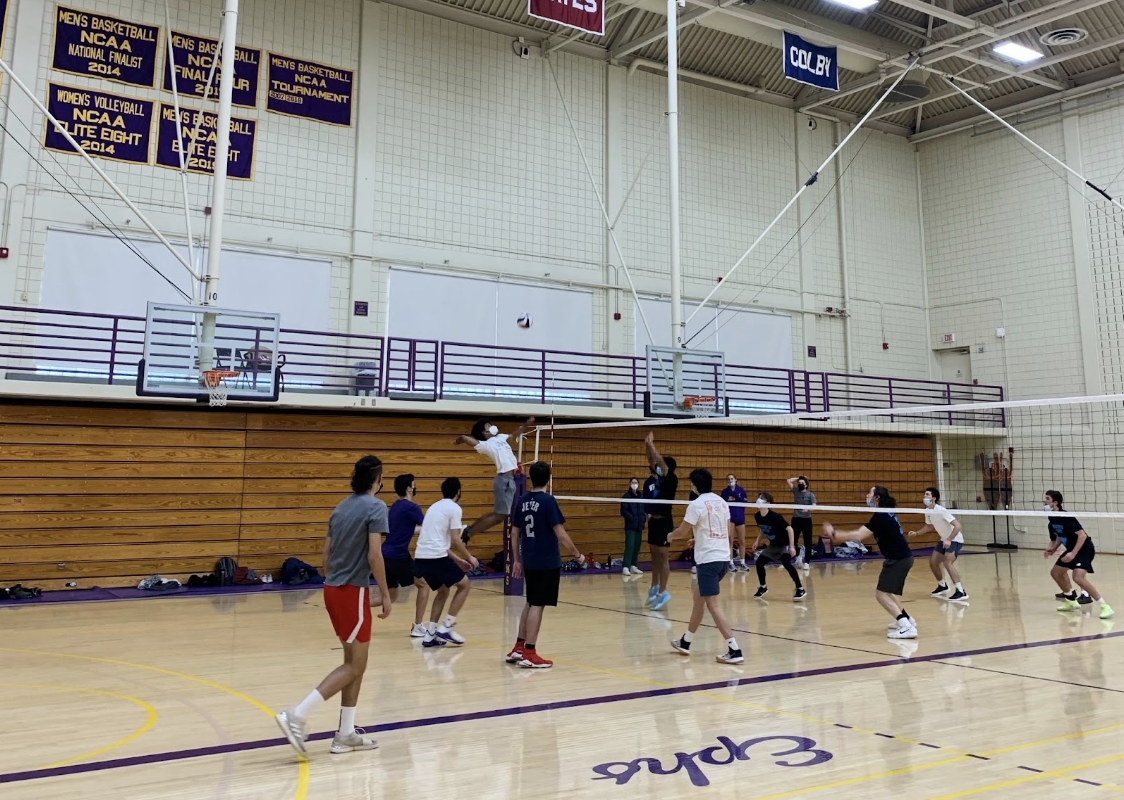 As the Williamstown trees reached peak fall foliage, Weston Field featured soccer games between intramural (IM) teams every Thursday and Sunday. In January, COVID-19 rates rose, snow piled onto campus, and IM basketball brought moments of respite for its competitors (and fans). The spring semester has seen students return to the grind of classwork and socializing while intramural athletes have been in Chandler Gym competing in volleyball.
IM sports are a recently revitalized program at the College after decades of on-and-off participation and, more recently, a complete hiatus since the start of the pandemic. The change is in line with the College's strategic plan, which outlined propositions to increase recreational opportunities like IM sports after the pandemic dramatically altered student life.
Last July, Athletic Director Lisa Melendy announced the hiring of Erin Sullivan '96 as the director of intramural sports to "design and develop a self-sustaining program" for IM sports. He previously served as the head coach of men's soccer.
"The goals of our programs are to create opportunities to be physically active in a fun and competitive setting, build community and wellness, and to contribute to the overall health and enjoyment of the Williams experience," Sullivan wrote in an email to the Record.
IM sports have become a union of varsity and club athletes and even students not on an official athletic team at the College. Club soccer players figure out the rules of volleyball. Entrymates run after soccer balls and fall to the ground, laughing. Intense matches end in disappointment. Teams like "Newcastle United" and the "Potatoes" have participated in several of the three leagues throughout the seasons offered so far, and created Instagram accounts highlighting their successes and future match-ups.
Joseph Lev '25, a member of club soccer and the Potatoes, said he has enjoyed building community with his friends through sports. "The Potatoes are a fun outlet to get out and do some fun activities with members of my entry," Lev said. "We get to compete and have a goal together."
Sam Bishop '25, Lev's club soccer and Potatoes teammate, echoed the sentiment. "I would say the Potatoes are like my second family," said Bishop. "It's like a home away from home."
According to Sullivan, over 400 students have participated in IM sports this year. Fall saw the beginning of IM sports' return to the College with a soccer league — a mashup of club soccer players, former competitive soccer stars, and students who have not touched a soccer ball since elementary school gym class.
"The Winter Study IM basketball league featured 16 teams and over 150 participants, and we're excited to continue to grow opportunities like these," Sullivan said. The current IM volleyball league has further increased the number of students exposed to the College's IM program.
"It's really fun to play a new sport with friends where we can both be competitive and forgiven for not being experts," IM volleyball player Jason Lee '23.5 said. "So far, in volleyball, we've been constantly hyping each other up, so I find the whole experience pretty wholesome."
For Dhruv Muppidi '25, a member of Newcastle United, a memorable part of IM sports has been the excitement of the games. "A highlight was definitely our game against some of the older soccer players during basketball season in Winter Study," he said. "It wasn't even a playoff game, but the gym was packed with 50 to 60 people cheering for both teams. It genuinely felt like a high school game given the intensity of the crowd, late buzzer-beaters, and even a bit of tension — all friendly — between the two teams."
IM sports offer times for bonding among friends and scheduled opportunities for sports that many students would not otherwise have. "My favorite part about Williams intramural sports is the sense of community it brings," Ruby Navarro '24 said. "Soccer was a big part of my childhood, so being able to watch some of my friends play brought so much joy and appreciation. It is a time to just have fun and play a sport that holds meaning to you."
Sullivan said he is excited by the sense of community that IM sports are able to provide amid the ongoing pandemic. "The diversity of our participants and teams and the ability for many people to make connections that otherwise might not happen or rise to the surface in our community has also been really rewarding," he wrote. "Seeing students, faculty, staff, graduate students in the [Center for Development Economics], and many others coming together for fun and spirited competition has definitely been a highlight."
Editor's Note: Abby Murphy has played IM soccer and volleyball.