Davis Center to undergo expansion, will provide new space for student engagement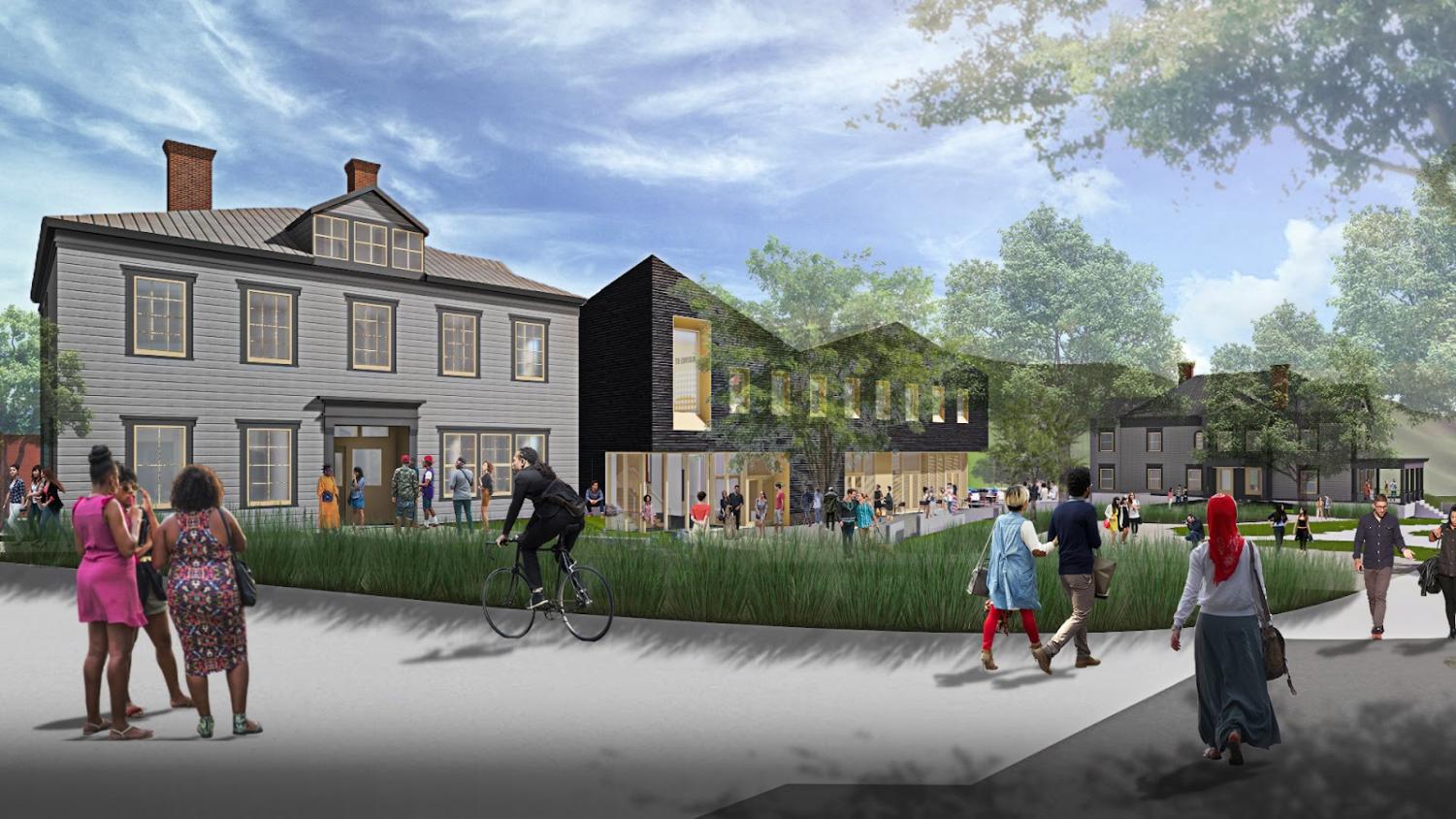 The Davis Center (DC) — a complex currently comprised of Jenness House, Hardy House, and Rice House in Morley Circle — is set to undergo a $27.5 million expansion beginning this spring break. The DC is a hub for student engagement with identity and multicultural experiences at the College and beyond.
The Davis Center Building Project seeks to strengthen the Center's mission and President Maud S. Mandel's goal to take the College "beyond inclusion by providing every student the opportunity to experience a fundamental sense of belonging on campus and ownership of the college," according to the project's website.
Vice President for Institutional Diversity, Equity and Inclusion Leticia Smith-Evan Haynes '99 said that this renovation project had been many years in the making. "When I returned to Williams in my current role, the insides of the buildings looked virtually the same as they did when I was a student at the college," she said. "During my first year, 2015-16, Scott Henderson, project manager and architect, and I walked through the three buildings with an eye toward necessary repairs. After that we took a close look at programmatic needs.  It became clear that a building project was the best option to meet the growing programmatic needs of the Office of Pathways for Inclusive Excellence and the Davis Center." She also noted that 100 percent of the Trustees had contributed to the project and that plans continued despite the pandemic, indicating buy-in from multiple areas of the College community. 
The expansion of the Center will benefit the College's 23 Minority Coalition (MinCo) groups, according to Eden-Renée Hayes, Director of the Davis Center. "Many groups have a large membership and have to compete with other groups to find [a] meeting space in the DC and across campus," she wrote in an email to the Record. "We often have requests for meeting space[s] when all of our rooms are already booked. The new building will have multiple multipurpose meeting areas of different sizes to accommodate a range of needs." 
Jenness and Rice will undergo extensive renovations, while Hardy will be torn down to make room for a new addition connected to Rice, Hayes wrote. According to Hayes, the expansion plans also have a greater emphasis on accessibility. "The [renovated] buildings [and addition] will have elevators and the main entrance to Jenness will be moved to the side of the building on flat ground. The buildings will also have an energy efficiency upgrade."
"Rice, Hardy, and Jenness houses were unintentional circumstantial spaces for marginalized communities at Williams," Assistant Vice President for Campus Engagement at the Davis Center Bilal W. Ansari wrote in an email to the Record. "The new center will be intentional and compendious spaces for a diverse, inclusive and equitable community at Williams."
The plan to expand the DC has been in progress for several years. In May 2019, the College shared a campus-wide survey entitled Davis Center Building Project, inquiring about community members' use of DC buildings and seeking recommendations for how to enhance their experience with the spaces. The survey found that students and staff wanted more kitchen and dining facilities, wellness spaces, and gathering rooms. Design firms Leers Weinzapfel Associates and J. Garland Enterprises are collaborating with the College to make the new space more reflective of the community's needs and wishes. More specifically, the expansion will focus on adding a number of group study spaces, kitchens, living spaces, and event spaces to the DC. 
The pandemic put the project on hold for several months, but by January 2021, the College resumed the process by charting out a six-month design project, which included in-person meetings, interviews, and workshops. Tyler Smith '24, a member of the Black Student Union (BSU), said that while she has "only been to one or two of these meetings since the expansion was already finalized … [she] appreciates being updated on new developments and being able to share the BSU's concerns or questions." 
"Student voices have been present and central throughout the entire process," said Hayes. "Staff from various units across campus are also a part of the building project committee."
The expansion will provide the DC more opportunities to celebrate holidays, give space for culture, and "[provide] a space where town and gown reconcile through campus engagement and deep reflective listening," Ansari said.
Clinton Williams, Director of Pathways for Inclusive Excellence, believes that this new building offers a chance to serve more students who are seeking guidance in achieving their personal, professional, and scholarly goals at Williams and beyond. 
Smith shared this sentiment, stating that she is "hoping that this project will help to strengthen and re-establish the legacy and hard work that a lot of MinCo groups have established during their time at Williams." She also noted that the significance of places like Hardy or Rice aren't well-known by underclassmen and "this [expansion] could provide an opportunity for leaders in these groups to re-establish their presence in the larger community and more importantly offer better spaces to build community within the group."
In the construction interim, DC staff will be relocating to Bascom House behind Weston Hall, which will also have spaces available for use by MinCo communities and students at large. Bascom will replace DC houses until the end of construction, which is slated for fall 2023. 
The interim house has three large lounge spaces, one of which is a kitchen, with each space equipped with a projector and TV setup. Some rooms are designated to specific affinity groups, with a room on the second floor dedicated to the International Student Association, and two rooms on the ground floor for the BSU. Additionally, rooms will also be dedicated to gender and sexuality, and spiritual guidance and meditation.
At the end of the project, Haynes notes that "we will have a physical space for academic and social programming and affinity groups; and it will be a place to bring together members of the college community as they learn, engage, and think critically about social identities and lived experiences, including through a restorative lens."  
According to Ansari, the expansion of the Davis Center today follows a history of marginalized members of the College community struggling to make spaces for themselves at Williams. 
"When one assesses the effort to make this happen, it cannot be lost that this began with the Black mother who petitioned the first Board of Trustees to allow her Black son entrance, but [was] denied a place," Ansari said. "The first Black woman who was hired on a tenured track, but denied a place … I hope when one sees the new Davis Center, one sees all the invisible people who once were denied a place, now have a place at Williams."