The Artist Otherwise Known As: Alex Bernstein '23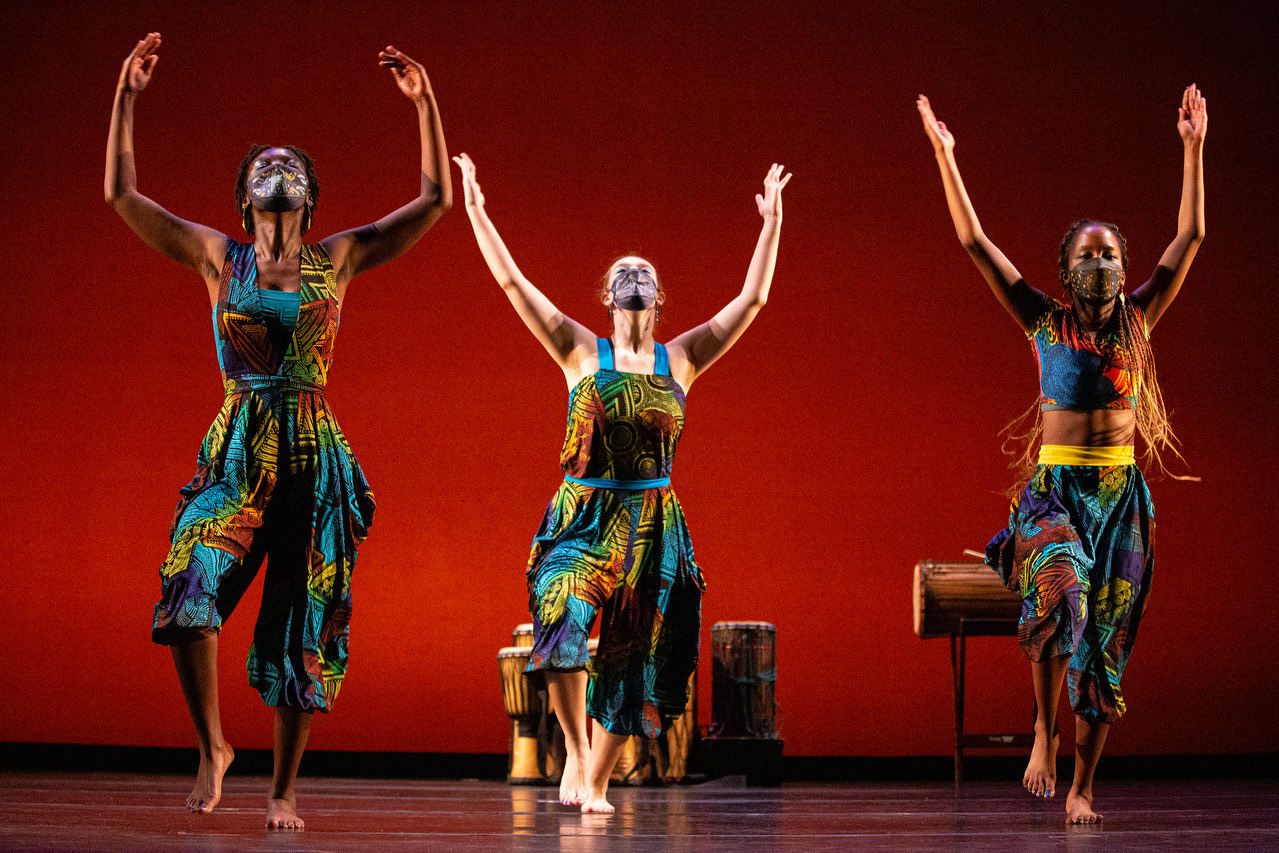 As a lifelong dancer, beginning at age 2, Alex Bernstein '23 came to the College intending to dance ballet and contemporary with CoDa and hip-hop with Nothin But Cuties (NBC). However, in their three years at the College, Bernstein has danced in every group on campus: StuCo, the disbanded student choreography club; Sankofa, the College's step team; Kusika, the African dance and percussion ensemble; and Ritmo, the Latinx and Afro-latinx dance group. Bernstein has also taken academic classes with the College's dance department and taught a tap dancing Free University course.
Upon arriving at the College, Bernstein first joined CoDa and Ritmo. Though they are no longer a member of CoDa due to time constraints, Bernstein is now Ritmo's chair of lessons, where they teach and choreograph new Ritmo dances while striving to create an inclusive dance environment. "A goal of mine is to ensure that dance is a form of connection," Bernstein said. "It's a way that we as humans can come together through using our bodies, being physically present with each other and moving through space as a collective unit… Through my teaching, I always want to cultivate a space of love and a space of care." 
They were inspired to create a close-knit, supportive space different from the competitive one they grew up with. Before arriving at the College, Bernstein considered quitting dance due to the high pressure environment of their high school dance team. "When I was going through competition dance, I really didn't feel passionate about dancing because there was so much intensity and pressure," Bernstein said. "[There was pressure] not only in remembering choreography but [also] looking perfect and streamlined in an almost mechanical way."
While taking a break from competitive dance during their senior year of high school, they encountered dance in a stress-free environment, which changed their outlook and relationship to dance. They led dance classes at nursing homes to study how dance impacted the mood, memory, and general well-being of senior citizens. "When I started working with the elders and dancing with them every week, it made me realize that dance is about joy and about connection, first and foremost," they said. "I wanted to pursue the fun and interconnectedness that comes with dance. That was really powerful for me: recentering the purpose of what dance was going to be in my life."
With the idea of reframing dance in mind, Bernstein integrated themself into every dance community the College has to offer. After experimenting with all kinds of dance, Bernstein said they found their place in the College's close-knit dance groups. "I think the most fun that I've ever had dancing has been here Williams because of the community that surrounds dance," Bernstein said. 
Beyond finding value in dance communities, Bernstein said they appreciated learning about new styles, techniques, and cultures at the College. "Another thing that I really found important once I came to Williams was being able to find connections with the history of dances and really pay respect to the people who have originated those forms," they said. "It's really important and really nourishing to be able to learn about those histories because I think it makes the dancing more full."
In addition to exploring dance history in extracurricular groups, Bernstein has also been able to examine their own identity through academic dance classes at the College. "My dance academic classes have taught me more about myself — my identity as a dancer — than they maybe have about the specific embodied forms themselves," Bernstein said. "I learned how important the sociology of dance is and how much the setting of being in a room with mirrors matters. I've learned a lot of compassion for myself and for other forms of dance." 
One specific element Bernstein has explored through dance is their identity as a nonbinary, genderfluid dancer. "A lot of Western forms of dance, like ballet, are highly gendered in terms of even the movements that are performed by men and women," they said. "There's a complete divide, even in terms of what people can embody based on the configurations of their anatomy. After I came out, I felt more comfortable being amorphous."
Bernstein said they first danced with a sense of gender fluidity while auditioning for Ritmo their freshman year at the College — one year before they came out as non-binary. Ritmo's partner dances are designed with leaders and followers, which are often divided along gender lines with male dancers as leaders and female dancers as followers. Throughout their time with the group, Bernstein has taken on both parts. "Those roles have been gendered historically and have been tied up with ideas of intense gender roles and machismo — really loaded conversations about binary gender," they said. 
Given the opportunity to be a leader, Bernstein said they gained a better understanding of how their gender intersects with their dancing. "My gender is fluid, and the way that I move through the world can be fluid too," they said. "Dance doesn't have to be gendered. We all move, we all change, we all expand, we all contract in particular ways. I realized that it doesn't really matter who you are, what kind of body you have — every body is a dancing body."
For Bernstein, their reframing of dance — its purpose in their life, the connections they have made through it, and all they have learned about its history — has influenced them to make the most of their time dancing at the College. "Like dance, our bodies are ephemeral," Bernstein said. "They won't work this way forever. I want to make the most of the time that I have by focusing on the joy."