One in Two Thousand: Jack Murphy '22.5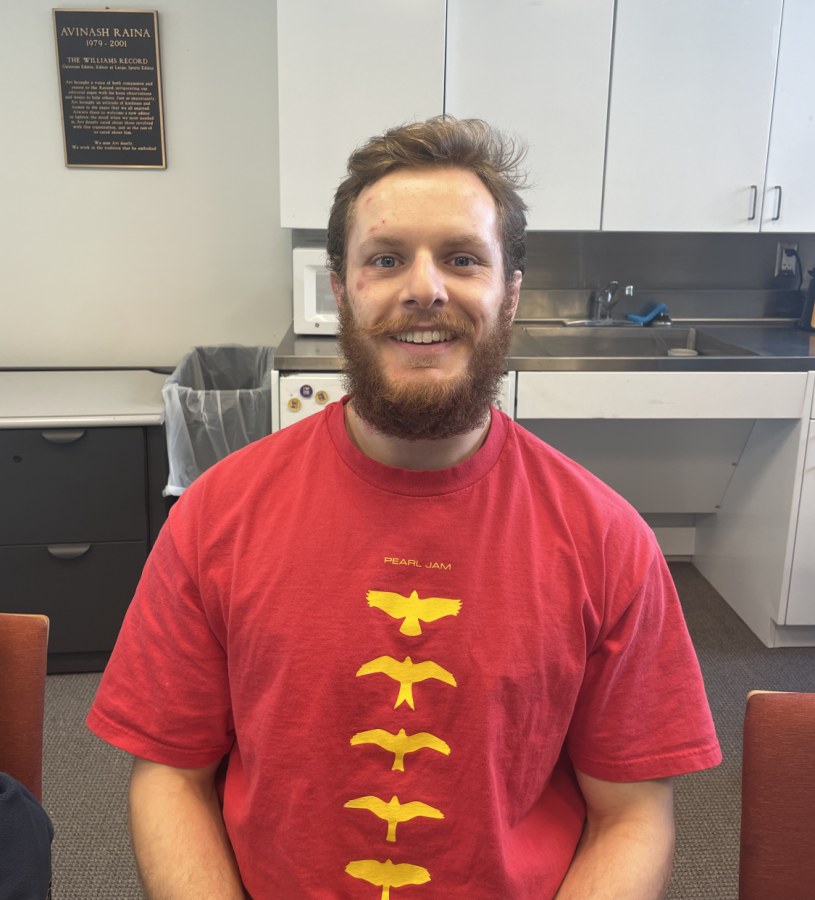 Each week, we randomly select a unix from a list of all current students at the College for our One in Two Thousand feature. As long as the owner of a selected unix is willing to be interviewed and is not a member of the Record board, that person becomes the subject of our interview. This week, the computer (using a script in R) chose Jack Murphy '22.5, who discussed his love for Montana, the wrestling team, and his experience as a "super, super senior." This interview has been edited for length and clarity.
Izzy Polanco (IP): So you have a name twin who's a first-year — what's that like?
Jack Murphy (JM): For COVID testing, sometimes they mix us up — they would put his label on my test. So I always have to say, "I'm the Jack Murphy born in 1999." I also get emails about some books at the bookstore that he had ordered. 
IP: My sources told me that you had a math internship through Williams. Can you tell me about that? 
JM: I did SMALL [the College's summer undergraduate research program in mathematics]. It actually wasn't on campus because it was during the remote year during [the COVID-19 shutdown] in 2020. So I was actually back home, doing it with Professor [of Mathematics Steven] Miller — I was in his group. But it was really cool, even though I didn't get to be on campus and actually meet the people that I was researching with. 
IP: You mentioned that you were at home during this internship — you're from Montana, right? 
JM: Yes. 
IP: How do you like it?
JM: I love it. Pretty biased, but it's the most beautiful place on Earth. I feel very blessed to be from there. 
IP: Are you friends with the other people who are from Montana at Williams?
JM: Sort of — I know there's a couple of people from Montana that are seniors right now. One of them — her name's Ana [Strong Garcia '22] — I haven't really been in touch with her since before I left for college because I was originally in the Class of 2021, so I'm kind of like a super, super senior. [Laughs.] 
IP: Do you have a favorite place or favorite memory about Montana?
JM: I feel like Glacier [National Park] is the most beautiful place on Earth. It has a special place in my heart. And then we have a family cabin on Flathead Lake, which is sort of near Glacier Park, too. I plan on living in Montana pretty much for the rest of my life after college, so it's kind of just a part of me, more so than a specific memory.
IP: OK — switching gears a little bit. How was wrestling for the College this season?
JM: We actually just finished up yesterday because we had the national qualifier. One of our guys made it to NCAAs, which is in two weeks, but the rest of us didn't — you have to place in the top three, so it's pretty tough. For most people, it was [their] final tournament of the season. But overall, this season went really well. This was the best team we've had since I've been here — and I've been here a while. [Laughs.] I've been here [longer than] anyone else now because I first got here in 2017. So it's been a while — five years — since I first got here.
IP: What's it like being older than everybody on the team and having more institutional memory than most other students? 
JM: Yeah, that's definitely a weird thing. It's weird to come back and see how things have changed, and it's weird to think about what it was like when people I used to go to school with here that have now graduated [were here] — and now, building relationships with new team members. So it's a weird feeling, but I don't really know how to characterize it.
IP: What do you think has changed the most in your time at Williams?
JM: [Long pause.] That's an interesting question because COVID has changed so much. But I would say that the changes I perceive are from myself changing and not [so] much the College. I feel like my own mind has changed. 
IP: Switching gears again — you're involved with the jazz scene on campus, right?
JM: Not too much. I have taken two classes [with Artist in Residence in Jazz Activities/Lecturer in Music and Director of the Jazz Ensemble] Kris Allen — he's kind of the main jazz teacher — and I was in the Jazz Ensemble in the fall of 2019. I just got asked to rejoin that group — I think it's now called the Jazz Orchestra — I just got asked to rejoin it because they need a trombonist, and they needed me again. It was the same situation back in 2019: someone had left, and they needed someone. 
IP: Do you have a favorite song that you play on the trombone?
JM: I don't have a particular song that I would play. But I would say that playing the blues is always the most fun for me. I'm actually not, compared to everyone else here, a very good instrumentalist. To be a good soloist at jazz, you have to be able to "play the changes," which is when you make a melodic line through the chord changes — and I'm not good enough to do that yet. [Laughs.] So blues is more simple because it allows you to choose notes from a scale, and I'm better rhythmically, so I can come up with cool rhythms and not have to think about the chords.
IP: OK, when I WSOed you — because I was trying to get as much information to ask about as possible — it looks like you have a roommate as an upperclassman. What's that like? Are you guys besties? 
JM: So yeah, that's my roommate, Stephen Willis ['22]. He was originally on the wrestling team, and he was a year behind me because I was '21, and he didn't take any time off. So now, he's actually a semester ahead of me because I'm going to be here next year for the fall. But he was on the wrestling team during his first year and my sophomore year, and then he quit because of concussion problems — but he's always been a close friend of the team since then. He's also a math major with me, and he actually did that SMALL program the year after me. We became pretty much instant friends when he got here because [we just] have so much in common. In our pick group, it kind of just worked out that we needed to choose some doubles, and we were both happy to room with each other and build up our relationship.
IP: OK — I want to switch gears by asking you some rapid-fire questions. 
JM: So wait, are the responses also supposed to [be] rapid fire? [Laughs.]
IP: [Laughs.] They can be if you want to — just a couple of questions in a row. So, your favorite place you've lived on campus?
JM: Definitely Spencer. I lived there my junior year before I left the College, and then for a second time right now. 
IP: Favorite Snar order?
JM: Now that's kind of a tough one. [Laughs.] But back in the good old days, my main order was a black and white frost, sweet potato fries, and a tuna melt.
IP: Papa Charlie's or Spring Street Market? 
JM: Papa Charlie's.
IP: And what's your go-to Papa Charlie's order?
JM: I mean, I haven't gone to either of them very often — I've only been to Papa Charlie's about four times since my freshman year. And I mean, there's like 100 sandwiches, so [I have a] tough time choosing one.
IP: OK, switching gears one last time — regular decision results come out for prospective Williams students in a few weeks [April 1]. As somebody who's been at the College for a while, what's the one piece of advice you would give to an incoming frosh?
JM: [Long pause.] I feel like having a good Williams experience is all about the relationships that you're building. So my advice would have to be centering around building relationships, and with your professors especially. And that's important — not just for getting letters of recommendation or stuff like that. If you have a good relationship with a professor, you can take classes with them, and you'll be able to have a learning experience along with building the relationship. I feel like at Williams, it's easy to get caught up in the elitism of trying to get good grades and do all kinds of big stuff "for the resume," but your time is gonna kinda suck if you don't have relationships with professors — and there's a lot of great ones here.