Ephs defeat Amherst 3-1, advancing to NESCAC Semifinals
Jo Kim, Sports Information
March 2, 2022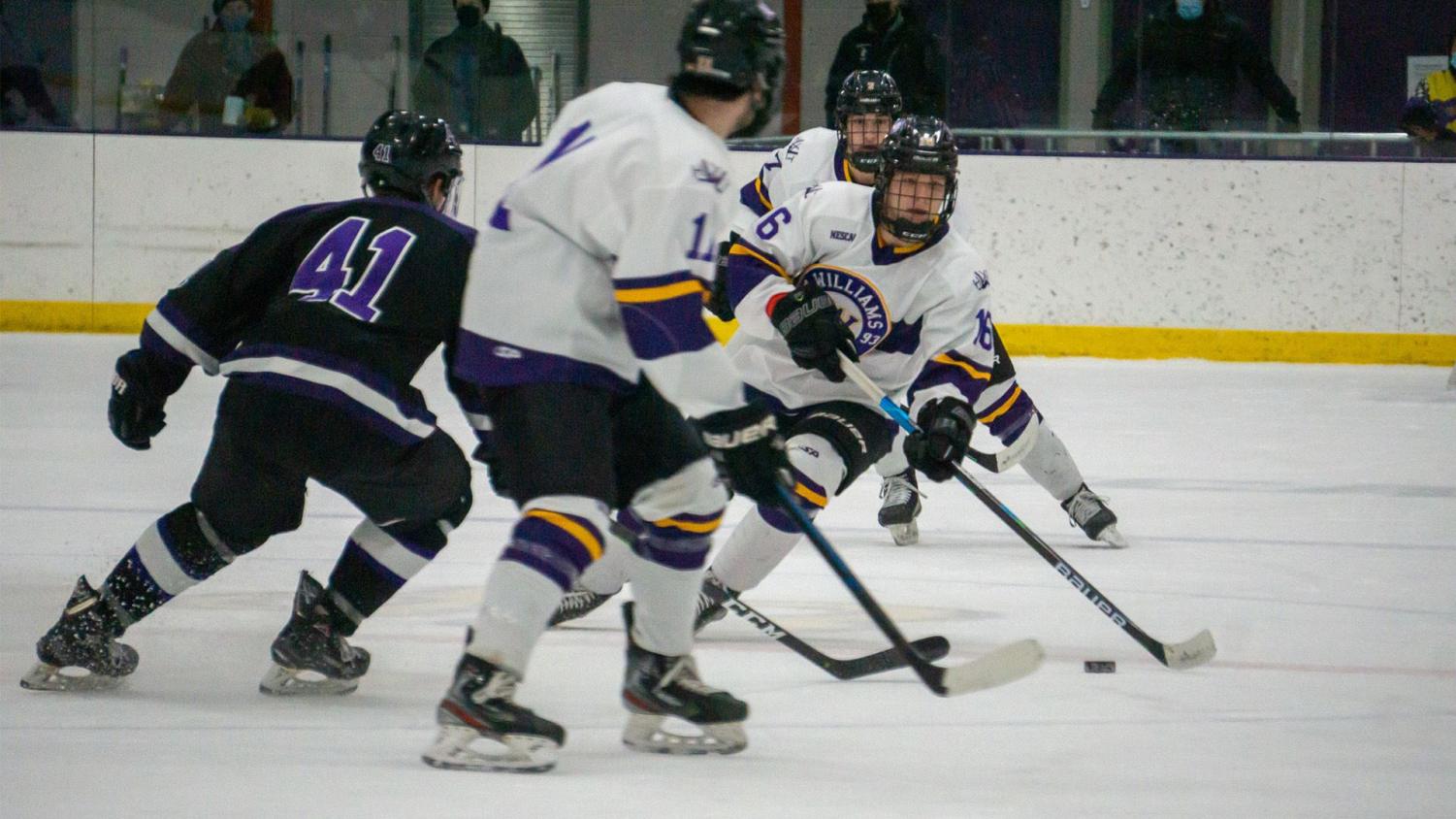 The Ephs took the lead in the first period with a goal at 9:30 by senior captain Niko Karamanis '22. The game-winning goal was scored by Jack Forrest '22 and the win was solidified by a last-minute empty-net goal from Sean Clarke '24.
With their win, the Ephs swept the season series against the Mammoths. They had previously defeated the Mammoths both at home and away during the regular season competition.
Both teams started the game with high intensity, as the rest of their season was on the line. The first goal was scored by Karamanis, assisted by Forrest and Tyler Cooligan '22, who got a slap shot past Amherst goalie Dan Dachille. The Ephs continued to build their momentum throughout the rest of the first period and pushed against the Mammoths' defense, preventing them from scoring an equalizer.
In the second period, Forrest scored and was assisted by Faisal Al-Saif '24 and Cooligan. Forrest exhibited impressive stick-handling and skating, getting past Dachille for the Ephs' second goal. The Mammoths were hungry to respond after a scoreless first period, and finally scored at 14:52 when Max Thiessen, assisted by Matt Toporowski, slapped the puck past Eph goaltender Evan Ruschil '23 on a power-play goal. The Mammoths kept pushing against the Ephs until the last minute of the second period, but after 40 minutes of play, the game was still in favor of the Ephs 2-1.
With only 20 minutes left in the game, both teams came into the third period ready to play. The Ephs took control of the puck in the first three minutes, but the Mammoths managed to post a couple of shots on goal. After back and forth action, neither team could convert their shots. At 18:21, Mammoth head coach Jack Arena pulled goalie Dachille off the ice, putting another player on to push the Mammoth offense. While the Mammoths made a good run in the last two minutes, Eph forward Clarke took control of the puck and made the final goal at 20:00 to solidify the win.
Williams head coach Bill Kangas noted the liveliness of the game. "The energy in the rink today was great," he said. "We are so fortunate to have such great fans support us. The guys really felt the energy and played for their teammates and for the crowd, which made all the difference. I felt that we played really well [on the ice], especially in the first and third periods. Today's game was hard-fought, and it could have gone either way.
"I give the guys a lot of credit. They worked hard during this week and last week's practice. To finally see the results of it is great."
The Ephs will return to action in the NESCAC semifinals next weekend, where they will play Trinity on the road.