Winter Carnival adapts activities to weather-related setbacks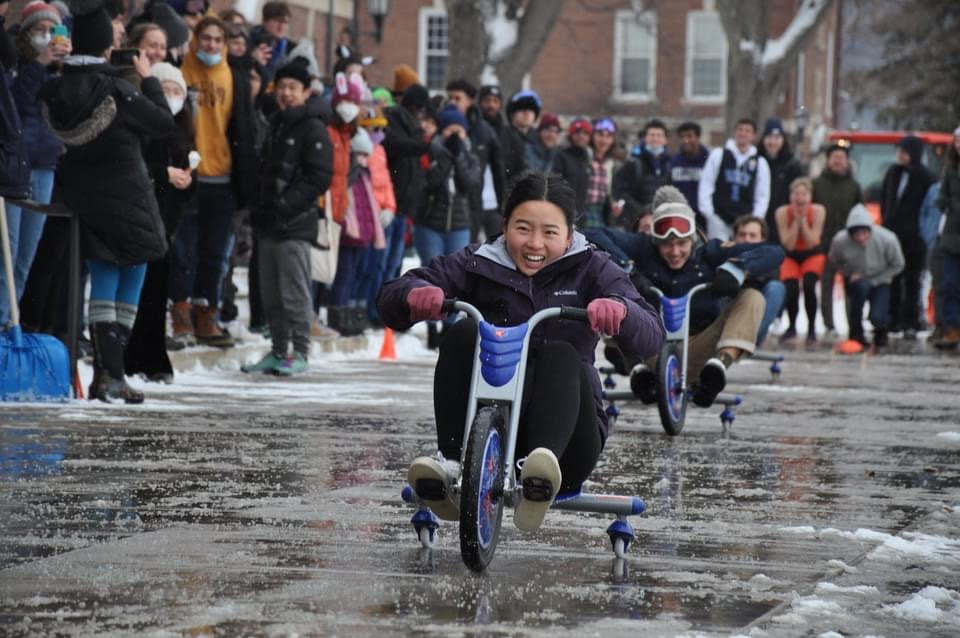 Winter Carnival usually capitalizes on cold and snowy weather to promote winter festivities – but last Friday, weather conditions were less than ideal. On the Wednesday before the three-day planned programming, the forecast for Thursday was "40 to 50 degrees, [with a] big melt and then freezing on Friday morning," Assistant Professor of Physical Education and Director of Williams Outing Club (WOC) Scott Lewis said. "And that's exactly what happened. [There was] rain all night on top of that, so it was going to be glacial. It would be an ice sheet."
Last year's Winter Carnival did not take place because COVID-19 kept most students off-campus during much of the winter and large gatherings were prohibited. But in a typical year, the event features three days of programming centered around the third Friday in February, organized by the WOC Winter Carnival Committee. This year, co-chairs Malcolm Bellairs '23, Joanie Cha '24, and Aaron Schroen '23.5 led the planning. Activities featured in the Winter Carnival included dinners, parties, and performances all centered around a unifying theme, this year's being "Good Gr-Eph!" in reference to Charlie Brown. But the big draw of Winter Carnival is the skiing, sledding, and barbeque that have taken place at Mount Prospect in Vermont since 2019 and at Greylock Ski Club in the years prior.
Bellairs explained that due to untimely weather conditions, Prospect Mountain could no longer host the planned programming. "Thursday morning, the three chairs … and I were pretty hesitant, but Scott Lewis was ready to go," said Bellairs. "So, right at 2:25 [p.m.] when I got out of my class on Thursday, we drove up to Mount Prospect with a U-Haul loaded with all of the equipment. And then we got there, Scott Lewis ran up into the woods somewhere and ran down a sledding hill, but then [he] was like, nope, no snow. So that's where we called it quits."
Lewis noted that for past Winter Carnivals, he had planned for both a "snow" and a "no-snow" weekend. He said that this year, however, was different due to COVID. "We weren't thinking too much about snow," Lewis said.
The WOC Board planned a flurry of new activities to fill the gap: extra hours of ice skating, an ice cream bar, and hikes, among other events. "Between 4 to 8 [p.m], [the co-chairs] and I just sat in the WOC office and emailed as many people as we possibly could, nailing things down," Cha said. "When is the pool open? When is the gym open? What is the weather gonna be like for this, and this, and oh my god, we're gonna get an ice cream bar. [We] just put some stuff together and decided we were going to make it happen."
Even after Prospect Mountain was canceled, many students still took advantage of the break from classes and the opportunity to participate in special activities. In total, the weekend included 75 tricycle racers, 36 curled humans, 448 cups of hot cocoa, 240 ice skaters, 300+ bowls of ice cream, and 12 jamboree performances, according to Scott Lewis.
Sam Chistolini '24 said he appreciated the downtime that Winter Carnival provided."It's really nice to get a day off and go to events that don't normally happen on a Friday," he said. "It's nice to take a break from classes and do the things I like to do to relax."
Despite the lack of snow on Prospect Mountain during the activities planned for Friday, the next day it snowed 2-3 inches in Williamstown, according to The Berkshire Eagle. That day was the tricycle race, which had to be pushed back an hour so that WOC could shovel Chapin lawn. "I couldn't believe that we went from having no snow to having too much snow, and I remember just laughing," said Bellairs.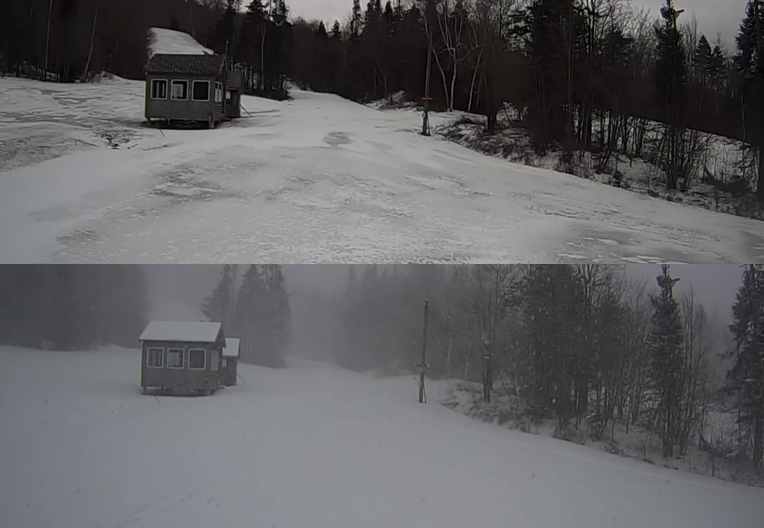 "I was excited to go cross-country skiing [on Prospect Mountain], but I think that the [WOC] team did really well making up new activities on the go," Argenis Herrera '22 said after his team won the first tricycle race of Saturday's programming. "And [Friday] was really fun, too, so I think it's all been worth it."
Kenia Cruz Guardado '22, who was on Herrera's tricycle team, expressed similar sentiments. "Honestly, I think this is my favorite Winter Carnival ever," she said.
Oliver Behrens '22 and his team came in last place at the tricycle race, but Behrens nevertheless felt that the "trike race really was the highlight of [his] week."
Other events proved to be popular as well. "The [event] that was kind of my baby was the jamboree on Friday night, where we got 11 or 12 [performance] groups," Schroen said. "It was super, super cool to see the amount of people that showed up to that. We filled up Paresky auditorium — it was standing room only. I actually saw that President Mandel tried to get in and there were too many people so she couldn't even get in. So my apologies to her."
Lewis characterized Winter Carnival as a time for relaxation, joy, and community-building. "It's definitely a community weekend," he said. "Its purpose is to bring people together, not only in celebration of winter, which can be very cold and dark for a lot of students… We [hope WOC] can bring some light to that."
Reflecting on the experience of planning the weekend, Cha expressed a sense of satisfaction. "Even though it was really hard, obviously … it was really fulfilling, particularly because the end result was making other people have fun."
Ben Alexander contributed reporting.