Student ski patrollers volunteer at Jiminy Peak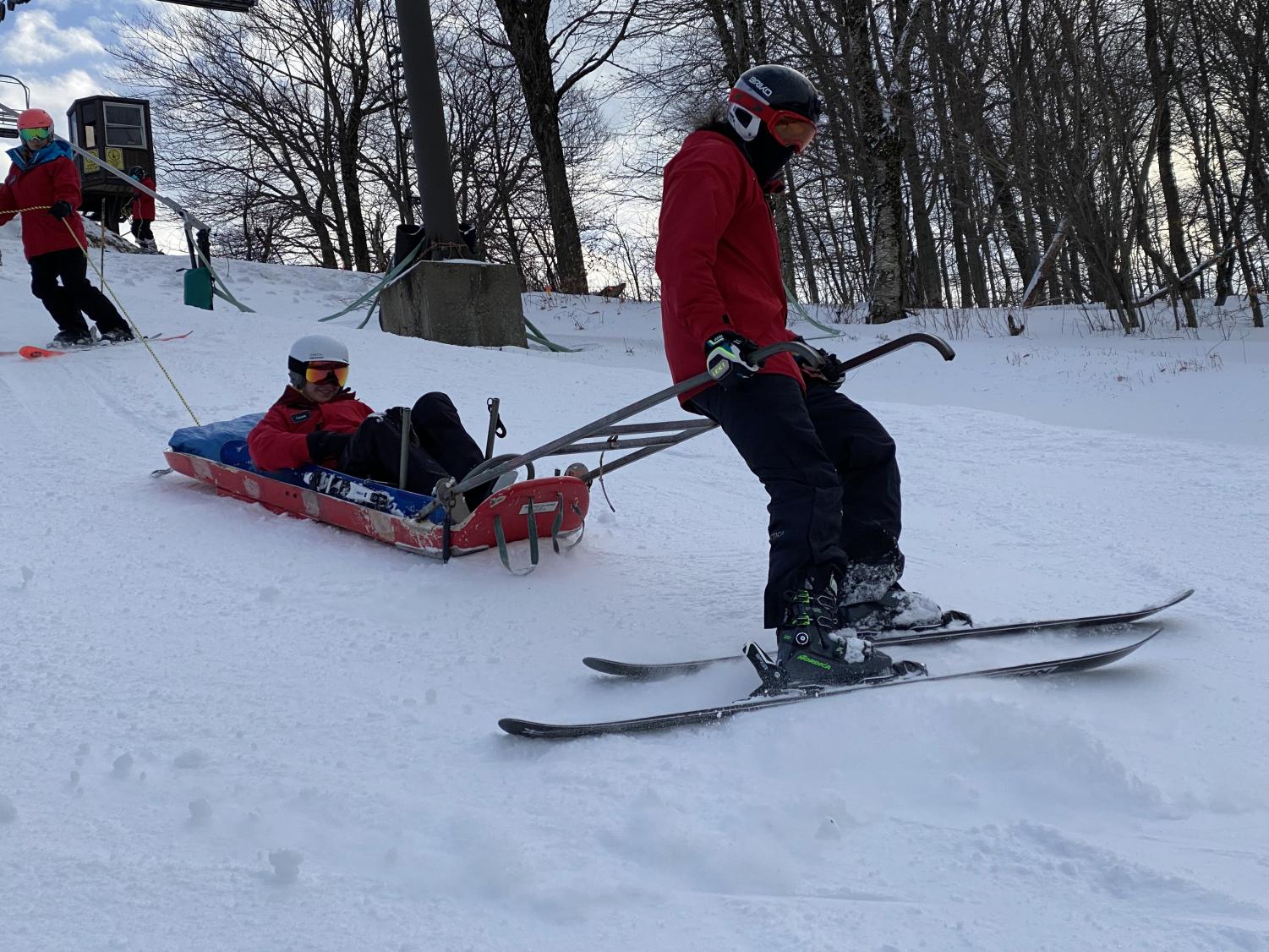 The College's Winter Study program provides students the opportunity to enjoy the outdoors, and many choose to ski or snowboard at the local ski resort, Jiminy Peak, in Hancock, Mass. During this time, students enrolled in the SPEC 22 (Ski Patrol: Outdoor Emergency Response) Winter Study class took the time to master the skills needed to earn their certification as a member of the National Ski Patrol (NSP).
At Jiminy Peak, volunteer ski patrollers are responsible for maintaining both mountain safety and upkeep. When injuries occur on the slopes, ski patrollers perform first aid and safely transport patients down the hill, but their job involves preventing injury as well as treating it. "We're also there to put up signs, rope off rails, and carry out other things to make sure that people aren't getting themselves on places in the mountain that aren't good for skiing," Lizzie High '24, one of the volunteer ski patrollers recently certified through the College's ski patrol classes, said. "We also sweep and close the mountain at the end of the day and are there to open up all the trails in the morning."
The College has a long history of ski patrolling. In fact, the NSP was founded by the Williams Outing Club's (WOC) creator Roland Palmedo, Class of 1917. The College started one of the first branches of the NSP in 1939 and maintained its own ski area at Sheep Hill run by student ski patrols during the 1930s. By the early 1990s, WOC Director Jim Briggs '60 had formally organized the ski patrol Winter Study course, according to the current-day course instructor Thomas Feist '85.
The Winter Study course is an extension to the fall semester P.E. class that prepares prospective student ski patrollers for getting certified in Outdoor Emergency Care (OEC), the first step to becoming a certified ski patroller. High described the OEC as "similar to an Emergency Medical Technician (EMT) certification but focused on being outdoors with fewer supplies" for nonurban rescuers.
Aspiring student ski patrollers met as a P.E. class for three hours every Monday night throughout the fall semester in order to earn their OEC certifications. During Winter Study, High and her classmates furthered their training by earning their CPR certification and learning practical patrolling skills such as using sleds to transport patients down the hill.
Feist, who has forty years of experience as a volunteer ski patroller, has taught the Winter Study course since 2018. "Students spent about eight hours a week outside at Jiminy Peak working on their patrol skills," Feist said. "We [also] had classroom time to keep practicing first aid skills."
By the end of Winter Study, after taking a written exam and carrying out specific scenarios on the mountain, High and her classmates became members of the NSP as certified ski patrollers. "[Now] I can volunteer whenever I want at Jiminy, and I am qualified to apply for a job anywhere if I [feel] inclined," High said.
Aidan Lloyd-Tucker '22, a teaching assistant for the ski patrol course, has been patrolling for three seasons and worked as a patroller in Lake Tahoe, Calif. last year, when Winter Study was canceled. As a volunteer ski patroller for Sugar Bowl Ski Resort, Lloyd-Tucker felt that "the standards of care were a lot more rigorous and strict" at larger resorts compared to Jiminy Peak, where students at the College typically volunteer. In particular, Lloyd- Tucker found that transporting injured skiers down "a lot more steep terrain, ungroomed off-piste chutes, and moguls" required a higher skill level.
A big part of working as a volunteer ski patroller beyond technical skills is cooperating with professional ski patrollers and the staff at the ski resorts. At Jiminy Peak Resort, evenings and weekends are patrolled completely by volunteers, while professionals work during the day on Monday through Friday.
Professional ski patrollers provide immense help for volunteer ski patrollers as they work together. "We work really well with them, in terms of developing relationships and just gaining the knowledge necessary," Lloyd-Tucker said. High shared similar sentiments regarding the resort staff. "Everyone at Jiminy is remarkably kind," she said. "All the lifties [employees who operate the chairlift], ski instructors, and anyone we run into is really pleasant."
But being a ski patroller does not come without its challenges. "You really have to take charge of the situation," High said. "You have to have a lot of confidence in your skills and just know what you're doing and be able to make decisions about someone's health."
Seasoned patrollers Lloyd-Tucker and Feist stressed that the confidence required of the position arrives with time and experience. "It's not one of the skills you can really learn in a classroom," Feist said. "To be prepared to adapt, and then to deliver high-quality care is the essence of ski patrolling."
In spite of these challenges, the ski patrollers find their job to be incredibly fulfilling. "We often get thank-you notes in the mail, and people stop by the patrol room and … thank [us] for the help," Feist said. "That part of helping people in need is certainly the rewarding part."