Aidan Ryan '22 breaks Div. III mile record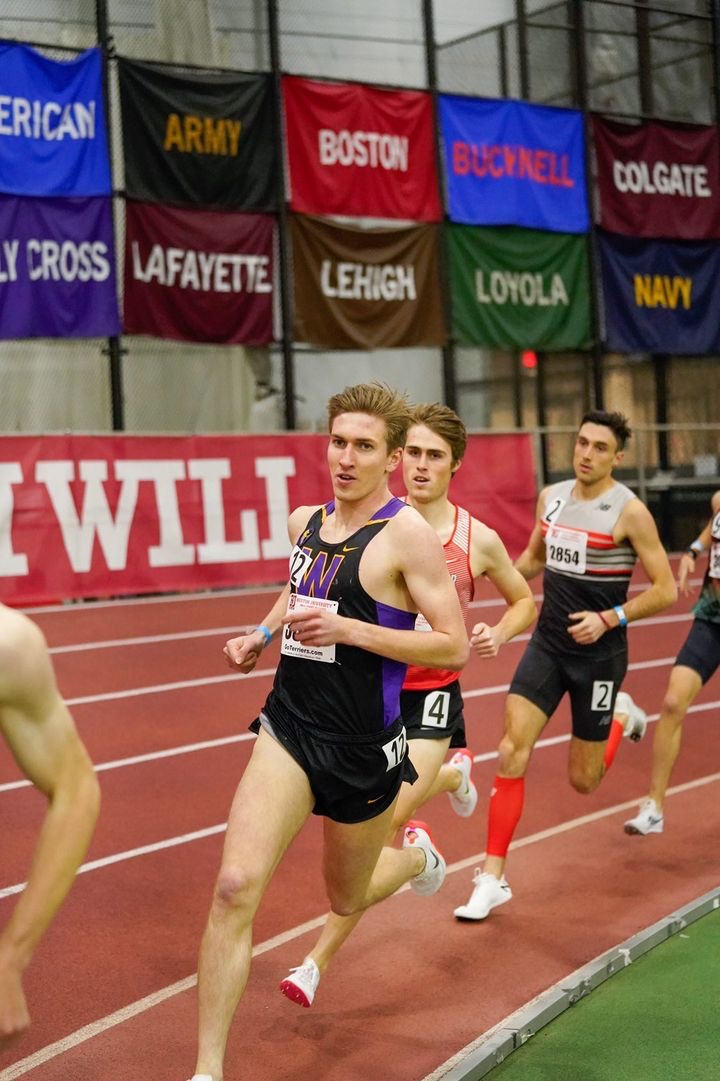 Aidan Ryan '22 broke the Div. III mile record on Sunday, Jan. 30, completing the race in 3:56.88. His time at the Boston University John Thomas Terrier Classic surpassed his own personal best time by 8.38 seconds and the Div. III record, set in 2018, by 2.13 seconds. Ryan finished first among all collegiate athletes, including many from Div. I schools, and placed fourth overall behind three professional runners. He is the second Div. III athlete to run the mile in under four minutes. 
Ryan said his confidence and composure leading into the race were critical to his success in breaking the record. "I was confident that I could put forth a great effort, and though I was nervous about attempting something I'd never done before, I was ready to take the risk in trying," he wrote in an email to the Record. "I was pretty calm leading into it, which is crucial for distance running."
Racing alongside many professional runners was also beneficial to Ryan's race, as they were helpful in setting the pace and forcing him to match their high level, he said. "Running against the pros is always a great experience — being able to key off of them is good for learning how to race at a high level," Ryan wrote. "It definitely contributed to my performance, because the onus of pacing was on them, and they are reliable."
Ryan had not competed for the men's track and field team for over a year, and was unenrolled from the College last year. During his year off, he trained consistently, focusing on weekly runs upwards of 20 miles.
However, the year off came with its own challenges. Last spring, his training was delayed when he got a stress fracture in his fibula. The recovery process over the past months since the stress fracture made "the lead up to [the Boston University race] a little rocky," he wrote. "I was trying to build back while dealing with pain management from the early summer to winter break, and luckily was able to compete through the cross country season. The injuries subsided around the new year, and I was able to get back into the swing of things."
When Ryan crossed the finish line, breaking the four minute mile and claiming the Div. III mile record, his first emotion was "joy — for realizing a dream of breaking 4 [minutes], and for seeing how much it meant to Dusty [Lopez '01], my coach," Ryan wrote.
However, Ryan said he did not immediately realize the significance of his achievement. "I think my emotions initially were toned down a little just because it hadn't set in what happened," he wrote. "Afterwards there was a lot of emotion in it. I was overwhelmed with the support I got from all of my friends and family. Seeing what it meant to them is really what got me."
Ryan credited much of his success in achieving this milestone to his teammates, coaches, and support system. "The consistent work I've done with Dusty and other coaches over the years to find paths forward is everything," Ryan wrote. "I've had a great physical and emotional environment to grow in throughout my career. I don't think the good team atmosphere and coaching relationship can be overstated."
"We're all super proud of Aidan, breaking 4 in and of itself is a huge achievement, and the national record was like the icing on the cake," Nate Lentz '24, a teammate of Ryan's, wrote to the Record. "For me, training with him this winter, I knew that he was going to do it so it was more of a question of by how much will he break 4. When he came across in 3:56 it was particularly special cause he had broken the national record by 3 seconds and almost qualified for USA's running faster than any of us had thought. Really dope moment for Aidan, and we're all just excited to see what he'll do next."
Looking ahead to the rest of the season, Ryan said he and his relay team plan on "[trying] to set a national record in the Distance Medley Relay next weekend in Boston," where men's track and field will be competing at the Boston University Valentine Invitational on Saturday, Feb. 12. "After that, we're focused on nationals, where our team stands a good chance of doing well," Ryan added. "There, it's all about winning races, rather than trying for fast times."
Ryan said he plans to continue running after he graduates from the College by using his remaining NCAA eligibility at another institution. "I will absolutely continue running, likely for a graduate school and use my remaining NCAA eligibility," he wrote. "I'll be running as long as I can."