An inside look: Student hosts and technicians present Thursday night trivia at the Log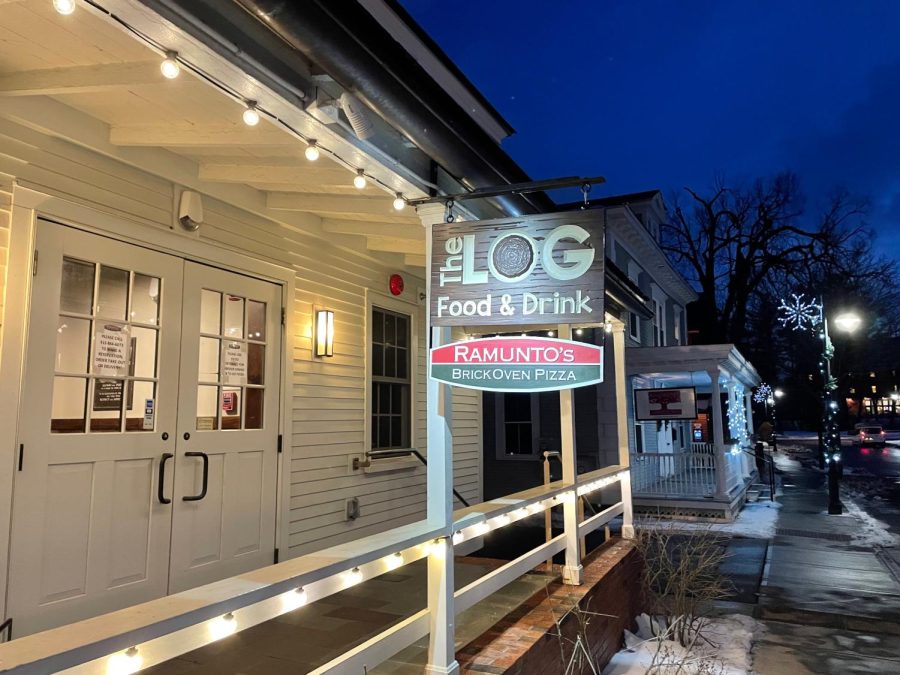 When Deion Hammond '25 applied to be a host for trivia at the Log by Ramuntos on Spring St., he didn't even know what the Log was. But during a late-night procrastination session, he spotted a hiring announcement in the Daily Messages and decided to fill out an application.
"I just really like the idea of being a host for trivia, both because I had grown up [watching] Jeopardy! and [liked] that whole announcer personality — like [from] the local car commercials — so it seemed like a perfect way to combine those two," Hammond said. 
Now, on Thursday evenings, the students that run Log Trivia — Hammond and his co-host Ollie Saleh '24, who announce the questions and their answers, and two technicians, who tally up the teams' points — run five rounds of trivia and a bonus "picture round." Questions vary from the most common girls' name in the 1970s (Jennifer, if you were wondering) to the name of an Argentinian sauce made from parsley and olive oil (chimichurri, which can occasionally be spotted on the Whitmans' menu). 
Generally, around 10 teams of up to six players sit at tables spread throughout the whole restaurant. Students and Town residents alike compete through rounds of questions in hopes of placing in the top three and winning gift certificates — all while enjoying pizza, garlic knots, or the Log's famous skillet cookie. 
The best nights are those with an engaged atmosphere, Trivia Technician Will Beyreis '24 said. "It's really fun to work trivia when the room is loud and people are getting into it," he said. "They start talking to each other between tables, talking smack." 
Because of the proximity of tables in the restaurant, teams will huddle together to discuss their submissions — lest other teams overhear their guesses — and cheer or groan after Hammond and Saleh reveal the answers. 
Contestants hold the student hosts and technicians to a high standard of accuracy, walking up to their table at the front of the Log's main room and challenging them on answers. According to Saleh, a participant once came up to the hosts and tried to challenge an incorrect response for a question on the shape expressed by πr2 — the equation for a circle.
"One of the groups was like, 'Oh, that's a cylinder,' and the answer was a circle," Saleh said. "And they wanted to argue the point back. The guy said he was a math major, but [his answer was] very clearly wrong." 
Beyreis said that he has been challenged on questions ranging from pasta types to the number of craters on the moon. "You have to be on your game," Beyreis said. "If you make a mistake, people care about trivia, and they'll come at you for it." 
On days when contestants don't question their scores, hosting trivia can still put the students who run it under pressure. Even on quieter days, Saleh and Hammond have to provide entertaining commentary in front of an audience. 
"There's a lot more talking that goes into it than one would expect," Hammond said. "It's a lot of banter interspersed between questions on a good night."  
Saleh noted that though he feels that public speaking is his biggest challenge while hosting, he strives to focus on the questions he's presenting and relies on his co-host to create a lively dynamic. "What helps is that I just kind of remind myself that people are here for the questions, not for me," Saleh said. "That just makes me a lot more comfortable."
The sole time that Hammond played Log Trivia before he was employed as a host, he did not know that Trivia was run by students. "I actually thought that the hosts were Log employees and was wondering why they look so young," he said. 
Trivia hosts and technicians are on-campus jobs that are overseen by the Office of Campus Life (OCL), Sam Boyden, assistant director for student centers and events, told the Record in an email. Hosts for trivia exclusively work at the Log, while technicians also work at events held in Paresky and Goodrich Hall.
While the trivia scene is often dominated by students and locals, Boyden remarked that professors at the College have been known to drop into Log Trivia on occasion. "A professor, who will remain unnamed, came in while celebrating his bachelor party in a full sparkling gold suit, unaware it was a trivia night," Boyden wrote. "After he got over the shock of walking into a full house, he instantly became the star of the show. We had him read a few questions to the crowd and everyone absolutely loved it. [That was] a night no one will forget, I'm sure."