Olympic bronze medalist Joey Lye '09 gives talk on leadership, self discovery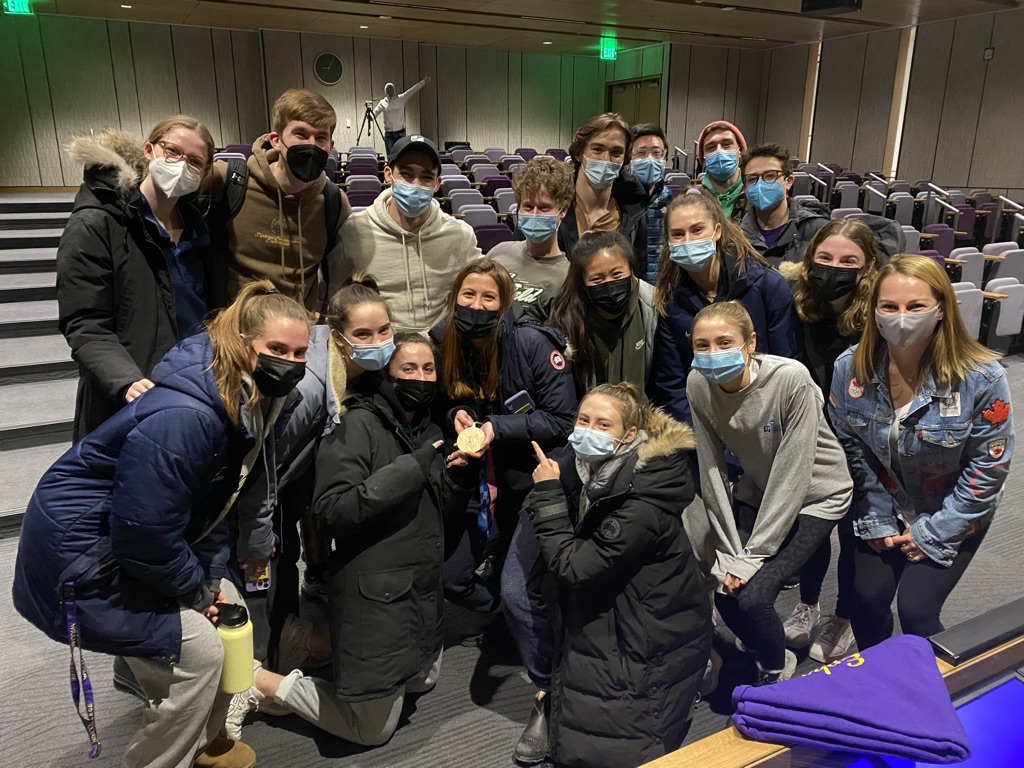 Joey Lye '09, an Olympic bronze medalist and Canadian national softball team player, spoke to the College community — at an open event on Jan. 17 and to a group of sophomore athletes on Jan. 18 —about her journey of leadership and self-discovery. These sophomores were part of the Emerging Leaders program, which is designed to provide leadership development for varsity athletes at the College. During her talks, Lye spoke about how her understanding of leadership and self was shaped by her time at the College and her professional softball career.
Associate Director for Student Athlete Services Carolyn Miles helps lead the Emerging Leaders program, which falls under the Eph Leadership Academy at the College. "I invited Joey to speak because I love involving alums in our programs," Miles wrote in an email to the Record. "Her experience in leadership positions and her ability to share how that ties back to her experience at Williams is particularly interesting."
While at the College, Lye played for both the women's ice hockey and softball teams. After a difficult freshman year adjusting to life at the College and the challenges of being a part of two sports programs, she decided to step into more leadership opportunities in her later years, such as serving as a Junior Advisor, Williams Outdoor Orientation for Living as First-Years leader, and member of the Student-Athlete Advisory Committee. Lye shared with the audience Tuesday that she saw these opportunities as a way outside athletics to "step outside of [her] comfort zone, meet new people, [and] learn new skills.
"Trying something new, or something that scares us, reminds us what it's like to be the new kid, reminds us it's okay to make mistakes, and helps inspire growth," Lye wrote in an email to the Record. "All of these things are important in leadership."
Since graduating from the College, Lye has gone on to represent Canada in the most recent summer Olympics in Tokyo, played for 12 years on the Canadian national softball team, and led a two-year coaching career at Bucknell University, where she was named the 2019 Patriot League Coach of the Year. Even though she no longer has plans to compete as an athlete, Lye noted that she finds herself using the skills she learned from her time at the College while navigating her athletic retirement.
"Now that my cleats are retired, I am back to trying new things and creating a new career path for myself," Lye wrote. "Williams helped me get used to expanding my comfort zone and I am continuously utilizing that skill to chase new dreams."
Lye also shared with the audience her own personal motto of "adapt and thrive," which she uses to motivate and focus herself in her everyday life. Although the phrase has helped guide her for many years, especially while navigating training for Tokyo during the COVID-19 pandemic, Lye said her experience directly following the Olympics challenged this belief.
"My 'adapt and thrive' mentality was challenged immensely after the high of the Olympics wore off — I didn't care to adapt and didn't feel like thriving," Lye wrote to the Record. "After giving myself time and space to sit in the heaviness of the post-Olympics crash, and to recharge, I feel much more like myself and am back to embracing the ups and downs of life."
Pearse Glavin '24, a sophomore lacrosse player in the Emerging Leaders program appreciated the opportunity to hear from an Olympic athlete. "[Lye] spared no details, so I feel like we got a really good look into the mind of an Olympian and what it takes to compete at the highest level," Glavin wrote to the Record. "And that also translates to life outside of sports."
Lye concluded her talk by encouraging audience members to seek out leadership within their programs regardless of their class year or position on the team. "The biggest message I want you guys to hear tonight is leadership is not a title," Lye said. "Being named a captain comes with a responsibility, but you can be a leader within your program today. You can behave today in a way that makes your teammates want to act like you."