You've been summoned for jury duty — now what?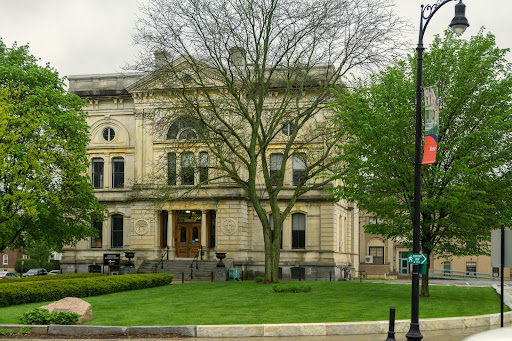 When I turned 18, I knew it meant that someday, without warning, I could be summoned for jury duty. I had luckily avoided being summoned for my first two years of eligibility, but two weeks ago, that suddenly changed when I found a card in my SU box from the Commonwealth of Massachusetts Office of Jury Commissioner with "Official Summons for Juror Service" printed in a yellow rectangle.
"Maybe it won't be so bad," I thought. Sure, I don't have a car, but I could get a friend to drive me to the courthouse in Pittsfield and explain my situation — that I'm a college student without a car who can't afford to skip my classes — to the judge and be excused. But I was summoned to appear on Wednesday, March 30, which is right in the middle of spring break when I'll be back home in New York, N.Y.
So, like any other student in this situation, I decided to postpone my jury duty — since I could postpone my date to up to one year after the original summons — and carefully picked a date when I would be on campus and my friend could drive me to Pittsfield. For me, it will all work out. But what about other students who get summoned for jury duty in their home state, which might be far away from Massachusetts? What about students who were hoping they wouldn't get summoned until after college so they could actually have a chance of serving on a jury? And what about students who get summoned who aren't even eligible in the first place?
According to Mass.gov, if you live in Massachusetts for at least 50 percent of the year, you are eligible for jury duty, so most students at the College are eligible and required to serve in response to a summons. In addition to being eligible in Massachusetts, many students are also eligible for jury duty in their home states.
Three weeks ago, Alexa Cohen '25 was summoned to appear for jury duty in her hometown of Washington, D.C., on Feb. 3, which is the day after spring semester classes start. 
"My parents always referred to [jury duty] as an annoyance, but to me, it was kind of exciting," Cohen said. "I was excited by the prospect of getting to … experience a court case and sit in on the hearing and feel like I was doing a grown-up thing and being involved in the government and its functions."
Cohen considered going home to appear at her original service date, but because of the inconvenient timing, she decided to postpone her jury duty until spring break. "It can take up to multiple weeks for the case to be decided, so I might have to stay longer," she said. "That's part of the reason why I wanted to defer it to a longer break so that if it drags out, I would be able to comfortably stay for a while and not miss class."
Like Cohen, Jake Padilla '25 had been looking forward to getting summoned for jury duty. But over winter break, when the Los Angeles, Calif., native received his summons in the mail that said he was scheduled to appear on Jan. 24, he was disappointed. 
"Ever since I was 12, I've always wanted jury duty, and I was really looking forward to the day I'd get it," Padilla said. "I was bummed because if this summons had come in a week or two earlier … I would have been able to respond to it, say I was in town, and even maybe come to court a little early to act on this summons."
In response to his summons, Padilla filled out a questionnaire on the Los Angeles Superior Court's website that asked if he was currently out of state, to which he responded "yes." The questionnaire then said that no further action was needed and that Padilla would not have to serve jury duty this time around unless he hears back from the L.A. Superior Court.
Joanie Cha '24, who is from Arlington, Mass., was summoned for jury duty in Berkshire County and not Middlesex, their home county. "At first, I was confused," Cha wrote in an email to the Record. "I didn't know how I could get summoned for a court in Pittsfield when my legal residence is close to Boston… Overall, I was surprised and pretty annoyed because I felt like I had to go through a whole process of figuring out whether or not I actually had to do jury duty." 
Cha said they plan on appearing at the Pittsfield Superior Courthouse on their original summons date. While Cha has a car on campus and will be able to get there on their own, they said jury duty might not be as accessible for others on campus.
Cha said they hope they do not get chosen to serve on a jury since the summons date is in February, when they will be busy running the College's Winter Carnival. "I can imagine that for most Williams or other college students, attending jury duty is a huge inconvenience and extremely difficult to manage," they said.
International student Saud Afzal Shafi '22, who is from Lahore, Pakistan, has been summoned for jury duty in Massachusetts twice in the past two years — even though he is not eligible to serve in the United States. (Shafi, who was formerly a member of the Record editorial board, was not involved in the writing or editing of this article.) "The first time I got summoned [in August 2020], I didn't know what to do about it because I knew what jury duty was, and it seemed kind of cool … but then I was like, 'Wait, I'm not a U.S. citizen, so I probably can't do it,'" Shafi said. 
Shafi recounted how he went to the website listed on the summons card and filled out the qualifications questionnaire, saying that he is not a U.S. citizen, and thought that would be the end of the story. But then, he was summoned again in November 2021, which led to a joke among his friends. "When I got the second request, my friend was with me when I opened my mailbox, and she took a picture of me and sent it to our friends because it was a running joke at this point," he said.
Despite the comedy of the situation, Shafi said he would like to have been able to serve jury duty. "I thought it seemed kind of an interesting way to see how the law works from the inside," he said. "​​Pakistan does not use jury trials as far as I know, which is why I find the U.S. system quite interesting."
Like Shafi, Padilla did not get the chance to appear for jury duty this time. He echoed Shafi's sentiment on the importance of this civic duty and said he hopes to get summoned again in the future. "I hope to be able to listen to the law, listen to the facts, and do what distinguishes our legal system from almost everywhere else in the world," he said. "This is a very uniquely American tradition that I'd really love to be a part of."