Williams Opera Workshop returns to Chapin Hall with La Bohème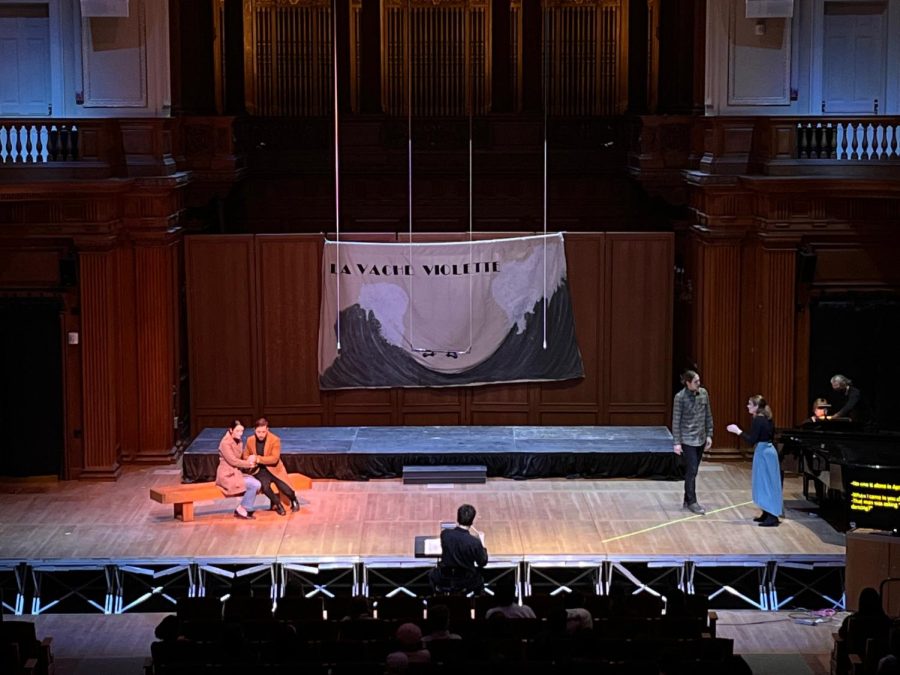 The College may have discouraged travel away from campus during the COVID-19 pandemic, but dozens of students still journeyed all the way to France this weekend — without even boarding a plane. On Saturday, La Bohème, a production presented by the Williams Opera Workshop, transported audience members from Chapin Hall to Paris for an evening of merriment, musicality, and untimely death by consumption. 
La Bohème, written by Giacomo Puccini, follows a group of friends in the 1830s who live out the titular "Bohemian lifestyle" in the Latin Quarter of Paris. Roommates Marcello (Edmond Laird-Raylor '24) and Rodolfo (Izaki Metropoulos '22) are artists late on rent payments; Musetta (played by Sarah McGinn '24 on Saturday and Molly Arts '24 on Monday) drives her lovers crazy with her constant flirtations; and Mimi (Olivia Graceffa '22) is a seamstress dying slowly of an incurable illness. Musical theatre fans might recognize these plotlines from Jonathan Larson's 1993 musical Rent, a rock-opera adaptation of La Bohème set amid the AIDS epidemic in downtown New York City. 
Directors Erin K. Casey and Paul La Rosa '02 set the Williams Opera Workshop production of La Bohème in contemporary times, dressing characters in modern fashion and tweaking the original Italian libretto to include words like "autocorrect." Mimi eventually dies from tuberculosis, but her cough draws parallels to COVID-19.  "In the midst of a global pandemic, La Bohème's themes of loss and illness resonate more universally," Olivia Graceffa '22 said.
La Bohème is Graceffa's third production with the Williams Opera Workshop, a program which began in 2014 as a way to provide student singers at the College with experience performing classical repertoire and mentorship from professional performers. This year's cast of 23 singers have also performed in ensembles such as the Williams College Choir, student-run a cappella groups, and Cap & Bells, the College's student theatre organization. 
For some students, the Opera Workshop is a first foray into classical performance; for others, such as Yona Kruger '25, who sang in the ensemble, the Opera Workshop provides a rigorous extension of previous vocal training without a full-time commitment. "I was deciding between going to [music] conservatory [for college] or coming to Williams, so it was kind of scary thinking about college," Kruger explained. "Either [classical singing] is my whole life, or I go to Williams, and I get both. It's been so nice to have this opportunity here, because I wasn't expecting to have so many talented people to work with here… This school has an overwhelming [number] of extremely talented singers, which is awesome." 
This year's singers had to tackle an extra obstacle — singing in another language. While recent Williams Opera Workshop performances have been sung in English such as their 2019 production of Die Fledermaus, this year's production was performed in its original Italian. "The purity of the vowels in the language is conducive for 'bel canto' singing," Graceffa said, referring to the dominant style of vocal performance in 19th century Europe. 
Kruger added that the language barrier widens the margin for musical error because most audience members don't understand Italian. "Opera feels a lot more failproof. In musical theatre, you're giving all of yourself, but opera has the disguise of another language," Kruger said. "That can also be hard because you're trying to convey something to an audience that might not speak Italian or French, or whatever." For audience members that do not understand Italian, "supertitles" were presented on a screen mounted to the side of the stage and offered a real time translation of the libretto to aid comprehension. 
At present, the Workshop is a co-curricular opportunity offered through the Music Department rather than a full-time Winter Study course, but it may become a credit-bearing course in future years to allow students to commit more deeply to learning a full opera in a narrow time frame. La Bohème's rehearsal window was even narrower than past operas, as the production lost a week of planned rehearsal time due to the College's enforced quarantine period at the beginning of Winter Study. As a result, the production was forced to scale back its full pit orchestra to a single accompanist — Jesse Cohen-Greenberg '24, who played the entire score alone on the piano. 
"I've just internalized 'floppy wrist,'" Cohen-Greenberg said, referring to how he keeps his piano playing hands limber. "That's how you get through it." Though the choice to cut the orchestra was relatively last minute, Cohen-Greenberg worked with student conductor Jake Eisner '21 to pull off a piano reduction of the score. "I'd been reading the score for all of winter study, so it was nice to be able to perform it," Cohen-Greenberg said. "I was going to play, like, a harp in the orchestra, but it's nice to bring more of myself to it." 
The themes of La Bohème reckon with the pain caused by illness, but Graceffa hopes that the presentation of the opera demonstrates perseverance in the face of COVID. "The performing arts community at Williams has undoubtedly struggled during the pandemic, often performing smaller, scaled back programs," Graceffa said. "Mounting a full opera in two weeks hints at the long awaited return to 'normalcy."