Goodrich grapples with rising prices, $5 swipe limits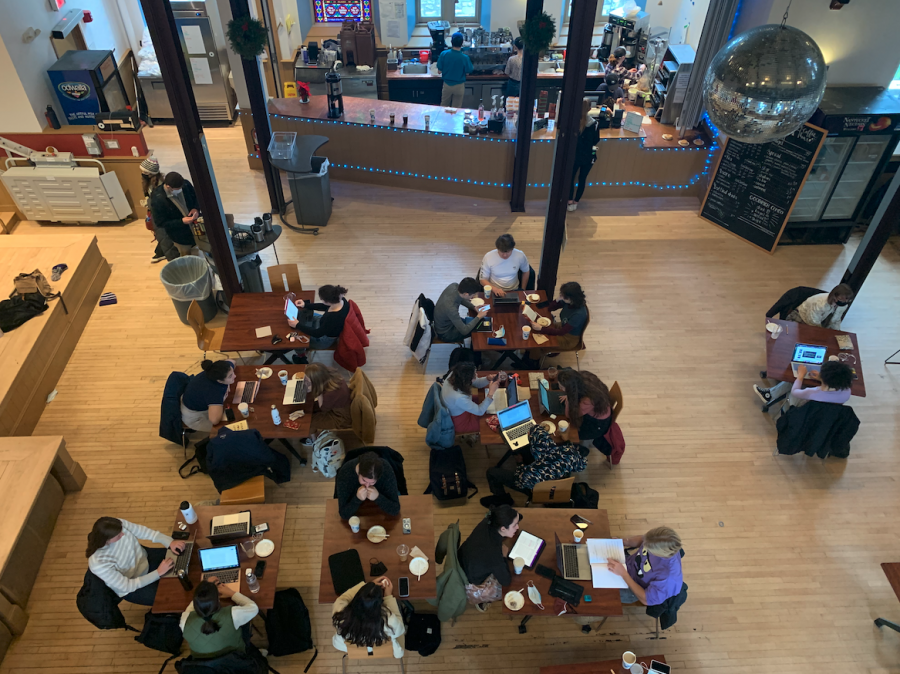 More than 300 students get customized bagels and drinks from Goodrich Coffee Bar every day. But behind the scenes, the student-run business is struggling to deal with rising overhead costs and an inability to raise College-determined swipe values. Following the pandemic, the business is barely breaking even.
The problem is straightforward, according to Goodrich Finance Manager Ana Wever '24: Every time a student orders coffee using a meal swipe, Goodrich receives $5 from the College, a value that has remained fixed since the coffee bar's establishment in 2012. But a shifting national economy has made Goodrich's current swipe model — which accounts for 60 percent of transactions at the coffee bar — difficult to sustain.
"The economy has changed," Wever said. "We've had inflation, and the minimum wage, particularly the minimum wage, is going up." When Goodrich was established in 2012, the Massachusetts minimum wage was $8 an hour. Now, it's $13.50 — and next year, it is set to rise to $14.25.
"We need to change our prices — otherwise we're going to start significantly losing money," Wever added.
Changes to swipe values cannot be made without approval from the College. Because of the timing of budget reviews, the earliest the College could raise the value of swipes would be in September 2022, after a full year of Goodrich selling its products for suboptimal prices.
There are a number of other oddities with Goodrich's current swipe system. Goodrich accepts swipes only before 11 a.m., a relic of a pre-pandemic agreement that was intended to balance demand between dining halls and Goodrich, according to Niko John '22.5, Goodrich's operations manager. But since then, the dining landscape at the College has changed drastically, with fewer dining sites open for each meal, while Goodrich remains unable to extend its swipe hours.  
Furthermore, Goodrich is now the only dining option to charge a fixed dollar value for swipes, after other dining options shifted to a new system during the pandemic. "We get compensated like there's an assigned value to our swipes," Wever said. "The dining hall doesn't work like that anymore. They have a different system with the GET [mobile ordering] app that they started using last year."
Still, Wever remains unconcerned. "When we started up in September, we had start-up costs. It was a little bit rough in the beginning, because Goodrich had basically been closed for a year and a half," Wever said. But thanks to a surge in orders in November, Goodrich's prospects have improved. "We're not back at where we were pre-COVID, but we are stabilizing," Wever said. "We're not losing money."
Simultaneously, Goodrich is grappling with the same supply chain issues that have plagued many American businesses. As a result, it has recently experienced problems sourcing bagels, spreads, and even the containers used to package customers' spreads.
Changes to suppliers' offerings have compounded this issue. The problem, according to Wever, lies with vendors. "For example, one of [Goodrich's] vendors doesn't produce asiago bagels anymore," Wever said. "The only other vendor, I think, where we can get them, charges way more for them." 
The disruptions to Goodrich's supply have caused inconveniences for some students. When Jianna Williams-Arenas '25 visited Goodrich on the evening of Nov. 29, she discovered that the coffee bar was out of her preferred order. "It was quite late, and none of the other dining halls were open," Williams-Arenas said. "So I was hungry the rest of the night."
In addition to supply chain issues, rising prices, minimum wage increases, and fixed swipe values, Goodrich also underwent a mid-semester change in management, on Oct. 24. This was a month into its costly reopening, but before its lucrative Homecoming weekend. "We came in at a slight low," Wever said. "But thankfully, it's been followed by a high [Homecoming]. And since then, I think we've been doing pretty well."
In the short term, students paying with EphPoints or cash instead of swipes may experience slight price increases as Goodrich attempts to compensate for rising supply costs. But this price increase will not affect the "Goodrich combo": students will still be able to receive a drink, bagel, and cream cheese for a swipe.
In addition, Goodrich management is continuing to experiment with its operational hours; it recently reduced its evening hours due to a lack of demand, and is now considering opening on Saturdays.
If the College approves Goodrich's budget proposal, students can expect an increase in the value of their swipes next fall, as well as increases in the prices of Goodrich offerings. "We're still figuring out how much to increase the swipe value," Wever said. "That's an ongoing process right now."