Arts clubs offer 'casual, self-motivating' respite from academics
As places for beginners and masters alike, arts clubs like Off the Hook Crochet Club, Ceramics Club, and Williams FireFlies provide spaces for artistic downtime on campus. Unaffiliated with the College's studio art department, these clubs allow students to learn or practice passions for crocheting, ceramics, or flow art.
Off the Hook Crochet Club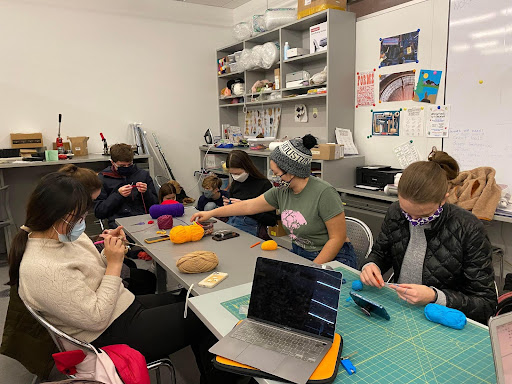 Off the Hook Crochet Club, new this year, meets every other week for an hour in the Sawyer Fabrication Studio and provides supplies and support to students interested in crocheting. Projects range from stuffed animals and hats to more complicated items like sweaters and scarves.
After setting up Zoom meetings to crochet with her friends during the pandemic, Julia Chiang '22 decided it was time that she formally brought her passion to the College. "You'd be surprised at how many people are closet knitters or crocheters," Chiang, who is an Off the Hook leader, said.
The free materials are a draw for those who participate in the club, as knitting and crocheting materials can be expensive. Other members enjoy the peaceful space the club offers away from academics. 
"It's nice having a peer-led space because it's casual and self-motivating," club member Genevieve Randazzo '25 said. "Having the club makes me feel like I am taking a focused break." 
Chiang expressed a similar sentiment. "At Williams, there is a strong work culture," she said. "Having a space that embraces the idea that productivity doesn't equal self-worth gives people a necessary break."  
Ceramics Club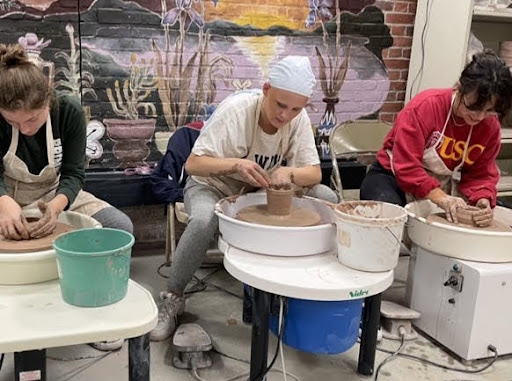 Grace Clarke '23 re-registered Ceramics Club (originally started in 2001) because it offered something drastically different from the visual arts curriculum at the College. Since there is no ceramics class at the College, the club is the only space on campus where students can make pottery.
Ceramics Club convenes in the ceramics studio, located on the ground floor of Mark Hopkins. While the club has no official meeting times, it offers beginner teaching sessions taught by members with experience throwing (the process of making pottery on a wheel). Once members express interest, they are given the code to open the studio door, which allows them to access it whenever they want. 
"I've never been able to get into an art class at Williams, but I still felt like I needed to make that space for myself," Clarke said. "I'm a very creative person, and so when I am not able to be creative in an academic setting or maybe when I don't want that academic structure, it's great to be able to have this open space to throw." 
The ceramics club is especially open to novice throwers, according to Clarke. "More than half of the students who expressed interest in the club during the Purple Key Fair signed up because they wanted to try a new skill,'" she said.
The club offers a break from academics, according to club member Campbell Leonard '25. "The club is a really nice outlet," she said. "I can go and do something totally different with my day and have the time, space, and materials already there." 
Williams Fireflies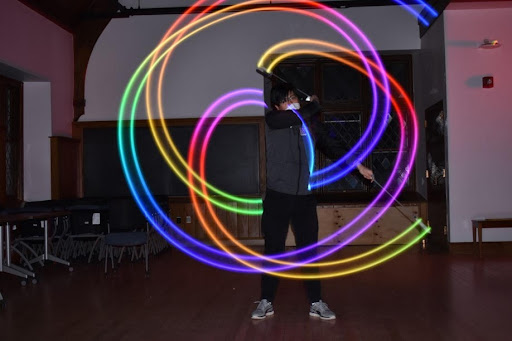 Williams Fireflies offers the chance for students to learn and practice flow arts — which, according to the club's leaders, Vincent Jiang '23 and Aliya Gentry '23.5, involves the manipulation of glowing lights through dance to create patterns in the dark. 
Jiang's passion for flow arts began in high school, and he decided to bring it to the College in the winter of 2019. The club was interrupted due to COVID-19 but kept holding technical practices over Zoom. Now back in person, the club meets once a week and welcomes newcomers. "About 75 percent of the club is new," Jiang said. "We have practices outside at night, and people tend to be interested in what we are doing and always want to try it out." 
"I think the importance of having a student-run space like this is that it creates a low-pressure environment where people can learn from friends," Gentry said. "It's great having the opportunity to try something new and meet other students." 
Jiang noted that members of the club have the chance to experience something they would never find in the classroom. "I'm certain that if I didn't have this space on campus, I wouldn't do flow arts as often as I do," he said.