Making (radio) waves: WCFM makes resurgence after year-long hiatus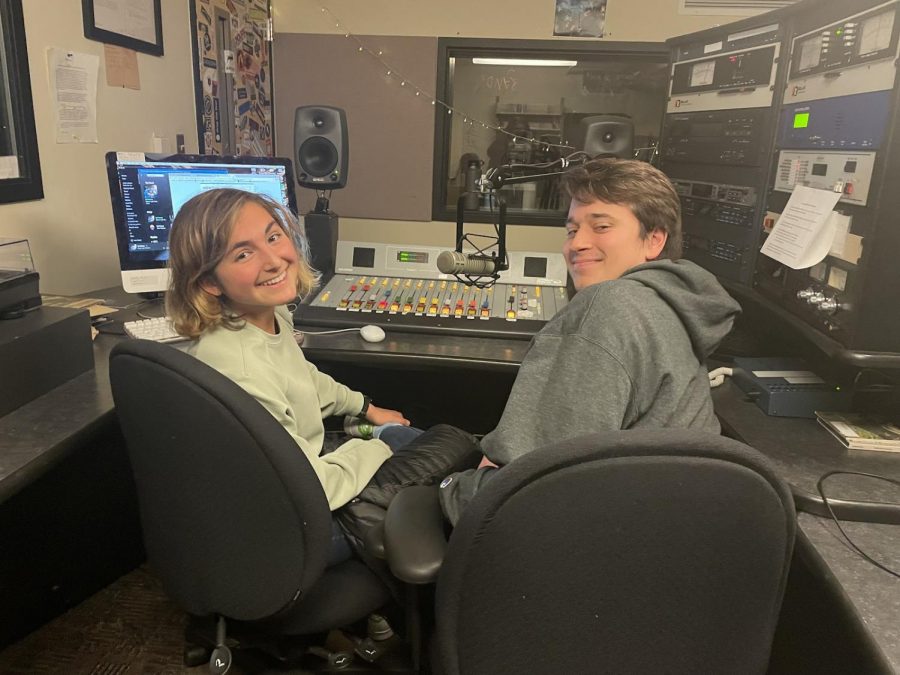 Tucked within the basement of Prospect House is the broadcasting studio for WCFM, the student-run radio station at the College. Its walls — adorned with tens of thousands of vinyl records and CDs, original artwork advertising past events, and markings carved by former radio DJs — reveal an anthology of student expression dating back to the station's inception in 1942. This semester, for the first time since the beginning of the pandemic, the studio is bustling with a new cadre of radio DJs.
Lily Goldberg '22, events coordinator for WCFM, says that recruiting for radio DJs did not take place last academic year due to COVID-19. As a result, only the current senior class has experienced a full year's worth of radio programming, creating a gap in experience between new and returning DJs. 
This year's WCFM board was tasked not only with coaching new DJs in both the first-year and sophomore classes but also with reestablishing WCFM's presence after a year-long hiatus. "One of the challenges that all organizations have had to face this year is that a whole year of leadership has gone by," Goldberg, who has been involved with WCFM since her first year, said. "We spent a long time getting off the ground because of the leadership gap. It's new for us as well." 
In the past, WCFM has maintained its campus presence by holding performance events, like its 2019 "Live @ the Rectory" series, which featured live student musical performances. This October, it continued this tradition by organizing a DJ set in collaboration with charm bracelet, a student-curated art project; WCFM also has plans for larger concerts this spring. 
As WCFM returns, Goldberg also hopes to create opportunities for DJs to form connections among themselves through events like DJ dinners. "It's been a priority to make DJs feel like they could connect as a group identity," Goldberg said.
This year's packed roster of back-to-back radio shows points to students' enthusiasm for WCFM's return — in fact, even Kevin Murphy, senior curator at WCMA and Catherine Howe, lecturer in art,  have taken advantage of the re-opened airwaves, hosting their own shows. 
Leilani Fuentes '24 co-hosts "TBD" with Megan Lin '24, which features weekly song selections and banter, first joining WCFM when it returned from its hiatus this fall. [Editor's note: Lin is a news editor at the Record and was not involved in the writing or editing of this piece.] To Fuentes, WCFM is both an outlet and a way to branch out. 
"After COVID, I think everyone is trying to get a lot more involved with the communities that they have been missing out on or haven't had a chance to be a part of yet," she said. "I know I've met a lot of great people just by being on the radio for a few weeks now, and I can see why people would want to be even more involved now."
The process to become a radio DJ involves completing a series of tasks: Seasoned board members lead newcomers through a series of studio tours and tutorials, followed by shadowing and a practical test. According to Fuentes, while DJ certification follows a uniform process, she is able to take creative liberties on air. 
"There is so much freedom having your own show with WCFM," she said. "Of course there are certain rules or required programming you have to share during your show, but other than that, Megan and I are really able to determine what kind of vibe we want our show to have, and it's a pretty unrestricted platform that I haven't been able to experience anywhere else on campus."
Sophie Bellwoar '25, who co-hosts an interview-style show, "Six By Six," with Will Olsen '25, said that she also appreciated the flexibility that radio gave her as a new form of expression, as well as the nuances of communicating on-air. "I've learned that people take what you say on-air more seriously than they do in conversation," she said. "It makes emotions much more tangible … You really can mold it to be exactly what you want because it's your platform." 
For radio hosts who have been involved with WCFM since before the pandemic, its return has alleviated some of the tumults of the past year. 
"It's been really fun to return to the radio after a year off," Lauren Lynch '23 said. Lynch is in the second year of her show "Listen Up, Sheeple," in which she invites a friend each week to talk about music they've been enjoying recently. 
"I've always found that having an hour to sit in the studio, listen to music, and not have any other obligations is a really restorative time for me, and this has been needed this year more than ever," Lynch said.
Looking ahead to the spring semester, the WCFM board is working on expanding its DJ professional development programming. "Former WCFM managers have gone on to work at NPR and Pushkin Industries," Goldberg said. "Something that's been missing is the sense that you could do radio as a career, and connecting students with resources to pursue radio as a serious, professional venture." 
Ultimately, to Goldberg, WCFM is more than just a radio association; she emphasized that it provides an important platform for student expression. "Radio shows give people an opportunity to carve out an hour of your week for sacred time to chill and share music with your friends," she said. "It's been a way for people to claim space."