Professor Emily Vasiliauskas and husband Ryan Riley make unique drinks from foraged ingredients at N. Adams distillery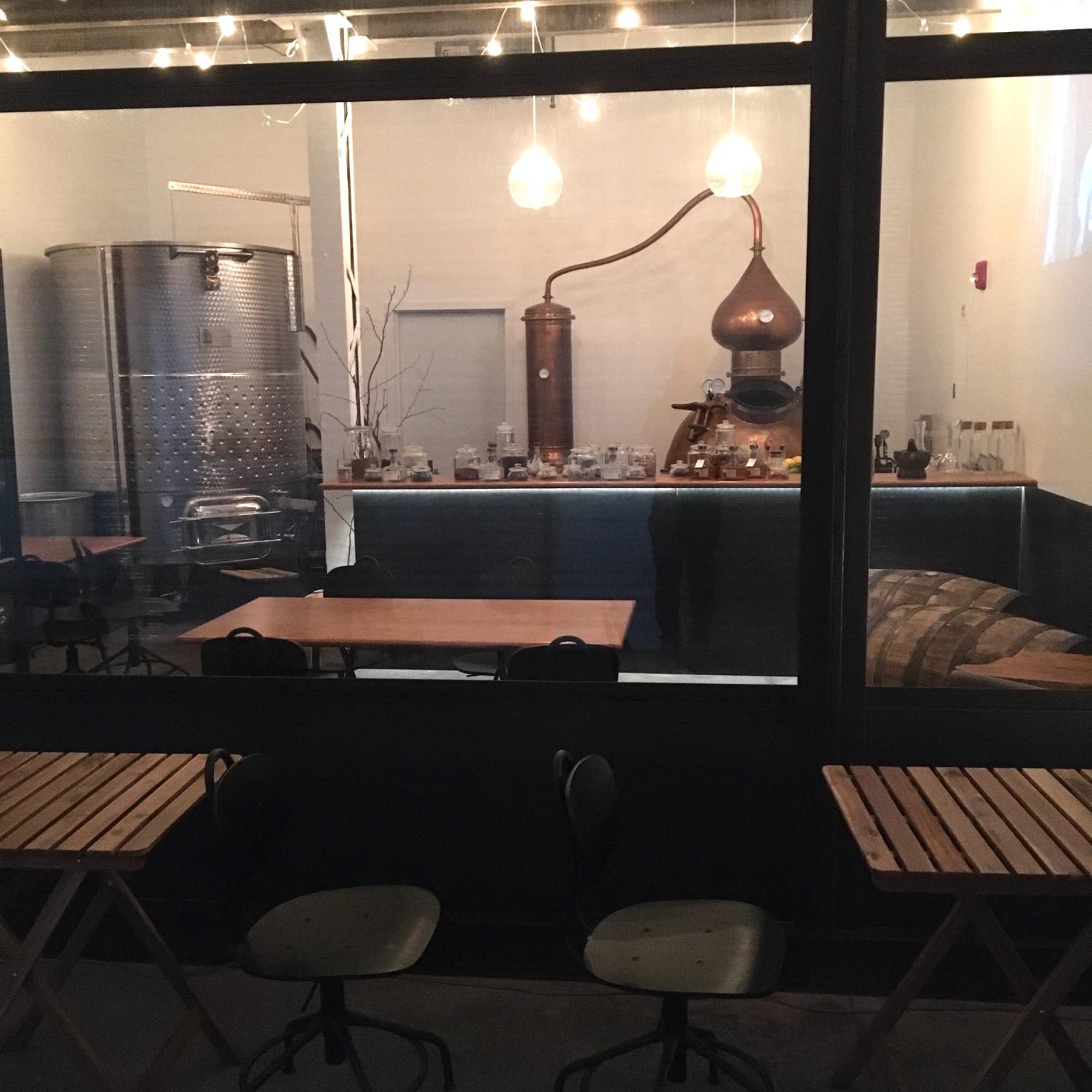 On a chilly evening in early December, three Record editors — Editor-in-Chief Irene Loewenson '22, Managing Editor Sofie Jones '22, and Executive Editor for Opinions Saud Afzal Shafi '22 — and I piled into Jones's Subaru. We were headed to Greylock WORKS, where Associate Professor of English Emily Vasiliauskas and her husband, Ryan Riley, own and operate a distillery that makes gins and rums from locally foraged fruits, herbs, and plants. 
The distillery's existence was brought to the Record's attention ahead of our last issue this semester. As a huge fan of Vasiliauskas, whom I got to know after taking her "Renaissance: Self and World" English class my freshman spring, I jumped at the chance to discover the story behind The Distillery at Greylock WORKS. 
A few days before my adventure to The Distillery, I sat down with the couple over a cup of cinnamon tea. With their 1-year-old daughter Ingrid listening intently, the couple told me that Riley first started the distillery in Colorado, where his family is from, and intended for it to be a family business. The pair eventually moved the business to Williamstown after Vasiliauskas finished her doctorate at Princeton and accepted a position at the College in 2015. 
When our small contingent of Record editors walked into Greylock WORKS — with Loewenson, appropriately, leading the pack — I was immediately struck by the space, which had high ceilings, intriguing small businesses, and a generally inviting ambiance. Formerly a cotton-spinning mill, the 240,000-square-foot building has since been converted into a space for small-scale artisans like Riley and Vasiliauskas, according to Greylock WORKS's website. 
"For the 20 years before we moved in with the distillery, they couldn't figure out what to do [with the building]," Riley said. "After we moved in, a couple of other similar businesses moved in — a cidery and a restaurant… A lot of crafty artisans. It's forming into a really nice community."
Riley handed us a set of menus, asked us what we wanted to drink, gave us a fascinating history of the distillery and its equipment, and jovially poked fun at Shafi for his preference for unsophisticated drinks.
While the building housing it had good vibes, the distillery itself — which doubles as a cocktail bar — was even cozier. Tucked into a corner of the Greylock WORKS complex, the distillery was warmly lit with hanging string lights. It had a few small tables where guests could sit and enjoy their drinks, a bar counter where Riley mixed the cocktails, and the distillery equipment. The black-and-white classic La Dolce Vita was projected on the far wall. Loewenson was particularly fond of Riley's music choices, mostly consisting of 2000s alternative rock.
With our excursion happening a mere 11 days before my 21st birthday, I was, unfortunately, unable to partake in any of Riley's cocktails and instead took on the responsibility of driving home. With that responsibility off their shoulders, my fellow editors, who are all over 21, enjoyed drinks mixed with rum and gin that had been distilled right in the bar. 
Jones enjoyed a Blackberry Bramble, which is made from "Local Legend" spiced rum, housemade sage syrup, lime juice, and sparkling water. Loewenson savored the Lavender Mojito, made from "First Snow Silver Rum," housemade lavender syrup, mint leaves, and lime juice. Shafi ordered a Bee's Knees, which is made from "Forager Gin," honey syrup, and lemon juice.
Riley was nice enough to make me a non-alcoholic piña colada — which was deliciously pineapple-y — so that I wouldn't feel left out of the festivities. Though my age precludes me from giving a first-hand review of the alcoholic drinks, I can report that my fellow editors uttered a simultaneous "mmm" after they each took their first sip. Loewenson told me later that it was the best drink she'd ever had. 
The evident tastiness of the cocktails Riley made is owed to his use of local plants that he and Vasiliauskas forage themselves. During our interview, Riley recounted an eclectic series of experiences that have led him to be, in his view, especially in tune with the natural world. Particularly, he pointed to his time as a World Cup skier, which he said taught him to respect nature in a new way. 
"I've skied so many thousands of days in my life," he said as Ingrid made her third attempt to grab my phone. "You're just skiing up and down mountains, going up chairlifts through the trees, and feeling the mountains in an almost spiritual way… You have to pay such close attention to the mountain and to nature to be a good skier." 
Riley likened his experiences connecting to nature while skiing to how he feels when he forages. He noted that he especially enjoys foraging in the Berkshires, which offers more ecological diversity than Colorado. He and Vasiliauskas collect a variety of plants from the local environment, such as wildflowers, birch bark, strawberries, and sloe berries — all of which make it into their drinks. 
"No way these big London producers of gin could ever make wild-strawberry-accented gin," he said. "Despite economies and huge spirit companies — there's just so much money to compete with — we can do things well if we just keep things humble and small … That makes it more personal. You can use special ingredients that those makers of spirits would never be able to use." 
With Ingrid old enough to tag along on some of the couple's foraging trips, the couple said that they might create a brand-new drink, inspired by their daughter. "She's starting to point at things," Riley joked. "When I drive her around in her buggy, she just points in whatever direction she wants. I was thinking about maybe a 'baby-foraged' gin. We just let her point out things in the woods … then we could truly come up with some flavor combinations that we would never think of."  
In addition to the couple's foraging, the distillation process itself also makes for unique drinks that would be difficult to find elsewhere. Vasiliauskas pointed to the various barrel-aged rums that they create, and Riley added that "it's quite rare to find a barrel-aged cocktail in a bar." 
The distillery equipment  was built in 2015 based on designs from medieval Spain that are over a millennium old, according to Riley. He also said that such equipment was originally used to make essences and perfumes before Europeans realized that it could be used to make alcohol.
But the special touch for many of the drinks, particularly the gins, comes from Vasiliauskas, according to Riley. She tastes every gin after they are distilled and gives suggestions on how to improve them. "Everything I do with the gin, I discuss with Emily and get her approval — they're actually totally controlled by her palate," Riley said, as Ingrid laughed, apparently sensing her father's wry tone. "She's such a good connoisseur."  
After watching my fellow Record editors taste their drinks, I'm inclined to agree — Vasiliauskas is an excellent connoisseur.
The couple told me that, at the end of the day, the distillery is more than just a small business or a bar; it's also their way of connecting with the community and fostering social bonds between others. 
"It's a sweet way to connect with people," Vasiliauskas said. "We're all so busy all the time, you end up mostly only talking to your colleagues and people you're already friends with … [but] drinking is social, drinking is festive, and it makes people happy."