Band-Mania: Student bands revamp on-campus music scene one concert at a time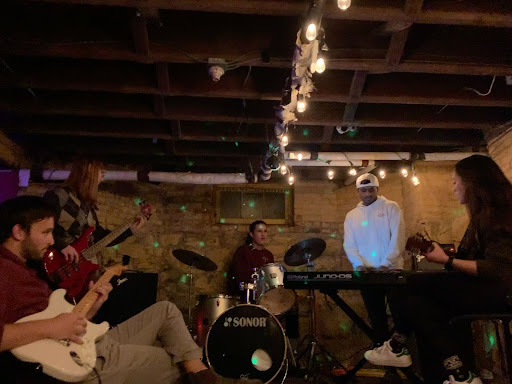 I walked into one of the College's student bands, The Kicks', Nov. 16 practice a little after 9 p.m., just in time to hear their lively rendition of a-ha's "Take on Me." They were rehearsing ahead of their Currier Ballroom performance at the crew formal on Saturday, Nov. 20. That weekend, which was the last weekend before November Break, boasted abnormal amounts of live music. On the night of Nov. 19, the other two of the College's currently active student bands, Liam Gizster & Co and Duke & the Flukes, both played at 70 Hoxsey St. 
The Kicks has five members: rhythm guitarist and singer Piper Higgins '22; self-described "lead guitarist, visionary, [and] treasurer" Owen Hiland '22; bassist Lizzie High '24; drummer Emilio Anamos '24; and Anuvind Iyer '23, the band's keyboardist and self-proclaimed "pretty boy."   
Higgins and Hiland performed together before The Kicks came together at the beginning of this semester — the two were in another student band called Top Sheet, which disbanded when all the other members graduated in 2021 and 2020. "We found these ragtag misfits," Higgins said, and then The Kicks was born. 
Hiland brought High into the band. "One second after [Hiland] asked me if I could play bass, I was like, 'Yeah, I have a drummer too,'" High said, referring to Anamos. "I pretty much just walked in and they begrudgingly told me I could stay," Anamos joked. 
The Kicks pick covers to perform from a group Spotify playlist they call  "the wishlist." Hiland said that they rarely alter the songs they play and try to stay true to the original sound. "A lot of the time we stick to the recording pretty strictly when they're really tight songs," he said.
The band practices  in the basement of 70 Hoxsey St., the house where Hiland lives. Crushed White Claw cans and red Solo cups litter the floor. Flashing green and blue LEDs light up their makeshift stage. "Whenever you're in a space that's small, it's really fun because the energy is high but people … get aggressive," Hiland said of performing at 70 on the Saturday before Halloween. "It was electric energy, but it's nice when there's [someone] … to be like, 'Don't run onto the stage.'" 
During rehearsal in the 70 basement on Nov. 16, the band learned Taylor Swift's new "All Too Well (10 Minute Version) (Taylor's Version) (From The Vault)." Higgins had the chords and lyrics on her phone; the arrangements, she said, "are kind of determined in the moment." Anamos went back and forth on tempo as they put together the song.
"It's the crew formal," High said when they were debating learning it. "We need a slow song." Whether or not "All Too Well" qualifies as a slow song was up for debate. "This isn't chill at all!" Hiland said after the band had made significant progress on the song, which does have its upbeat moments.
On Nov. 18, a little after 11 p.m., I ventured into Bernhard Music Hall to crash another band's rehearsal. Duke & the Flukes boasts six members: drummer Rein Vaska '25; bassist Ana Sofia Roldan '23;  keyboardist Peter Duke '22; vocalist Lily Goldberg '22; and the group's two saxophonists, Max Thierry '22 and Adithya Vaidhyan '24.   
Goldberg and Duke, who had both been in now defunct student bands, were the founders of Duke & the Flukes. They considered holding auditions for new members, but, like The Kicks, their other members fell into place naturally. "We merely appeared," Thierry said of himself and Vaidhyan. 
Also like The Kicks, the group has a joint Spotify playlist to which each member adds songs they might want to play. "Thanks to Rein's input, we were like, 'Maybe we should throw in some songs that people will actually want to listen to,'" Duke said. "So we threw in a bunch of banger songs that are also really fun to play that we could also do cool orchestrations with." 
Once in rehearsal, their process for putting together a song is deceptively simple. "I put a random number on my synth," Duke said. "[Thierry and Vaidhyan] cobble something together with telekinesis and Rein usually just knows what to do. Ana Sofia whips up the bass."
"And I just look at my phone!" said Goldberg, who has song lyrics pulled up on her phone during rehearsals. 
Because of the band member's varying commitments, the student bands have to get creative with their rehearsal times. Goldberg said that putting the band together despite the members' busy schedules was the hardest thing about keeping the band together. Roldan agreed, saying, "It's more just about actually successfully coordinating our schedules at this time." 
Goldberg, who is also a board member of the College's student-run radio station WCFM, noted that the College does not have many opportunities for students who are not part of the music department to perform live. "Williams has had an absolute … desert of live music," Goldberg said. "Students don't have a designated space — if they're not part of the music department — to perform."